News
Michelle Yeoh Will Be Back on Star Trek: Discovery
Executive producer Gretchen Berg says we have not seen the last of Michelle Yeoh on Star Trek: Discovery.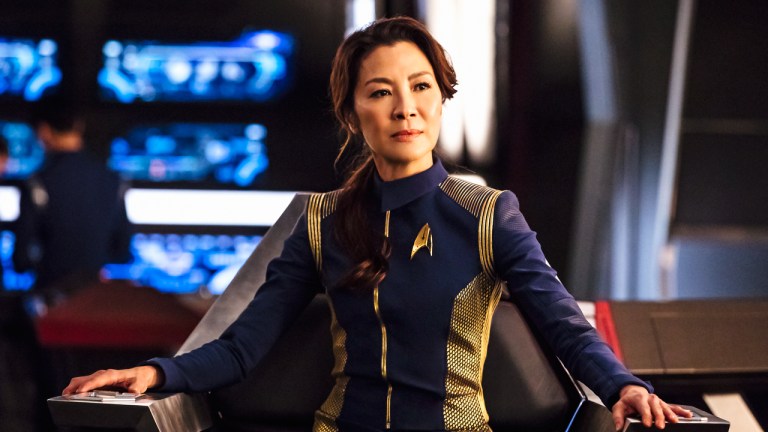 Warning: This article contains spoilers for the first two episodes of Star Trek: Discovery.
The Star Trek: Discovery cast was surprised by one of their own at their New York Comic Con panel this afternoon when Michelle Yeoh (who played the ill-fated Captain Georgiou in Discovery's first two episodes) sauntered up to the microphone in a mask during fan question-and-answer time to ask the panel if they would be bringing Georgiou back.
Everything You Need to Know About Star Trek: Discovery Season 1
While the moment was framed as a joke, executive producer Gretchen Berg confirmed we will be seeing Yeoh back on Star Trek: Discovery, saying: "You will see more of this woman on the show." Presumably, this means in flashback form, but you never know. Maybe Georgiou has a secret twin… or a force field around her heart.
— Kayti Burt @ NYCC (@kaytiburt)
October 7, 2017
After Yeoh crashed the panel, she went down the line of the ensemble cast and executive producers gathered to give everyone a hug before jokingly (probably) telling Jason Isaacs (who plays Captain Lorca):"If you don't look after my baby girl I'm gonna come and kick your ass! And you know I can do that."
Yeoh said she had no intention of letting Discovery kick her off the show for good, following her character's tragic death in Episode 2.
Hi, everyone. I came today really to say thank you to all of you and to my amazing, wonderful Star Trek family. You don't understand what an incredible adventure it's been, so I'm not gonna let them kill me, OK? I'm going to be haunting them all the time. I love these guys to death.
"Seriously, it's been such an amazing adventure," she said, adding: "The most amazing journey has been with Sonequa." 
Georgiou's presence was felt in the opening of Episode 4, the teaser f which was screened for those gathered at the Madison Square Garden Theater for the panel. It showed Burnham receiving Georgiou's "last will and testament," a package that Burnham has some trouble dealing with after betraying her captain, friend, and mentor all those months ago.
Stay tuned for more coverage from the Star Trek: Discovery panel at NYCC.
Read the full Den of Geek NYCC Special Edition Magazine right here!