News
Michael Plumides Talks Nightbreed Director's Cut & Nightbreed TV Series
Nightbreed executive producer Michael Plumides dishes some info on the Nightbreed TV series, the upcoming Director's Cut, and more.
Your prayers to the darkest of gods have been answered. Clive Barker's generally underappreciated horror film Nightbreed is finally getting a director's cut and Blu-ray/DVD special edition loaded with special features. But there's more. There's a Nightbreed TV series in development. Nightbreed executive producer Michael Plumides was kind enough to give us some dirt on both the upcoming Director's Cut and the status of the TV series, as well as some of the other projects he's got cooking at the moment.
Take us back to 1990. What was your initial reaction after viewing Nightbreed?
I actually saw Nightbreed in the theater. I think it was February 1990. The theater was packed so, I'm still a little confused regarding how "bad" the initial outing went for the film. I also know it was a wildly popular VHS rental back in the 1990s. But as far as whether or not I liked it – honestly, I didn't understand it. I had not read Cabal. I had only seen Hellraiser. And the film doesn't tell you who the characters are. I also remember hating Craig Sheffer's make up. I'm more partial to the traditional monsters – the symbols on his face did not a monster make – but that's me. Sheffer's "Boone" is the most popular character – it's evident at the conventions.
When did you become aware that there was another cut of the film out there?
I am loosely involved with the Mad Monster Party – a popular horror convention that set up in my home town of Charlotte, North Carolina. The coordinators, Eben McGarr and Joe Moe asked me to talk to Morgan Creek about screening the Nightbreed "Cabal Cut" at their first convention in March, 2012. They had some difficulty getting any response from Morgan Creek, so I called now President, Dave Robinson, who at the time I had done a little consulting for because of my many horror convention outings, and who is also a friend.
After reading up a little, I was convinced there was something to it. I told Dave, "we should support this thing. It's got some legs…" The first screening was a huge success with Anne Bobby and Craig Sheffer hosting. Actually, I didn't see it. I was doing a Ghost Trek make-up exhibition with Conor McCullagh from Face Off, and Addy Miller – "Little Zombie Girl" from The Walking Dead in the main ballroom. I screened Ghost Trek: The Kinsey Report that night as a promotion as well – a property I've been developing. 
In 1990, Nightbreed came and went, but its legacy has endured for almost a quarter for a century. So many horror films arrive and make no cultural impact, what about Nightbreed makes it different?
I think Nightbreed was unfinished business. It's a horror property that wasn't utilized to its fullest potential and it certainly hasn't been played to death either like so many of the 1970s and '80s iconic horror films. The characters are rich and multifaceted. And it was open-ended. Clive's popularity has certainly improved as of late with his books, art, and the Hellraiser reboot with the Weinsteins.
For those not in the know, can you describe the grass roots Occupy Midian movement and how it led to the eventual finding and release of Clive's original vision?
Anne Bobby coined the phrase, "Occupy Midian" in 2012 at Mad Monster Party – Russell Cherrington and Mark Miller seized it and started the website. Jose Leitao and Ryan Danhauser started the Occupy Midian page on Facebook and also spearheaded a petition for a "Fully Restored" version of the original film. I was responsible for getting Clive's people permission from Morgan Creek to show the film worldwide for a year to promote the "Cabal Cut" – which was, essentially, a fan film spliced together with VHS work prints. It was originally put together as a present to Clive.
Supposedly, Clive cried when he watched it. But the quality was poor to god awful – but at least it was a start. Seemingly, the fans didn't care. They were rabid for it. So, I carefully plotted the trajectory on Morgan Creek's behalf as an independent producer under contract. We inked the deal moments before the SDCC announcment last year.
Can you describe the process of how the footage was found? Didn't Clive himself believe that all the footage was lost?  
It was really just a process of elimination and tenacity. I know Greg Mielcarz at Morgan Creek had a friend at Warner who did some searching. Cliff MacMillan at Shout! Factory did an interview recently on the Clive Barker Podcast with Ryan and Jose' describing the process. If you really want to get that information in detail, go here.
Have you talked to any of the actors about the new footage or the re-release, what has their reaction been?
I was on the Nightbreed panel with Doug Bradley, Nick Vince, Craig Sheffer, and Chris McCorkindale at Dragon Con last year in Atlanta. Everyone was very excited. They have all been doing the horror convention circuit because of the new found love for this forgotten piece. They just had a big panel at Days of the Dead – Indianapolis, last month – I think some of the footage from interviews will be in the deluxe set.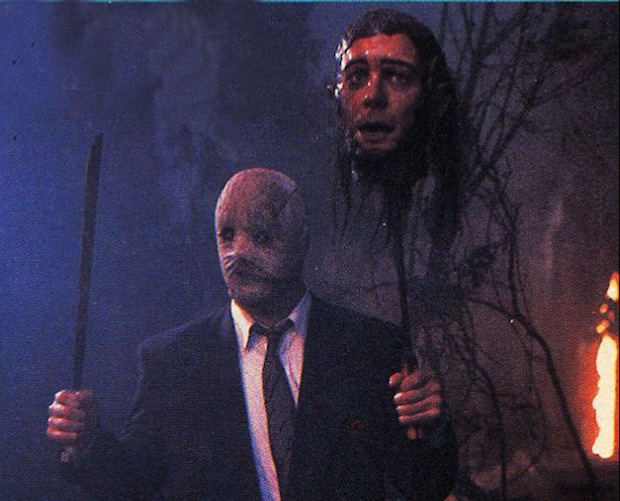 Let's talk about the insanely exciting prospects of the Nightbreed television series. How did this opportunity come about?
Let me be clear. I'm an independent producer, but I've been involved with this project from the beginning of its renaissance. There was no interest whatsoever at Morgan Creek about doing anything with the Nightbreed property until I brought it to their attention. And frankly, I wasn't aware of any peripheral interest until I did some research myself.
But after the screenings started in 2012, I received an email from Morgan Creek – asking me to review a seven page treatment written by Matt Venne who also wrote the screenplay for Stephen King's Bag of Bones. It seems that Venne (Leprechaun: Origins) had met with Clive and Mark Miller a few times and he had put together this story line for a series. After reading it, I rewrote the entire thing. When Mark Miller presented it to Matt for his opinion, he said, "I wanted to hate it but it was too good." That's when I knew we were on to something.
How have you broken the story of Midian into a serial drama as opposed to a feature?
At this point, Midian is destroyed. That's all I can say for now.
Are there any characters you are looking to flesh out even more? Please say Shuna Sassi? 
Peloquin and Shuna Sassi are main characters in the material I've written. They are the sexiest, I think. But I was told to pick a handful of characters and concentrate on them, so that's what I did. And as Cliff MacMillan has revealed, a sultry sex scene between Peloquin and Shuna Sassi is reintroduced into the DIrector's Cut footage. Hopefully, we'll be able to produce the series in this direction – but I won't have the final say.
Are you using any elements from other media like the Epic Comics series in your television plans?
Morgan Creek doesn't own the rights to the comics – Clive does. The original Epic Comics, anyway. Now BOOM! owns the new comic written by Marc Andreyko – but Mark Miller and Clive gave him tons of notes. Clive's comics have always had a lack of continuity so it's nothing new that this storyline isn't in the comics. I wouldn't be opposed to incorporating some of the new stories, but I don't want to revisit old material, unless they were regarding origins of the characters. Those comics were released 20 years ago. However, there are some references to origins that may appear.
You mentioned elsewhere that you are using practical make-up effects to bring the creatures of Midian to life. Tell us about some of the effects designers you hope to work with and how much of Barker's original aesthetic are you looking to for inspiration?
When I was writing the pitch bible and storyline, I wanted some really cool character designs to go with the package. I asked Mark Miller if he had anyone in mind he would like me to work with. He suggested Tate Steinsiek (Face Off seasons one and five), a really talented guy and total Barker disciple. First Mark acted as an intermediary, and it got so monotonous, he put us together and we communicated directly. I would either send him written descriptions, photos or sketches of what I was looking for and he would send me back his interpretation in a day or two.
But regarding effects, there's been such a backlash against using CGI that I felt it a necessity to insist practical effects be used – I mean, how successful has Walking Dead been? Their practical effects shine. Tate told me he's already working on some stuff I haven't seen yet.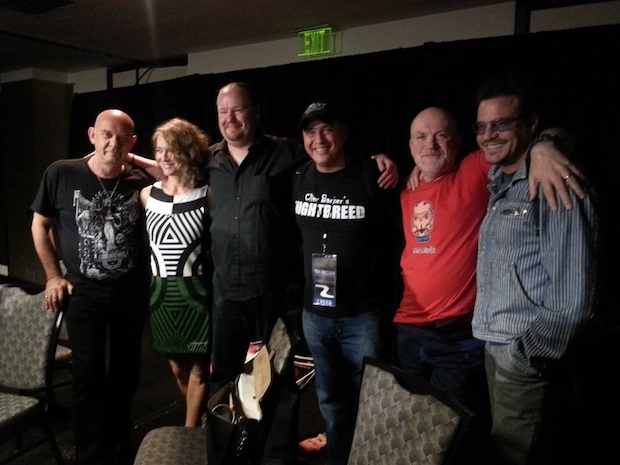 How have new media outlets like Amazon, Sony, Xbox, Netflix, etc. changed the playing field of trying to find a home for a series in development?
I would love for this project to go to an online outlet – so would Clive, as he indicated earlier – for the bingers. And of course, the internet outlets have changed the game drastically.
Have you received any feedback from Clive on the series?
After writing several episodes earlier this year, I sent everything to Mark and Clive. They reviewed all the material and sent me back a volume of notes. I took most of their suggestions and incorporated them in the story – for example, I changed the opening to a dream sequence, very much like the film. It sets the tone for the series.
Are studio and network heads aware of the grassroots Nightbreed fan base?
Some. That's why it's important for the buyer to understand Nightbreed's potential – someone who pays attention to the internet chatter and metrics – very much like Shout! Factory did. In a boutique sense. Very much like how HBO saw the potential for a geeky "sword and sorcery" type thing called Game of Thrones.
Tell us about Ghost Trek. What was the genesis of this project? 
In late 2009 after I had done a Southeast tour for my book, Kill the Music, a memoir about my exploits in college radio and concert promotion, resulting in the GWAR obscenity bust of 1990. It's a Kindle best-seller.
Anyway, I was watching marathon episodes of paranormal reality shows like Ghost Adventures, Paranormal State, and Ghost Hunters International. In one particular episode, a team was looking for the "Ghost of Robin Hood"- who is a fictional character for the most part – and I thought that was so stupid. Although the investigators use a number of electronic devices to detect these supposed entities, there's no valid scientific approach. A lot of it is based on personal experiences like a 'cold spot' or an unintelligible 'EVP' (Electronic Voice Phenomena). They basically created their own mythology regarding how the research is conducted, almost like in Ghostbusters, and viewers are fascinated by it.
On Ghost Adventures, a muscled Zak Bagans, the lead investigator, flexed his arm in camera view and said, "Look at the goose bumps on my arm, dude." I laughed to myself – it was really more about Zak's muscle than it was about the paranormal. What Bagans was really saying was, "Check out the goose bumps on my guns, dude". I wrote an entire feature script around that line, entitled Ghost Trek: Confederate Ghouls, a story about a ghost hunt at an old house adjacent to a Confederate cemetery in South Carolina where the restless spirits of Confederate soldiers are antagonized and rise from the grave to kill the investigators. How utterly hilarious would that be?
The script was funny and the characters were all founded in paranormal reality TV. There's a good-looking lead investigator (who's an ex-chiropractor), his ex-girlfriend is the showrunner, there's a security team called the "Goon Squad", there's a flamboyant psychic, a couple of stoner tech specialists, and a cute, bubbly, investigator-in-training (one in real life ended up getting a big boob job and became a sex symbol of the paranormal crowd). I felt Ghost Trek had to be character driven and familiar, but more like Clerks or Entourage meets Scooby-Doo than Ghost Hunters.
In case I couldn't get the feature made off the bat – admittedly I wanted to do it right with a decent budget, I wrote six television episodes to keep my options open, the first being loosely based on the JonBenet Ramsey case, entitled, Ghost Trek: The Kinsey Report, where the Paranormal Underworld Detective Society (PUDS) travel to Aspen, Colorado to investigate a supposedly 'cursed' house where a young pageant girl was strangled with a jump rope – that's the first one we made.
Another episode investigates the "Ghost of Ike Clanton" in Tombstone's Not A Pizza, a third where a rapper is resurrected by a voodoo priestess after he is shot in a drive-by entitled, "Zombie Straight Outta Compton," and one based on the bizarre New York mortuary case called "Goomba Body Snatchers Mortuary Lockdown (and Panel Show)." After all, the tagline is "paranormal research with an emphasis on bad taste". We did them on a shoe-string budget with some really talented North Carolina filmmakers, Rob Filion, Justin Kates, Chris Pittman, and make up artists Star Jones and Martin Barry. "Goomba Body Snatchers" and "The Kinsey Report" are available here. 
Tell us about Ghost Trek: Confederate Ghouls?
Ghost Trek: Confederate Ghouls is the feature I have in development. It will be shot in several motifs – reality show, documentary style, POV, and cinematic. It's really funny, sexy, darkly-comedic and gory all at the same time. Kind of in the style of Tucker and Dale vs. Evil or Cabin in the Woods. But it's heavy on satire. I'm looking forward to it. I have some great players: Jonny Fairplay (Survivor, TNA), wrestlers Colt Cabana and Disco Inferno (WWE, ROH), Brett Gentile (The Taking), and Christy Johnson (Mortuary).
I play Harvey Goldman – the show's producer. I hope to bring on some new producers, Worth Keeter (Power Rangers) and Phil Smoot (Hellraiser III, Gravedancers) – North Carolina guys who used to work for Earl Owensby. Also a couple of legendary actors I can't reveal at this point.
Finally, are there any other little known horror properties you believe would make for great series?
I think Jonathan Maberry is killing it right now. He and I are friends – Jon has comic titles out on IDW (V-Wars) and Dark Horse (Bad Blood). Plus, he's a NYT Bestseller (Patient Zero, Rot & Ruin), and a Stoker award winner. I hope to help acquire one of his properties to develop. Jon's a great guy and has been an inspiration. 
Michael Plumides, thank you very much! Nightbreed: The Director's Cut arrives on October 28th, just in time for Halloween viewing!