Features
Michael J. Fox Will Always Be Teen Wolf To Me
I didn't watch Family Ties because Ronald Reagan did.
Michael J. Fox has a new show called The Michael J. Fox Show, but he won't be playing Michael J. Fox. No, not him, that's too easy for the kid who grew up as a fixture on TV, went back and forth to the future and got to interview James Cagney. He's been dealing with a debilitating disease for decades and he's working through it. He's always been working through it. It can't really be a comeback if he never went away.
I was never a huge Michael J. Fox fan, I liked him, I mean what's not to like? Even his most acerbic portrayals have charm and humor. You can take your kids to his most adult films. You'd let him play with your dog, hell, you'd let him play your dog. Michael J. Fox brought immense attention to Parkinson's disease and now wants to move forward, so let's move forward, or backward, to the future or a not too distant past.
Michael J. Fox has acting chops. I followed John Leguizamo because we worked together before he made it, went to see Mambo Mouth and Spic O Rama, saw him shoot Harrison Ford in Regarding Henry, all because it's fun to watch someone you know do good. It went around the comedy circles that Leguizamo had a really good part in the new Michael J. Fox movie, at the time. I went to see it. There, holding his own with Sean Penn in a movie by Brian De Palma, was Michael J. Fox, raindrops running down his nose, standing up against rape. A far cry from young republican Alex P. Keaton, or was it Alex P. Keaton in war? Didn't matter. He pulled it off. Michael J. Fox could play anything, light comedy, heavy drama, light drama, heavy comedy, students, soldiers, office workers, political animals, dogs, mice.
But Michael J. Fox will always be Teen Wolf to me.
Yes, it all goes back to Teen Wolf. Dobbs from F-Troop played his father. Michael J. Fox played Scott Howard, a meh, high school kid on a so-so basketball team. He's got the hots for the girlfriend of a schtrutz on a good high school basketball team. Frustrated, Michael J. Fox locks himself in the bathroom and grows hair on his hands which leads him to transform into the ultimate hoops player with the best hair on the court. Teen Wolf was shot at a leisurely pace. One game takes up almost a quarter of the movie. And Dobbs played his father. James Hampton doesn't do a lot of movies. Or TV. After F Troop he was in China Syndrome and The Longest Yard and not a lot of other things, yeah, he was in Hangar 18 and The Cat from Outer Space, but he just added cool to me at the time.
I saw Teen Wolf before I saw Back to the Future, I think they came out the same week or something. I remember they were both playing on the same block. It was around the time Arnold Schwarzenegger faced The Predator and Benji played The Hunted, an unfair match to me, in the same theaters. For most people Marty McFly replaced Alex. P. Keaton as Michael J. Fox's signature role. I happened to see Teen Wolf first. And so it goes. Marty McFly has gone on to become a movie legend, Empire magazine ranked him the 39th Greatest Movie Character of All Time. In the not too distant future, Marty McFly impersonators will replace Elvis impersonators. Fox wasn't the first choice to play McFly, Back to the Future started shooting with Eric Stoltz on the skateboard.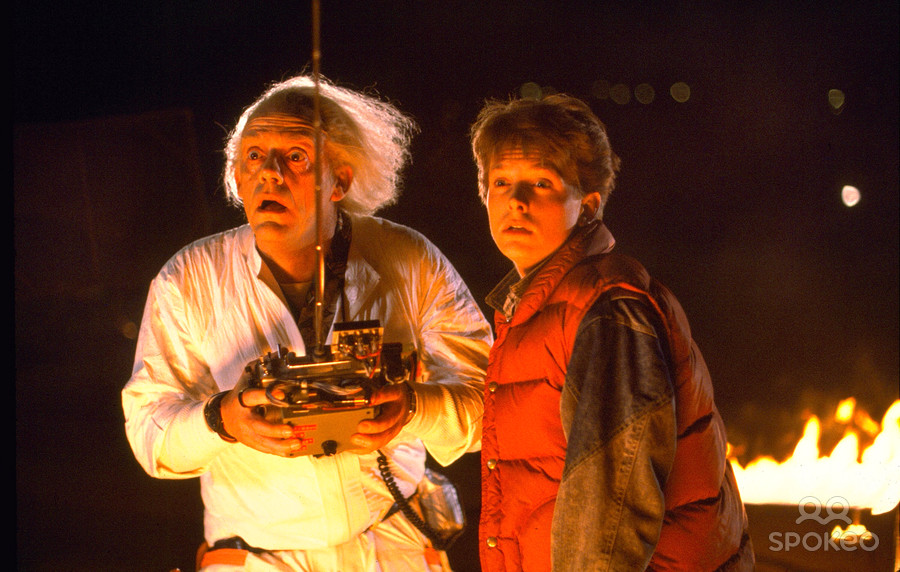 Michael J.  Fox was born Michael Andrew Fox in Canada on June 9, 1961 and did the Canadian series Leo and Me. When he got to Hollywood he played a kid on the Lou Grant episode "Kids" and made the movies Midnight Madness in 1980 and Class of 1984 in 1982 as Michael Fox until he went for his SAG card and found that another actor already registered the name Michael Fox in the actor's union. Fox took a cue from and a J from actor Michael J. Pollard, from Star Trek and the movie Bonnie and Clyde.
When Matthew Broderick wasn't available to play the young Republican son of ex-hippie parents, Alex P. Keaton, Michael Fox rolled out his J, stood on his tiptoes, and joined the cast of the sitcom Family Ties, GOP icon President Reagan's favorite show. Alex P. Keaton had a Nixon lunchbox and quoted William F. Buckley. That was enough for me to skip it. Hence I didn't discover Michael J. Fox until Teen Wolf, even if Tom Hanks did play his con-artist uncle. Fox nabbed a Golden Globe, three Emmys for Outstanding Lead Actor in a Comedy Series and his wife, the actress Tracy Pollan from the series. Fox also found his career mom Meredith Baxter, who would also play his mother on Spin City. Family Ties also had Tina Yuthers, who I actually only know from South Park and Family Guy.
While hot on the small screen and making Teen Wolf across town, Fox jumped into Christopher Lloyd's retrofitted DeLaurean and drove off into his defining role, Marty McFly, the guitar playing, skateboarding imp who only a mother could love too much, in Back to the Future.  The time warped comedy won movie nominations and science fiction awards, spawned two sequels, cartoons, video games and a theme park ride, and made trillions. Nixon bought a Michael J. Fox lunchbox.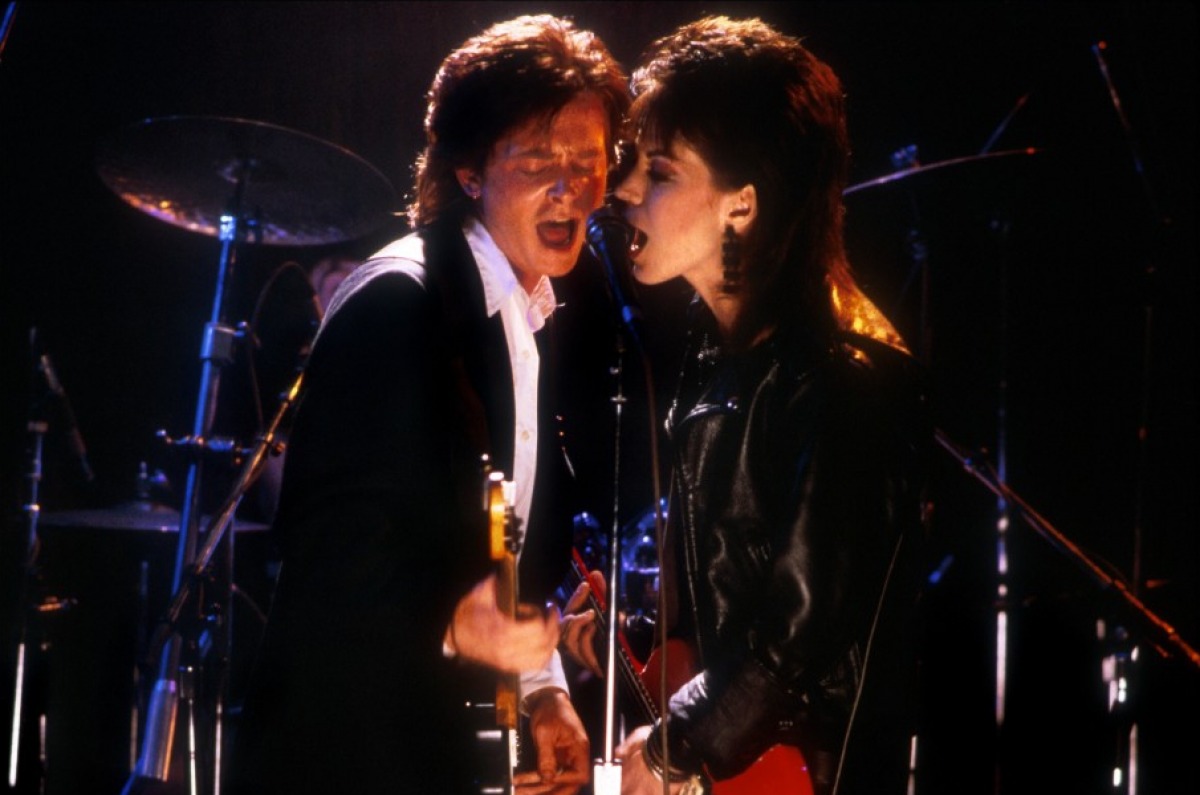 Michael J. Fox took out his guitar again to jam with former Runaway Joan Jett in the largely forgotten Light of Day. Look carefully and you'll see a young Trent Resnor of Nine Inch Nails playing another musician. This is the only movie where we see Michael J. Fox, a chain-smoker at the time, smoking on camera. He didn't even smoke in Bright Lights, Big City, where he snorted enough coke to make his nose bleed as the New York Magazine fact-checker Jamie Conway, which also starred Kiefer Sutherland. Between the two movies, Fox made The Secret of My Succe$$, the film version of the Broadway play How to Succeed in Business Without Really Trying (Matthew Broderick would do a revival of the play). Brian De Palma noticed Fox's dramatic chops and cast him as the sympathetic soldier in Casualties of War.
Michael J. Fox paired with James Woods for The Hard Way in 1991. James Woods, from such skewered classics as Onion Field, Once Upon a Time in America and Videodrome, played a hardened, no-nonsense cop on the trail of a serial killer. Fox played Smoking Joe Gunn, an actor getting into his part. The Hard Way was Mos Def's first movie and also had a performance by Lewis Black.  Fox played asshole doctor Benjamin Stone in Doc Hollywood. He is on his way to make a fortune doing nip and tucks in Hollywood when he crashes his car in some backwoods and opts for the simple life. Doc Hollywood was basically Cars with people.
Fox had already proved he could play a wolf in Teen Wolf and played another canine character named Chance in 1993's Homeward Bound: The Incredible Journey a remake of 1963's The Incredible Journey. Don Ameche played the other lost dog and Sally Field played their feline friend on a trip across America. The three pets would also get lost in San Francisco before they put the series to sleep. Also in 1993, Fox played a child star talent agent in the film Life With Mikey with Nathan Lane and Cyndi Lauper and the concierge in For Love or Money.
In 1994, Michael J. Fox worked with his first Douglas in Greedy. The legendary actor Kirk Douglas, from Lust for Life and Paths of Glory, played a grumpy old man stuck in a wheelchair with his money, that his suck-up kids have already spent in their heads. Kirk makes Fox dance and sing and keep him entertained and, of course, he's the only non-greedy kid in the litter. But Fox gets even when he successfully cock-blocks the old man. From Kirk, Michael J. Fox supported Michael Douglas in the 1995 romantic comedy The American President, as he tried to keep his love life out of the papers, kinda like what President Bubba Clinton was doing at the time, only cuter and more cuddly. The American President also starred Annette Bening, Martin Sheen and Richard Dreyfuss. It was directed by Rob Reiner and written by Aaron Sorkin. There was enough budding politician in Fox's Assistant to the President for Domestic Policy get him reassigned to television for Spin City.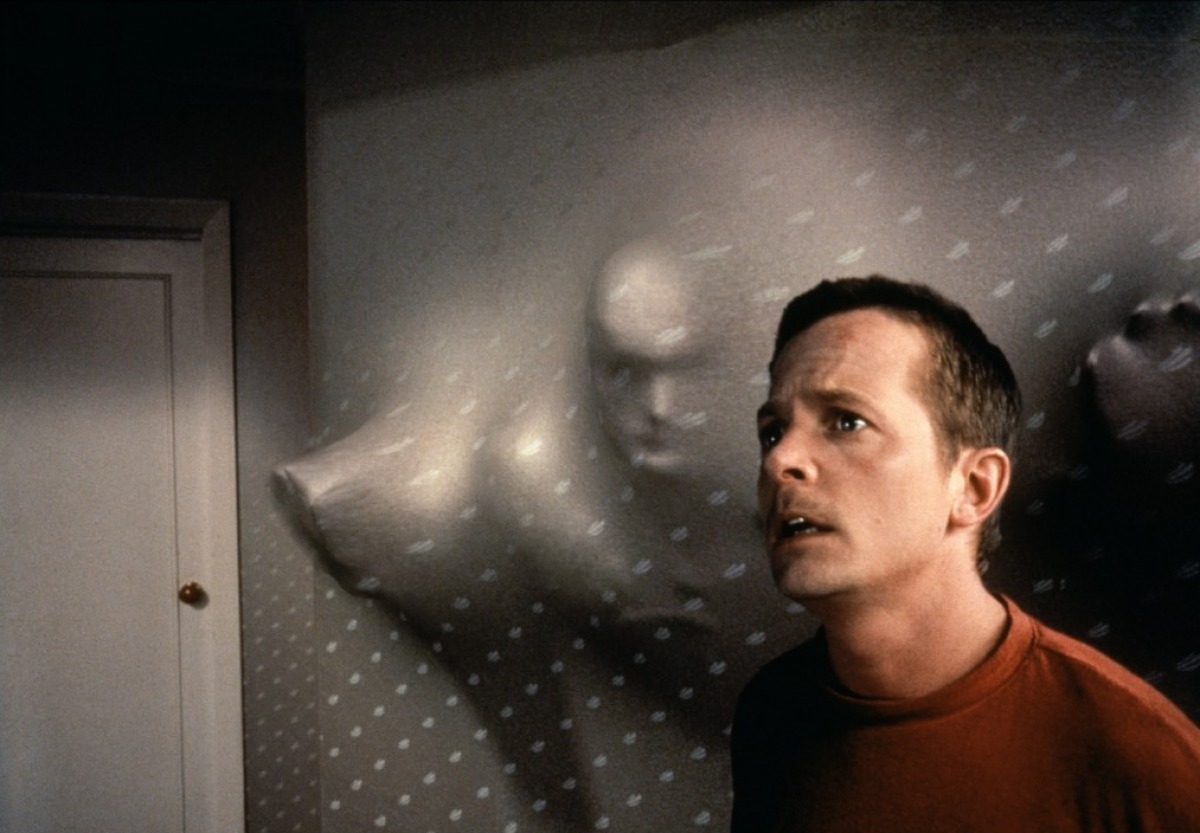 The Frighteners and Mars Attacks! are probably my overall favorite Michael J. Fox movies. In The Frighteners, Fox is not quite so charming, but far more interesting as an anti-hero, a conman taking advantage of people's fears and mourning. Fox played a small medium. Ever since his wife was killed he sees dead people but he's not quite so depressing as the kid from The Sixth Sense. The Frighteners was directed by Peter Jackson, who made the what-I-consider-classic horror comedies Bad Taste and Braindead and who would go on to make the Hobbit movies. Jackson is already losing his indie cred here by letting Fox break good at the end. The Frighteners was the last movie Michael J. Fox starred in, well, live anyway, he could still make animal noises. Mars Attacks! is basically Tim Burton seeing how much rubber he could put on Jack Nicholson's face to hide him in dozens of parts and only pay him one salary. It worked for me, though. Mars Attacks! had an all-star supporting cast of Glenn Close, Annette Bening, Pierce Brosnan, Danny DeVito, Sarah Jessica Parker, Martin Short, Natalie Portman, Rod Steiger, and Christina Applegate in  but it was stolen outright by Sylvia Sidney when she laughs at learning that the Martians "killed Congress." I've always had a thing for Sylvia Sidney, though. She got her skull cracked by a cop when she went on strike in Dead End and played in the early noir film You Only Live Once.
Fox did it doggie style again for Homeward Bound 2 traded his snout for some ears and went for another classic animal character, Stuart Little. Stuart Little was directed by future Lion King Rob Minkoff and co-written by Greg Brooke and M. Night Shyamalan, but we didn't find out that Snowball, voiced by Nathan Lane, snacked on his rodent brother in the last two minutes, leaving red kibbles and bits around as clues that we should have all seen. (Too many Sixth Sense references?) Stuart Little's overgrown Little parents, the Littles, were played by Geena Davis and Dr. House, Hugh Laurie. It became an instant kids classic and Fox would eat cheese again for two more films.
Fox started showing signs of Parkinson's during Doc Hollywood in 1990. He hid it from the public for years, but when he went public he really went public, becoming an outspoken activist, starting a foundation and personally extracting stem cells. Parkinson's put a hiccup in Fox's career, but not for long as he washed his hands on Scrubs, guilted The Good Wife, took Larry David's parking space in Curb Your Enthusiasm and lost all but his head on Boston Legal. Taking on more and more roles until, well, now, when he's got his own show again. The Michael J. Fox Show, but he's not playing Michael J. Fox. That would be too easy.
Like us on Facebook and follow us on Twitter for all news updates related to the world of geek. And Google+, if that's your thing!