News
Metropolis: Superman Prequel TV Series in Development
Lois Lane and Lex Luthor in the days before Superman will be the focus of a Metropolis TV series coming in 2019 from WB and DC.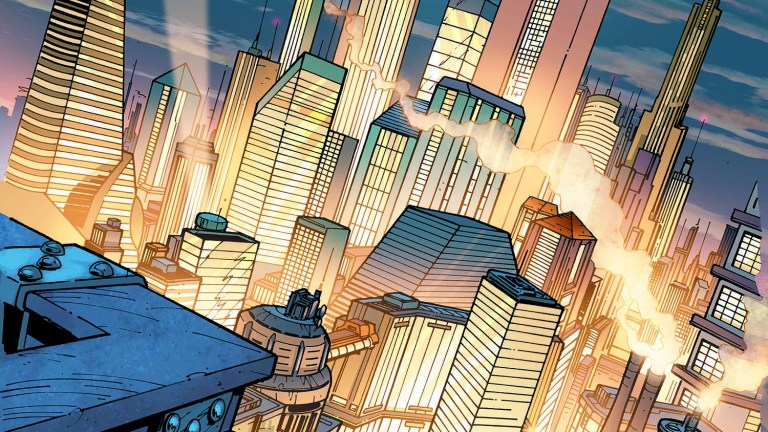 Well, one thing is for sure, DC isn't messing around during Superman's 80th anniversary year. After recently announcing a blockbuster lineup of talent for Action Comics #1000, and the return of Superman's classic costume, there's also a new Superman TV series in the works. Well, kinda.
We've seen Smallville. Krypton is coming (and it looks great). There's only one part of the pre-Superman mythology left unexplored: Metropolis. That's about to change. 13 episodes of a Metropolis TV series have just been ordered by Warner Bros. Pictures TV for the still unnamed DC-themed digital service that launches this year. That service will also be the home to the Titans live action series, the Harley Quinn animated series, and the long awaited Young Justice: Outsiders.
Metropolis is the first slightly off-center concept for the service, though, as it's a prequel that will focus on Lex Luthor and Lois Lane. It comes from executive producers John Stephens and Danny Cannon, who you may know from their work on Gotham. Stephens will write the pilot and Cannon will direct.
Here's the official synopsis:
Set in the wondrous and awe-inspiring City of Tomorrow before the arrival of Superman, Metropolis follows Lois Lane and Lex Luthor as they investigate the world of fringe science and expose the city's dark and bizarre secrets.
So, this sounds like it could be like kind of a vaguely superhero themed riff on The X-Files, which could be very cool. There's also plenty of opportunities to dig into the history of street level/science based heroes in the DC Universe, too. On the other hand, let's hope that this goes a little easier on the "look who it is, you know what THIS means!" fan service than Gotham has been known to do.
It also raises some interesting questions. Are Lois and Lex working together? Is Lex developing fringe tech and Lois is investigating him? Like Smallville, there's plenty of story opportunities to mine in a Lex Luthor who isn't necessarily evil. While may interations of Lex paint him as a malevolent force, I'm more of a fan of how Elliott S! Maggin portrayed him: a genius who would actually be doing great things for the world if he could just get over his hatred of Superman. 
Much has been said about the glut of superhero TV shows out there. It's getting so serious that even the CW network has had to do some creative shuffling with their schedule to make sure they aren't airing too many of them in any given week. This is a fine time to be a superhero fan all around, and it's a good problem to have. But are we next headed for a superhero prequel glut? Hopefully not.
This will be the third Superman-related TV series running concurrently when it arrives. Supergirl seems likely to get a fourth season on the CW, and last year featured several episodes with Tyler Hoechlin as the Man of Steel. What I've seen of Krypton makes me believe that show is headed for success, as well. It will be interesting to see how (if at all) Metropolis acknowledges those other incarnations, although DC and WB seem quite happy to keep most of these shows as a multiverse rather than a strictly shared TV universe.
Perhaps when the market gets a little less crowded, WB will finally pull the trigger on a proper Superman TV series…or maybe (I admit, I'm dreaming here) that's what Metropolis could eventually become. The original pitch for 1993's Lois and Clark was more along the lines of a hard newsroom drama that just happened to feature Superman from time to time, and I would love to see that revisited and updated, especially if it can stay true to that mission statement.
Metropolis will go into production later this year, and will debut on the DC streaming service in 2019.