News
Mayans MC Season 2 Trailer Released During SDCC
FX will be bringing us Mayans MC Season 2, and a recently shared teaser from creator Kurt Sutter has us all revved up.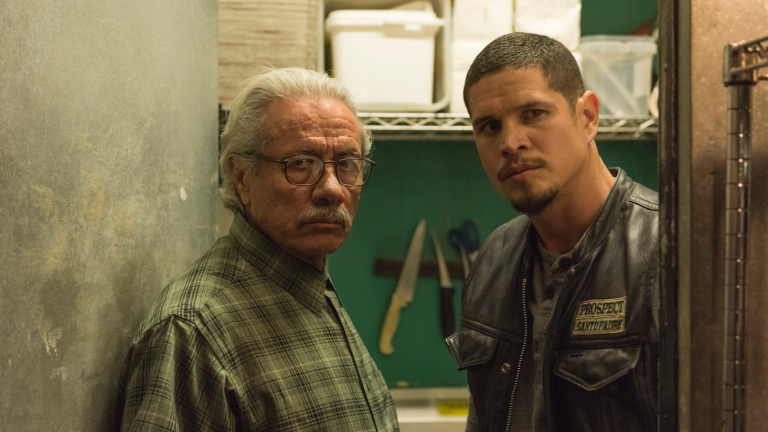 The Mayans will live to ride another day! Sons of Anarchy spinoff series Mayans MC will get a second season on FX. Just like Sons of Anarchy, Mayans was an early performer in the ratings, making a second order of episodes a safe bet for FX. So now all you fans can rest easy, because Mayans MC Season 2 is definitely happening.
"Mayans MC is performing fantastically, proving to be a breakout first season," Nick Grad, president original programming at FX Networks and FX Productions, said in a statement when the Mayans MC Season 2 renewal was announced in October. "The series premiered as the highest rated cable series this year and continues to sustain a committed fan base, reflecting the talent and drive of creators Kurt Sutter and Elgin James. We couldn't be more excited to take this ride to a second season."
Mayans MC Season 2 Trailer
Ahead of Mayans MC Season 2's appearance at San Diego Comic-Con, FX has released the first full trailer. Give it a look below. 
Here is an action-packed first look at Mayans MC Season 2. 
Mayans MC Season 2 Release Date
Mayans MC Season 2 is now officially scheduled to hit the pavement on FX on Tuesday, September 3 at 10 p.m.
Mayans MC Season 2 Details
Sons of Anarchy creator and Mayans MCco-creator Kurt Sutter recently shared a teaser video on his Instagram page to stoke excitement for Mayans MC Season 2. In the short teaser video, Mayans star J.D. Pardo, in character as EZ Reyes, can be seen riding his motorcycle down a two-lane highway. Check out the short clip below, and stay tuned for further Mayans MC news. 
As Sutter would further laud in the previously-quoted renewal announcement, "The Mayans MC mythology sprung from the womb of Sons of Anarchy, but anyone who has taken the time to watch, knows it has become its own mythical creature."
Fellow creator James concluded, "It still feels like a dream that Kurt took a shot on me, and that every day I get to learn from him and work with our brilliant writers, cast and crew who pour their hearts, blood and sweat into bringing Mayans MC to life. I'm also grateful to FX, Fox 21 and FXP for their support and faith in me."
Beginning September 4, Mayans, which stars J. D. Pardo and Edward James Olmos, was the highest-rated new cable series of 2018, averaging 8.2 million viewers across all platforms. Mayans is also the highest rated Tuesday-night series on all of cable or broadcast among the coveted men 18-34 and men 18-49 demographics.
Nick Harley is a tortured Cleveland sports fan, thinks Douglas Sirk would have made a killer Batman movie, Spider-Man should be a big-budget HBO series, and Wes Anderson and Paul Thomas Anderson should direct a script written by one another. For more thoughts like these, read Nick's work here at Den of Geek or follow him on Twitter.