News
Matthew McConaughey Talks True Detective
Matthew McConaughey loved True Detective and would be open to loving it again.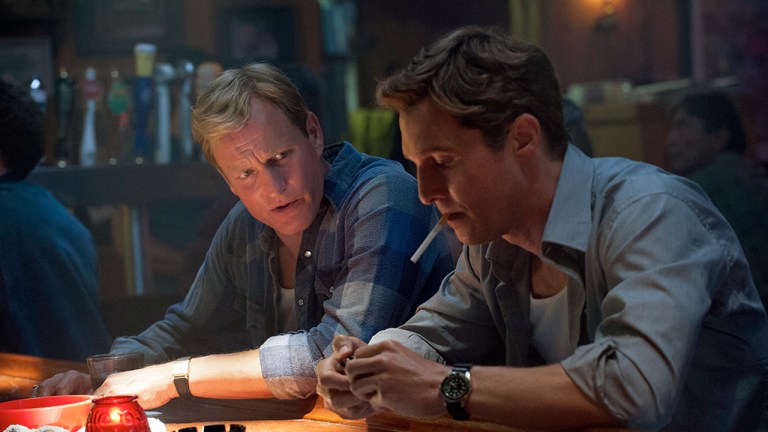 Matthew McConaughey doesn't just work at HBO, he's a fan. When he's not watching sports on TV, he's watching HBO. True Detective, coupled with the film Dallas Buyers Club, threw a curve into the veteran actor's arc that he hugged on the road to the Oscars to pick up the Best Actor trophy, and probably the Emmys. Not everyone got to see the movie, but most homes have HBO and True Detective became something of a phenomenon. It made McConaughey and Woody Harrelson, already household names, even bigger stars.
True Detective wasn't just a ratings high for the Cable network, it was an artistic and critical peak too. Matthew McConaughey had a big part in that, possibly selecting Woody Harrelson as his partner-in-arms and taking a huge career gamble, that he didn't consider that big a bet, on a little-known writer, Nic Pizzolato. McConaughey recently talked to Deadline Hollywood about his love of all things HBO and here's what we could steal to prove our point.
McConaughey spends his Sunday nights glued to HBO. He says "Sports is my favorite TV to watch, but that Sunday night episodic sit-down, that's one of my favorite things to do with my wife."
It wasn't just that he was adding his voice to the Nielsen Ratings. McConaughey has been watching the network, like most of us, since James Gandolfini put it on the map. "There was such quality to The Sopranos," he said, "and there are parts of The Newsroom I quite enjoyed, especially the early stuff."
further reading: True Detective Season 3 Review
The former Ed from EdTV loved HBO so much he didn't have to think long on "What does it mean to go from the big screen to small screen" and he wasn't worried about taking a chance on a novelist as a showrunner. " I read those first two episodes, and the quality was so apparent, and had such an identity to it that even without reading the final six episodes, I felt this was going to be hard to screw up," he said, to the magazine, not us.
"The only thing was," he admitted, "they wanted me for the Marty Hart part, and I liked the Rust Cohle part. The director, Cary Fukunaga, well I was a big fan of Sin Nombre. The fact that it was going to be those two, Nic and Cary, through all eight episodes?"
"I understood why they wanted me for the Marty role. I think from my past work, someone would think that I would be more right for that. I said, the guy on the page who I cannot wait to hear what's going to come out of his mouth, and who I agreed with in so many ways, or at least I understood his mind and his character, was Rustin Cohle," he admits.
So, McConaughey called in Woody Harrelson. Or so the story goes. The way McConaughey tells it "I've been told I was the one who said, `You got to go to Woody for this.' I don't know if that came out of my mouth first, but I know that if it didn't, I agreed when I heard it and knew he was a great choice right away."
Would he do it again? "I liked True Detective, the whole series and the experience of making it," he says, "so much that I'd be open to doing another one now. At the time, I was looking at six months and not beyond that. I don't know of a feature film I'd sign for where I'm going to say, `If this works, you've got me whenever you want me for the next three years.'"