News
Matthew McConaughey Misses True Detective's Rust Cohle
True Detective's taciturn investigator reminds us the world needs bad men to keep the other bad men from the door.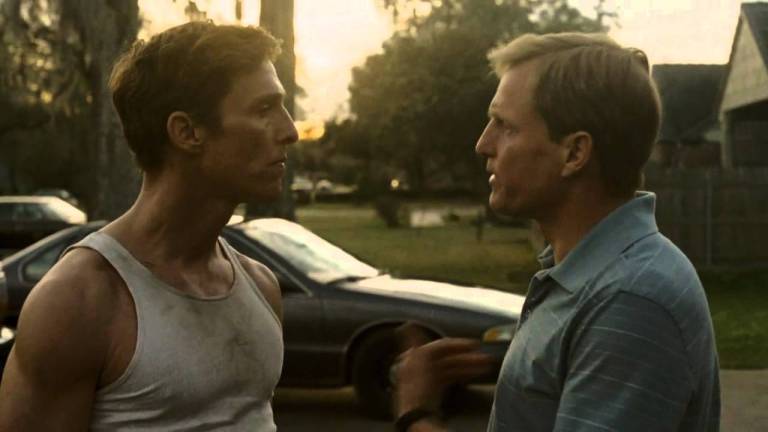 On HBO's True Detective season 1, Rust Cohle explained that time is a "flat circle" and that everything "we've ever done or will do, we're gonna do over and over and over again." Matthew McConaughey, who played the deep dark undercover detective, admitted in an interview on Wednesday's episode of The Rich Eisen Show that playing Rust over again wouldn't be bad karma.
"I miss Rust Cohle, man. I miss watching him on Sunday nights. I miss watching True Detective on Sunday nights," McConaughey told Eiesn. "I was a happy man when we made that for six months, because I was on my own island. Luckily, my wife put up with me. She said I was pretty nice when I came home."
read more: True Detective Season 3 Review
True Detective season 1 was called one of the best television shows of the year. It won five Emmys in 2014. McConaughey and Woody Harrelson were both nominated for Outstanding Lead Actor in a Drama Series. They both lost to Bryan Cranston for his turn as the terminally ill chemistry teacher making buck on AMC's Breaking Bad.
The first season made viewers feel they were mainlining the secret truth of the universe. The second season of True Detective, which starred Colin Farrell, Rachel McAdams and Vince Vaughn, convinced some, not me, but some, viewers that HBO'd lost it.
Creator Nic Pizzolatto and HBO are hoping to bring True Detective back for a third season. In spite of the show's anthology format, McConaughey admitted that his eight episodes as Rust Cohle on True Detective might not have been all he had to say as the character. Neither his nor Harrelson's character died at the end of the run. When asked if he would reprise the role, he said "Yeah, I would."
"I've talked to Nick (Pizzolatto) about it. It would have to be the right context, the right way," he told Eisen. "That thing when I read it, I knew in 20 minutes if I can play this guy Rustin Cohle, I'm in. It would have to be the right context, the right way."
McConaughey says the writing was "so good" he didn't have to "act, so to speak," but admits that he worried that his character might have been boring in the first 160 pages of his more interior scenes, but kept himself jazzed by remenbering Rust would soon "go off the rails and get back in the game," going after the bikers. 
But Cohle wouldn't be a big sports fan, not the kind who'd sit at the 50 yard line and rank on the cowboys. He might listen to Joe Morgan talking baseball though, on Sunday mornings.
The Oscar-winning actor also explained that there is less stigma attached to actors who shrink their images to the small screen, especially now that TV is offering equally challenging roles.
"People have said 'what about you going from the big screen to the small screen?'" McConaughey told Eisen. "That used to be sort of a little more taboo kind of idea to do — not anymore. Plus if it's great quality, you're actually getting better quality dramas on the small screen today, a lot better than you get on the big screen sometimes."
McConaughey will next be seen in Free State of Jones, which hits theaters on Friday.
The Rich Eisen Show airs at Noon ET/9 a.m. PT weekdays on DirecTV's Audience Now.
SOURCE: BIRTHMOVIESDEATH