Features
Matt Stokoe, Karla Crome & Natasha O'Keeffe on Misfits series 5
Caroline caught up with the cast of Misfits series 5 on the set of the final series, to talk powers & more. Major spoilers...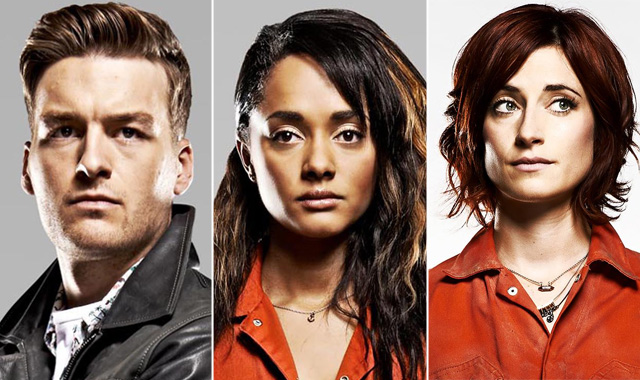 Warning: this interview contains labelled spoilers for Misfits series five.  
Misfits' fourth series saw a lot of new faces, with Karla Crome's sassy Jess, Matt Stokoe's mysterious Alex and, lastly, Natasha O'Keeffe's Abbey entering the frame after the mass departure of original cast members the year before. They settled in brilliantly, in spite of the circumstances, and now we're getting ready to see them, and the show, off forever in the fifth and final series on E4.
We spoke to the actors about resolution, new genitalia-related powers and the revelation of Abbey's closely-guarded secret…
What can we expect from series five?
Matt Stokoe: I think, genuinely, that it's the most ambitious thing I've ever been a part of. Series four in itself was really ambitious – the scale of it was really impressive – but this year is the finale and, on top of that, we're all a lot more settled in our roles and have been working together a lot longer. There's just a much better synergy with everything, really. I'm really looking forward to that translating onto screen because honestly, I can't give too much away but, for me, it's the biggest I've seen Misfits be in terms of how visionary they're trying to make it.
Natasha O'Keeffe: There's so much to remember, as well. We've been filming now for months and it's jam-packed full of craziness. I was reading thought the scripts yesterday just to recap on stuff and I'd forgotten loads about it. If you put Scouts and Satan in the same bracket then that's confusing, but that's a part of it, and there are loads and blood and fights…
MS: …every episode has a really strong, brilliant story.
I mean, you have faith in everything you do because you know how hard you work and how good you want it to be, but I've really, really got faith in this series in particular because, as I said, we feel a little bit more comfortable now. And also, compared to last year, you read these things on the page – set-pieces and things – and go 'how are they gonna do that? How is that actually gonna happen?' Also, on a side note, I think this year could be the most controversial in terms of some of the topics etc.
I know for a fact that, with a couple of scenes I've been involved in, they've had to get clearance from lawyers – that's the level it's on now. It's a matter of, legally, are we going to get away with this if we do it on the telly. It's awful, and I've got the short straw again.
There wasn't a lot of power use last season, are you enjoying working with effects more this year?
MS: I'm doing quite a lot this year – and that in itself is going to be the source of a lot of controversy. Again, it's all kind of genitalia-related, but doing all of the green-screen stuff and all of the power stuff is brilliant because you kind of feel like you're in one of these Marvel superhero films – with all of the effects and the scale of it – and then you're brought crashing back to reality when you remind yourself of what your power is. You're not doing something really cool, you're doing something pretty stupid just on an amazing scale.
I think that's what's really going to satisfy the fans because, when you think of superheroes and superpowers, the emphasis is on the word super. You think of these huge moments, enormous events, special effects and the supernatural, and Misfits has been really interesting in terms of exploring the more intimate side, the human side and how it changes you as a person, but it's quite nice to know that in the finale you're catering to the other side of it as well – here are the big moments and the explosions and the superpowers. Here are some scenes that you'd think of when you think of superheroes – it's just a lot more satisfying that you cover both ends of the scale.
And you've got powers that no other show would even dream of touching…
MS: It's just more interesting, isn't it? If you think about if there really was a storm and loads of people got superpowers, it wouldn't just be that 45 people would be able to fly, and 300 people would be able to… they'd all be so individual and geared to that person that you'd have a real cross-section of great powers and some really shit ones. I think that's what this programme's like – it's endlessly inventive in terms of the writing. If you can think of it then they can make a power out of it.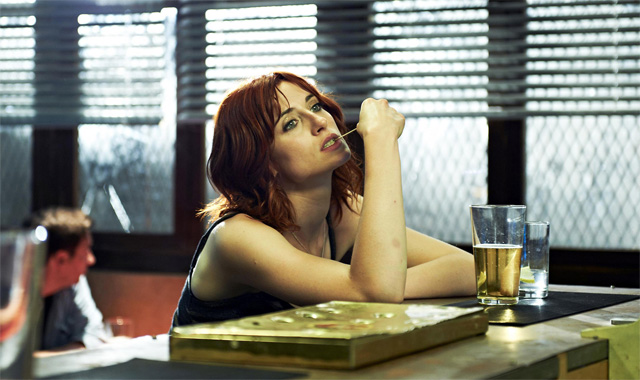 Will we see Abbey have a different power, or is the series just about discovery who she is?
NO'K: It's definitely that side of it – the discovery of who she is. All of that gets revealed in this series. There isn't a superpower as such, but I reckon she's a bit of a hero in that she goes and saves people and she's definitely part of the gang, just without the power.
'Scary' is a bogeyman that I have to save SPOILER my creator from. That's part of the revelation that Abbey is imaginary, which is why I haven't got a power, but I am the product of someone else's power. END OF SPOILER.
How does Alex end up in the orange jumpsuit?
MS: SPOILER The guys all get possessed by the devil, and I realise that the only way to save them all is to cut the head off the snake – Finn is the first person to be possessed – and I have to get the devil out of him somehow. I have the power to fuck the powers out of people so I decide that's what I'm going to have to do to my mate Finn. So, yeah, I break into the community centre and Greg sees me and starts following me. I knock Finn out and basically rape him – reluctantly I stress – and Greg comes in as we're lying there post-coital. He's got a bit of a thing for Finn so, although I think technically I'm on community service for breaking into the community centre, I also think there's a bit of malice and personal judgement from Greg because I've shagged the love of his life. END OF SPOILER.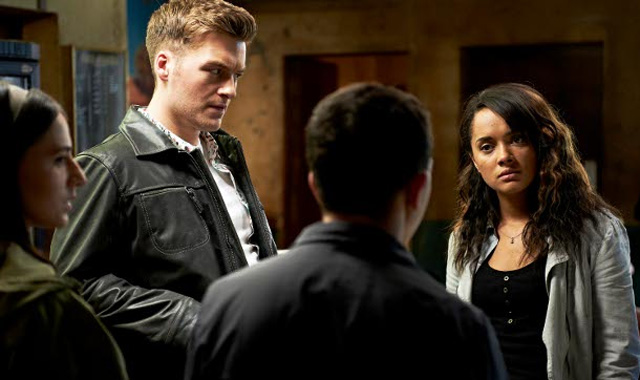 Jess is involved in a lot of the love stories, is there a chance for her and Finn?
Karla Crome: No. No chance. By the end of last series, I assumed Finn and Jess would get together this series, but they didn't go down that route. And I'm sort of glad they didn't because it's what's expected, and SPOILER Jess actually ends up with Rudy – the insensitive prick version. END OF SPOILER.
It's interesting with Jess because I don't know how old she is, where she's from, is she's got any family, why she's on community service or what her surname is. There was so little of her explored last year and, actually, those questions aren't answered this year either. So, as an actor, I have to grab on to what they do give me which is she always tends to get involved in a sex/love kind of thing.
Would you describe the end as happy or tragic?
MS: Both.
KC: Happy – how's it both?
MS: Think about what happens half-way though the episode, before you right that wrong. There are some really big, emotional moments in the final episode, but if you're talking about the very last scene, then it ends on a high. But there are definitely moments of both where the audience are going to be holding their breath and saying, 'No…'.
I think that too much closure is a bad thing. I think you do get closure but there's definitely some teasing going on also – just to keep the appetite for it. It's nice because, if they do decide to go and make a film, it's a nice segue into that but if they don't then you've got enough closure to feel like it's a satisfying ending. It's really good, the last episode.
Misfits series 5 starts on E4 on Wednesday the 23rd of October at 10pm.