News
Matt Smith & David Tennant Anticipate the Next Era of Doctor Who
The former Doctors can't wait to see the new Doctor at work in their roles as fan.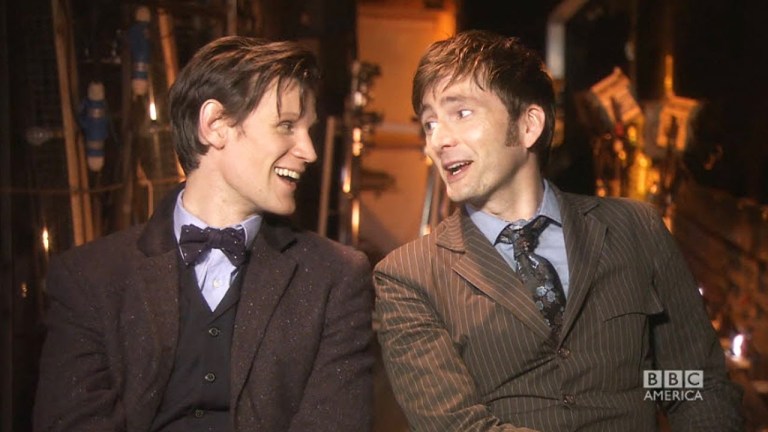 The time of Matt Smith and David Tennant on Doctor Who has passed. It's been more than five years since Smith held the role as The Doctor, and eight since Tennant starred in the series. Both Smith and Tennant were on stage tonight at New York Comic Con, alongside Doctor Who co-star Alex Kingston (River Song), to reminisce about their time in the role, as well as look forward to what's next for this iconic show.
"When you leave the show," said Smith about the coming of Doctor Who Season 11, "what's weird is that you sort of immediately turn back into a fan. So, Sunday, I'm literally counting down as a fan. I can't wait. I can't wait to see it."
Tennant, who has been a fan from a very young age, put this next era of Doctor Who in the context of his nearly lifelong fannish devotion.
"I was three when I saw Jon Pertwee turn into Tom Baker," said Tennant. "And I remember that prompted a conversation with my parents about what was going on with the Doctor's character and, even further, that these were actors pretending to tell a story. That started a whole journey for me which ended up pretty much here."
Read and download the Den of Geek NYCC 2018 Special Edition Magazine right here!
Tennant starred alongside new series star Jodie Whittaker in Broadchurch, and says he is looking forward to seeing how his daughter responds to this new era of Doctor Who—the first with a female Doctor.
"That character, when I was growing up, was hugely important to me—partly because they were amazing adventures and they were stories that transported me and got me excited, but also because there was a hero that wasn't a jock," said Tennant. "He was a hero because he was brainy and he was quick. He was a nice guy. He was kind and he wasn't the strongest person in the room, but he was the strongest person in the room. And that was really important to me."
Tennant continued…
"I've always cherished that, especially getting to play that. That seemed really important: to have a hero that a certain type of kid aspired to. And I have a daughter, and the fact that the Doctor will now be both genders, if that allows my daughter then into that in a way that it didn't before, then that's wonderful and I'm delighted."
Earlier in the panel, Tennant spoke specifically about Whittaker in the role, saying: "It's very exciting. She's very cool. She's a very funky choice and she's gonna be magnificent."
The Doctor Who Season 11 premiere airs on Sunday, Oct. 7 at 1:45 p.m. ET on BBC America. You can also catch a special encore that night in the show's regular time slot of 8 p.m. ET.