News
Matt Hardy Continues To Evolve in TNA
Hardy's heel character is showing new layers on a weekly basis ...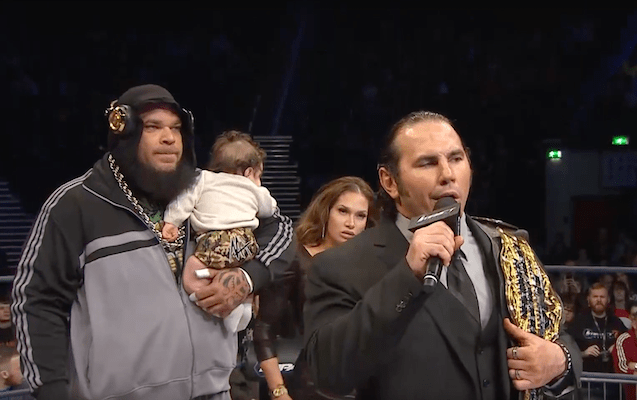 TNA's Impact Wrestling is helped dramatically by the live atmosphere in the U.K., as the company kicked off a series of shows that were taped in the U.K. just last week. Granted, the reason it's like that is because they are only there once per year, so it's not like this is something they can do all the time to water down those crowds, but these U.K. shows always have a better atmosphere and it's palpable on television.
ECIII returned on this episode and I thought it came across a little flat, in that he didn't speak and was really only seen for a few moments before the show signed off the air, brawling with Tyrus at ringside and then chasing Matt Hardy, who ran away. That's good build for the future of Hardy-ECIII, but there was a combo feeling that ECIII didn't do enough, and it also left the viewer wanting to see more. So that's a net positive, I'd say.
It felt like that show-closing angle was more a hook to get the viewer to tune in next week. ECIII has already explained why he's a babyface now, in a really great promo last week, without using those words obviously, but we've yet to see what type of babyface character he's going to be.
On the flip side, TNA continues to develop its heel roster nicely. Decay is coming along quickly, E.Y. and Bram are starting to gain some traction and Matt Hardy has been very good in his new lead heel role, as is Reby.
Matt Hardy isn't just playing a heel Matt Hardy character, he's evolving and tonight he looked more and more like a 1980s heel Ric Flair. His hair was slicked straight back and Hardy even mimicked some of Flair's style in his promo, particularly when he got fired up and began to shout. It was very reminiscent of Flair. The one stark difference, of course, is that Flair was the "wheeling, dealing, kiss stealing son of a gun," and Hardy is traveling with his wife and baby. Reby was again very good here as well in her limited speaking role. She's the straw that stirs the drink when it comes to Hardy and this heel turn.
TNA appears to be building to an eventual Hardy vs. Hardy match, and with Jeff now out of the picture injured for what I assume is the next several weeks, if not a few months, it allows TNA to close up the Hardy-ECIII feud. What will be really interesting is where TNA goes with ECIII coming out of that Hardy feud. If they eventually go with Hardy vs. Hardy, ECIII needs to be removed from the title picture. Something will have to pull him away. That could be Bobby Lashley, especially if Lashley turns heel, or perhaps they go in another direction and ECIII feuds with Mike Bennett or even Eric Young. 
It appears, at least for the next few months, TNA's biggest matches are the eventual Hardy vs. ECIII rematch, Hardy vs. Hardy, Jeff Hardy vs. Eric Young, Drew Galloway vs. Mike Bennett and the farewell tour of Kurt Angle. Throw in the eventual Wolves vs. Beer Money match, and there's some big things to look forward to.
Match Results
1. Bobby Lashley beat Bram
2. Trevor Lee (c) beat Tigre Uno to retain the TNA X-Division Title
3. Beer Money (James Storm & Bobby Roode) beat Decay (Crazzy Steve & Abyss) via disqualification
4. Jade beat Madison Rayne
5. Drew Galloway beat Kurt Angle
Quick Strikes
1. TNA needs to pay attention to the little things. Why, when Eric Young missed Lashley and hit Bram with the KOTM Title during the opening match, wasn't Lashley disqualified? Because that wasn't the finish, of course, but Earl Hebner didn't even try to prevent E.Y. from getting into the ring. There were better ways to have E.Y. cost Bram the match. Blatantly ignoring rules isn't something that should be done and it's not a good look for a company that is trying to establish itself as the one where the in-ring competition matters.
2. The Galloway-Angle match was a very fun match. It seemed like, at first, they were overdoing it with the number of false finishes and kick-outs to finishing moves, but it was nicely set up with Galloway finally abandoning the pinfall attempts, and instead forcing Angle to tap out in a submission. They told a really good story, with Galloway perhaps realizing that he wouldn't be able to pin Angle, and in the process he also established a new submission hold. It also helped that the live crowd was so into the match. TNA often doesn't have that type of atmosphere.