News
Marvel's Inhumans to Get Different IMAX & ABC Episode Edits
Will there be a difference between Inhumans' two-hour IMAX premiere and its two-hour ABC premiere?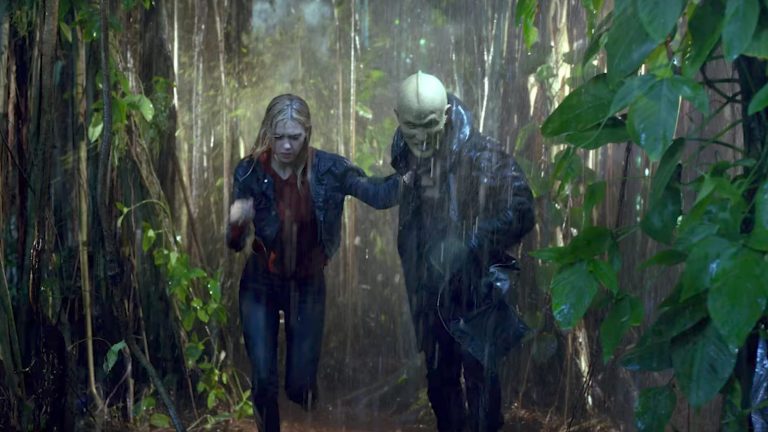 On September 1st, Marvel's Inhumans will make history as the first TV show ever to premiere on IMAX screens. The two-week IMAX engagement will preceed the show's ABC debut on September 29th, where it will also air the rest of its eight-episode first season.
Will fans get the same episode both in IMAX and on ABC? Den of Geek was part of a group of reporters who visited the Inhumans set in March. While there, we talked to IMAX Entertainment CEO Greg Foster and the director of the first two Inhumans episodes Roel Reine about where Inhumans falls on the TV-film spectrum. Which medium is it?
"It's a television show. It's not a movie," clarified Foster. "But it's a television show with incredibly high production value, that features a lot of things futuristically, and in space, which lends itself to IMAX." 
Reine echoes the sentiment, though says that the shooting style was much more like a film shoot than a TV shoot. Reine said: "I really think all the choices, and prep, and locations we chose, and the lenses we were using, and the steady cams, and all the technical stuff, we are shooting a movie, big movie, plus, we are doing TV coverage for the scene, so we can have the drama and the close-ups."
Reine actually made two different edits of the first two episodes of The Inhumans: one for IMAX and one for TV. Obviously, they will overlap in some major ways, but Reine said that, while he was shooting, he knew which shots he would use for the IMAX edit and which shots he would use for the ABC edit.
"If you are going to do a big close-up like this in IMAX … you better have something important to say … but, in TV, we are expecting this a lot, because you want to go in this character, you want to feel this character. That is why TV is cool: you spend 12 hours with the character instead of two hours in a feature. So, you also need that coverage. So, that is the only difference for me."
Will the fact that the first two episodes were filmed for IMAX screens make for a clunky transition into the rest of the season? Showrunner Scott Buck says no, elaborating: "We had to be very conscious of what we're leading into. We didn't want to make this such an enormous spectacle that they're going to get to Episode 3 and [have viewers think] 'what happened to the show?'"
Buck hopes that, by the time Inhumans is on its third episode, the audience will be hooked by the characters and the stories. "It's going to be a very beautiful show," Buck says. "We're shooting in Hawaii. We still have these tremendous sets that we built so, yes, we have a little more time, a little bit more money for the first two [episodes], but, ideally, the audience will be so involved in the story at that point."
Marvel's Inhumans premieres exclusively in IMAX theaters for a two-week engagement starting September 1st.
Read and download the full Den of Geek Special Edition magazine here!