News
Marvel's Inhumans Season Finale Trailer and Details
We've got everything you need to know about Marvel's Inhumans TV series on ABC!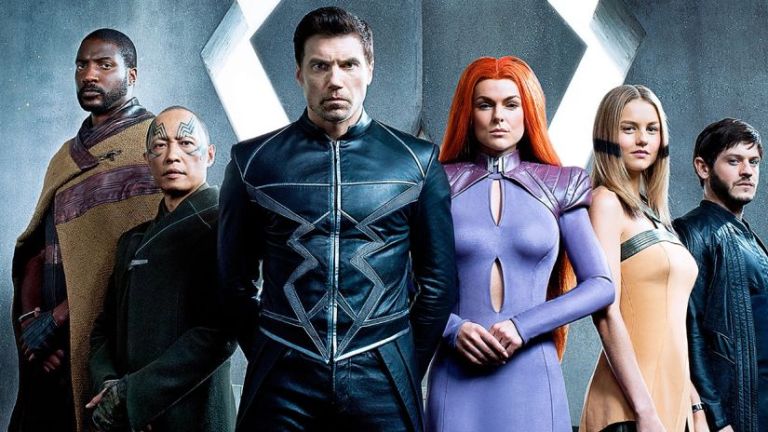 Marvel's Inhumans TV series has a familiar showrunner to make the show a reality: Scott Buck, who worked as showrunner on March's Iron Fist (and, of course) Dexter. You can read our review of the most recent episode here.
The next episode (and season finale) of Inhumans is called "And Finally: Black Bolt" and it airs on November 10.
Check out the trailer here…
Inhumans Episodes
Check out our complete Inhumans episode guide. Click the blue links to go the reviews!
Inhumans Episode 1: Behold…The Inhumans
air date: 9/29/2017
air date: 10/27/2017
air date: 11/3/2017
air date: 11/10/17
The Inhumans Trailer
Check out all the Inhumans footage so far right here!
And here's the Inhumans trailer that premiered during San Diego Comic-Con:
The first trailer for Marvel's Inhumans is below:
Here's a Medusa-centric clip…
— Marvel's Inhumans (@theinhumans)
August 3, 2017
Check out our stories from our Inhumans set visit…
Marvel's Inhumans: Iwan Rheon Talks Maximus the Mad
Marvel's Inhumans: Serinda Swan On Playing Medusa
Marvel's Inhumans: Anson Mount on Staying Silent as Black Bolt
The Inhumans Release Date
ABC has officially scheduled the broadcast premiere of Marvel's Inhumans for September 29, airing a double-episode block from 8-10 p.m.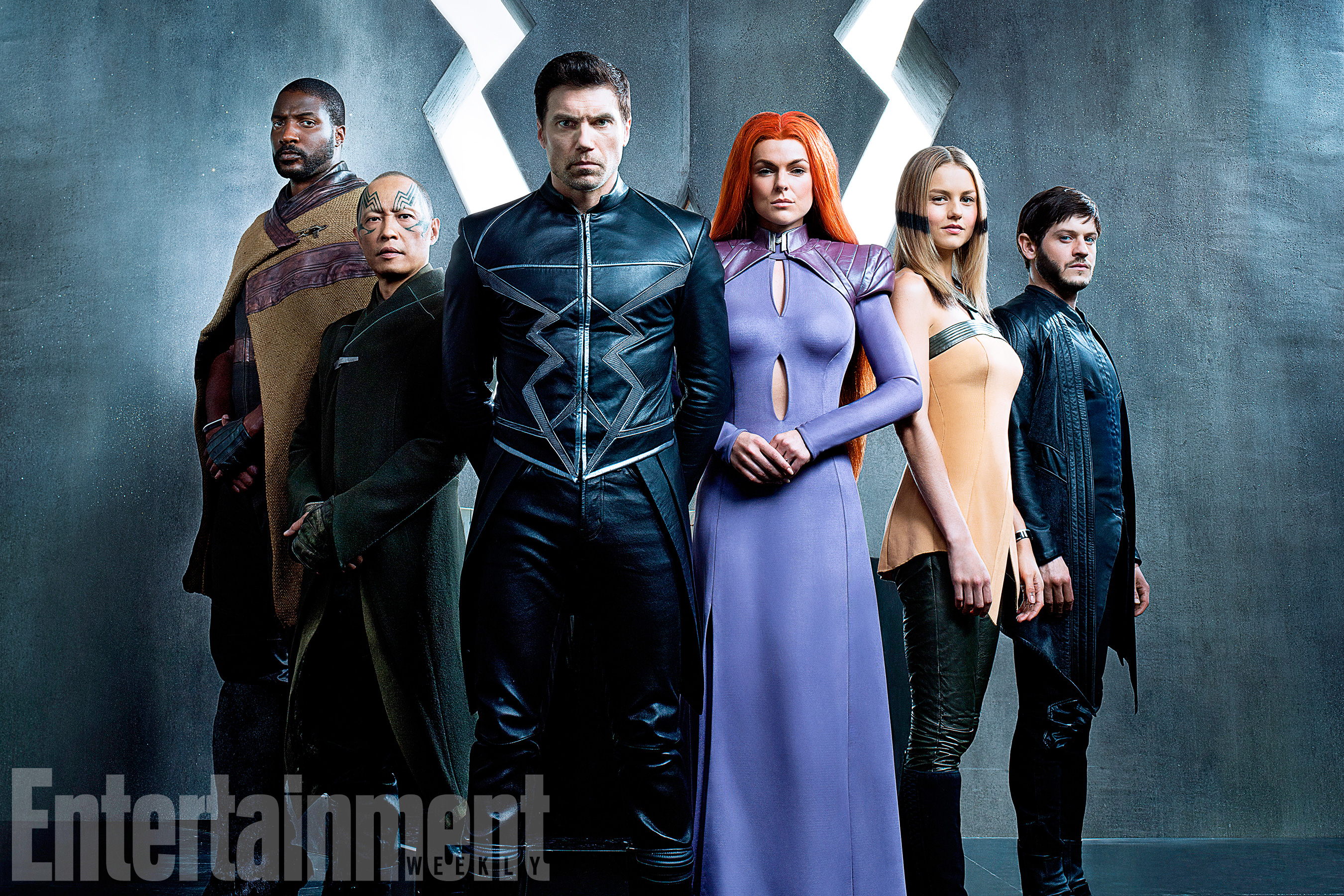 The Inhumans Cast
Let's go from left to right in that picture:
Eme Ikwuakor is Gorgon, "Cousin of Black Bolt (Anson Mount), member of the Royal family, and leader of Attilan's military. With super strong legs, complete with hooves, he can generate destructive seismic waves with a single stomp. The yin to his cousin Karnak's (Ken Leung) yang, Gorgon would rather fight than talk to solve his problems."
Ken Leung (Lost, The Sopranos) is Karnak, "Black Bolt's cousin and closest advisor." According to the official character description, "His gift is an ability to see the fault in all things — people, plans, structures, everything. He's Black Bolt's most ardent supporter and strategist and is often seen as the royal family's planner and philosopher."
"Ken brings both a wisdom and a power to the role that no one else could match. His Karnak will be awesome," said executive producer Jeph Loeb in a statement.
Anson Mount, loved by fans of AMC's excellent western Hell on Wheels will play Black Bolt, " the enigmatic, commanding King of the Inhumans, with a voice so powerful that the slightest whisper can destroy a city."
"Anson loves the challenge of playing a character who will only communicate silently," said Jeph Loeb, Head of Marvel Television and Executive Producer in a statement. "His enthusiasm mixed with his imposing almost regal persona made it easy to see why he is our Black Bolt."
"Black Bolt is a character whose deep complexity must be conveyed without uttering a single word," added Scott Buck, "and I'm very excited to have Anson on board to bring him to life."
Serinda Swan (of Graceland fame) will play Medusa, "Queen of the Inhumans and wife of Black Bolt — his most trusted advisor, a fiercely resilient warrior who has the ability to move and control her hair the way most people use their hands and fingers." 
"Serinda empowers Medusa's regal glory and still maintains a relatability that synced perfectly with the character," said Jeph Loeb, Head of Marvel Television and Executive Producer in a statement. "She is nothing short of wonderful."
Isabelle Cornish is Crystal, "the youngest member of the royal family and has the ability to control the elements. Impetuous and independent she is also deeply devoted to her family."
Iwan Rheon is Maximus, who has been described in previous character descriptions as the "clever and charming Inhuman that is fiercely devoted to the people of Attilan, especially his brother, Black Bolt –though he harbors an intense desire to wear the crown himself." 
Secretly covets power? Yeah, we'd say that is in Rheon's wheelhouse. The Welsh actor previously played power-mad Ramsay Bolton on Game of Thrones.
Not pictured here:
Mike Moh is Triton, "Black Bolt's cousin, he's calm under pressure and supremely athletic. His gift is his fish-like ability to live underwater."
Sonya Balmores is Auran, "Head of the Royal Guards on Attilan, a capable and no-nonsense woman. She is fiercely loyal to the King of Attilan."
Ellen Woglom is playing Louise, a human with no powers. She's described as "smart, intense, and focused—so focused that oftentimes, social skills take a back seat. Her job at a private aerospace company is her life, second only to her passion for all things space and lunar. She's primed to be swept up in an adventure." 
Don't go crazy, though. "She's not a character in the comic books," Scott Buck told Entertainment Weekly. "She's someone new who we have brought in."
But most importantly, Lockjaw will be on the show! "Crystal's 2,000 lb canine companion; he is a two-thousand-pound dog (yes, a dog!) with the ability to teleport." 
The Inhumans Story
Here's the show's official synopsis:
After the Royal Family of Inhumans is splintered by a military coup, they barely escape to Hawaii where their surprising interactions with the lush world and humanity around them may prove to not only save them, but Earth itself.
So, this puts to rest any speculation that Hawaii would be doubling for Atillan on the show. Instead, we're getting a decidedly Earth-based (and perhaps more TV budget friendly) approach to the team. On the other hand, the first two episodes are getting a theatrical release (more on that in a minute) so we may get some of the more "out there" big set elements before the team comes to Earth.
Read and download the full Den of Geek Special Edition magazine here!
Check out the poster, which features unmissable splendor of a symbol familiar to fans of the classic Marvel Comics lore that's notably affixed on the costume of team leader Black Bolt….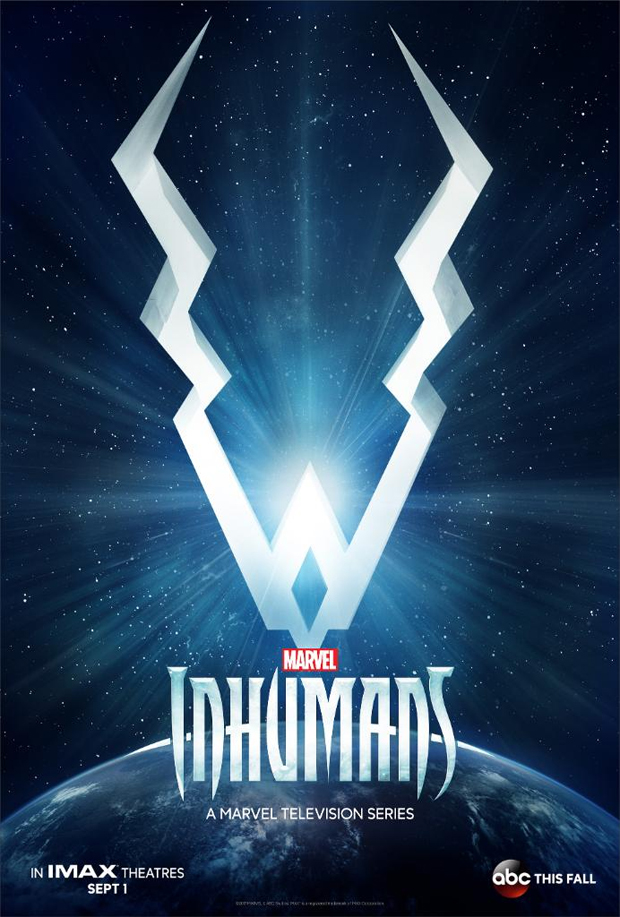 Marvel/ABC has also released these more character-centric posters…