News
Marvel TV/Movies Crossover "Wouldn't Work"
The odds of a Marvel Cinematic Universe and Marvel Netflix Universe crossover get slimmer by the day.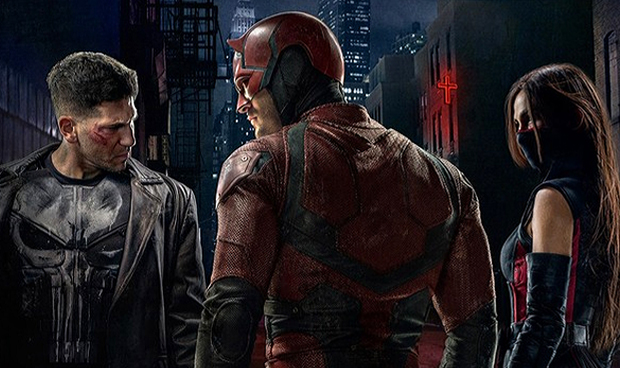 The Marvel Cinematic Universe is a big place, and it's getting bigger all the time. You've got the solo movies that started with Iron Man, the cinematic team-ups that began with The Avengers, the TV shows that started with Agents of SHIELD and the Netflix series that kicked off with Daredevil.  
Fans have long been hoping that these worlds could properly collide, with a crossover between the big screen Avengers, the small screen Defenders (Charlie Cox's Daredevil, Krysten Ritter's Jessica Jones, Mike Colter's Luke Cage and Finn Jones' Iron Fist), and perhaps even some SHIELD agents, being a popular dream. But since none of those small screen heroes have appeared on the cast list for the biggest Marvel movie of them all, Avengers: Infinity War, and the shooting schedules of The Defenders and Agents of SHIELD will keep their respective casts away from Atlanta's Pinewood Studios, it seems like this will remain a dream.
And Anthony Mackie, who plays The Falcon in the Captain America and Avengers films, doesn't think that's going to change. "Different universes, different worlds, different companies, different designs. [Marvel Studios president] Kevin Feige is very specific about how he wants the Marvel Universe to be seen in the film world," he told ScreenGeek. "It wouldn't work. It wouldn't work at all." 
Admittedly, Mackie isn't involved in the creative process behind the scenes, and this is just his opinion. Still, from a practical standpoint, it sounds like a crossover isn't likely. Of course, some characters have already jumped between platforms. Clark Gregg's Phil Coulson started in the films and now does TV. Samuel L Jackson's Nick Fury has appeared in both, too, as has Cobie Smulders' Maria Hill. William Sadler's President Ellis and Powers Boothe's Gideon Mallick have jumped from movies to the small screen as well.
If we can't have key characters like Doctor Strange and Iron Fist sharing scenes, could we at least send Vincent D'Onofrio's Kingpin over to the movie world to make life hell for Tom Holland's Spider-Man? I'd settle for a few more smaller crossovers like that.