News
Marvel Screens First Episode of The Defenders at SDCC
Fans in Hall H were given a surprise screening of The Defenders, a clip from The Punisher and more!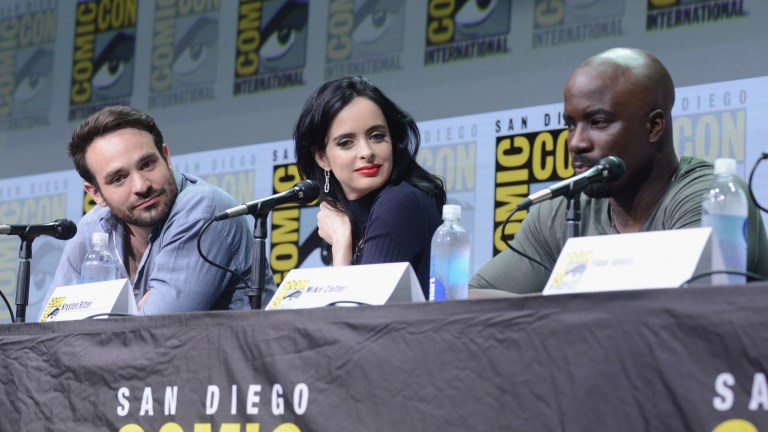 Marvel Television/Netflix went big in its Hall H debut on Friday at Comic-Con, giving fans a surprise screening of the first episode of next month's street superhero team-up, The Defenders. But that wasn't all: Marvel Television head Jeph Loeb brought out Jon Bernthal to introduce a clip from The Punisher series, a second season for Iron Fist was confirmed, and a new trailer for The Defenders was unveiled as well.
The clip from The Punisher started unpredictably, with Frank Castle and his daughter playing guitar in what was clearly a painful memory for him that was intercut with scenes of him playing the same guitar in a dark, empty room.
Then the killing began, with Castle mowing down two bikers in Alabama with a van, blowing off the head of a drug dealer in Texas with a high-powered rifle from hundreds of yards away, and throttling a guy in a suit in a public restroom in Manhattan — with all three apparently connected in a way we won't know for a while, since the show doesn't have an airdate yet.
Loeb got his own surprise too when SDCC's Eddie Ibrahim came out to present him with the show's Inkpot Award as a visibly moved Loeb fought to control his emotions. "They give this to Steven Spielberg," he said, genuinely shocked, before he thanked a long list of associates and the casts and crews of Marvel's Netflix universe.
A good chunk of that cast — Daredevil's Charlie Cox, Jessica Jones' Krysten Ritter, Luke Cage's Mike Colter and Iron Fist's Finn Jones — joined by several supporting players and Defenders nemesis Sigourney Weaver, took the stage next.
Plot details were few and far between, with each actor (including Elodie Yung, Jessica Henwick and Deborah Ann Woll) talking a bit about their characters but keeping things vague. And eventually it didn't matter because the 6,000 fans got to see the premiere episode.
I'll hold off on a full review, but the show slowly re-introduced all the main heroes and a number of supporting characters, getting their individual situations all re-established, before climaxing with a mysterious and terrifying event that Weaver's enigmatic Alexandra, along with the dreaded Hand organization, seemed to have a part in staging.
You can see the thrilling new trailer elsewhere, and tune in when all episodes of The Defenders start streaming on Netflix on August 18.
Read and download the full Den of Geek SDCC Special Edition magazine here!