News
Marvel's Hero Project: Half a Heart, Twice the Power
Lorelei, the upcoming subject on Marvel's Hero Project, finds power in helping those like her with heart defects in this exclusive clip.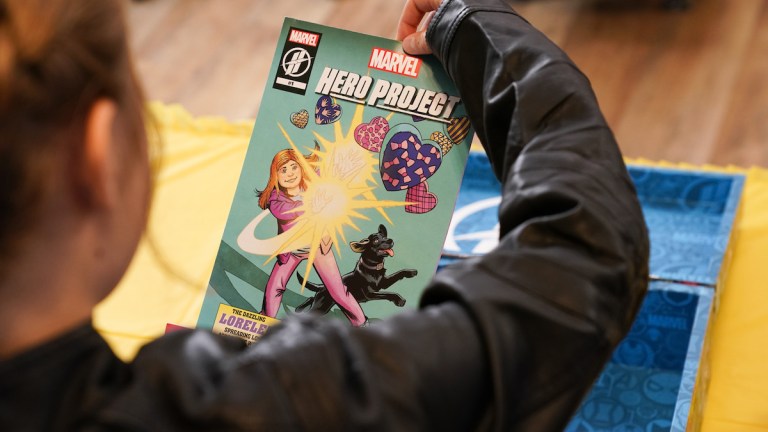 Marvel's Hero Project on Disney+ has made a name for itself by drawing parallels between the inspirational actions of kids who have achieved amazing things within their communities and the superheroes in the Marvel lineup. Each episode in the docuseries features a new young hero who has triumphed over difficulty or effected positive change in the world, and this week's installment featuring Lorelei, a young girl born with a congenital heart defect, is no exception.
Lorelei was born without a functioning left ventricle in her heart and has undergone more than thirty life-saving procedures, after one of which she was given an adult-size "compression heart pillow" to manage pain. Unfortunately, the pillow was too large to properly help her or others in her situation, so Lorelei has since begun making kid-size pillows. She has sent over 50,000 of them to children around the world and now does global advocacy to increase funding and healthcare access for children and veterans.
further reading: Marvel's Hero Project Honors the Superpowers of Kids
In this exclusive clip from Marvel's Hero Project, members of the creative and editorial staff at Marvel discuss the reason Lorelei was selected to be on the show. Sana Amanat, VP of Content & Character, likened her heroism to that of Iron Man. "He had a heart condition, and… he realized how important and how precious life was, and he decided to do good for the rest of his life," she says in the video. "And Lorelei in the same way understands the preciousness of the singular moment, that every single person matters outside of herself. She wants to send a hug to everyone!" See the rest of the bullpen discussion below.
Marvel's Hero Project tells the story of each young subject's personal brand of heroism in order to inspire its audience the same way we are inspired by the comic book characters who save the world with their special powers. After we learn about the journeys of people like Lorelei overcoming personal challenges to help others, Marvel presents the week's hero with a team jacket to let them know they've been inducted into the Hero Project superteam and then unveils a custom-made comic depicting the child's superpower along with their story told with artistic flair.