News
Marvel Knights Returns with Donny Cates as Curator
Thanos and Venom writer Donny Cates resurrects a key imprint from Marvel history.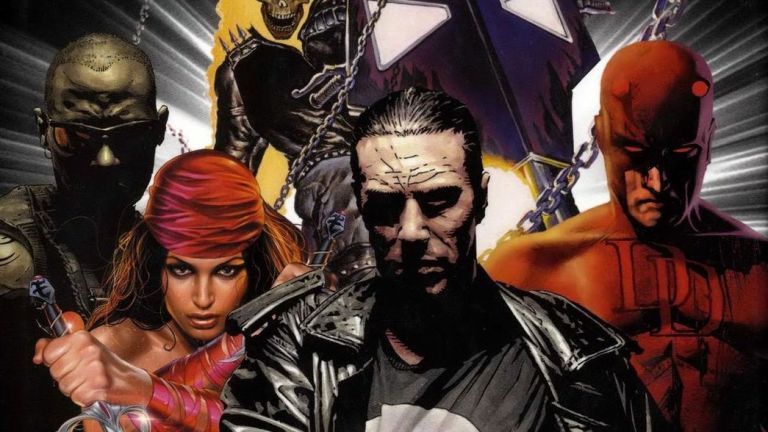 The Marvel Knights imprint is one of the most significant lines of superhero comics to have ever been created, and 20 years after its launch, Marvel has decided to resurrect it with one of its hottest young writers in charge.
Donny Cates (God Country, Thanos, Venom) was announced at SDCC as the "showrunner" of the relaunched Marvel Knights imprint. And while no titles were announced at the show, some of the creators Cates is bringing in were. Joining him are Tini Howard (Assassinistas), Matthew Rosenberg (4 Kids Walk Into A Bank), and Vita Ayala (The Wilds).
Marvel Knights was created in 1998 as Marvel Comics was entering bankruptcy. Joe Quesada and Jimmy Palmiotti were contracted to create comics with a collection of lower profile Marvel characters, which at the time included Daredevil, Black Panther, the Inhumans, and Captain America. You can probably see where this is going: the Marvel Knights stories with these characters are legendary and foundational for their popularity today.
Daredevil was launched with Kevin Smith writing and Quesada drawing, and was later adapted wholesale by the Netflix series. The Punisher story was "Welcome Back Frank," by Garth Ennis and Steve Dillon, and is probably the most famous Punisher story of all time. It was also later adapted wholesale by Netflix's Daredevil. Black Panthercame from Christopher Priest and is one of the best comics of all time, a run that inspired much of the movie from earlier this year. And Inhumanswas routinely one of the top selling books of the time and was the first of a thousand Jae Lee head tilts.
The success of the line was so great that Quesada was promoted to Editor-in-Chief shortly thereafter, and he helped lead Marvel out of bankruptcy and to become one of the most valuable entertainment companies in the world.
For more on Marvel Knights, stick with Den of Geek!
Read the Den of Geek SDCC 2018 Special Edition Magazine Here!