News
Maniac Season 2 Will Not Happen After That Ending
Maniac co-creator reveals why there cannot be a Maniac Season 2 after the series' ending broke the golden rule of TV.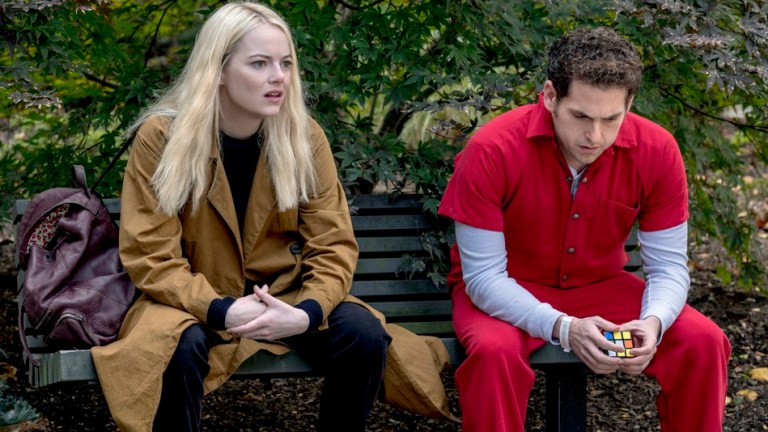 This article contains some Maniac spoilers.
At the moment, Cary Joji Fukunaga and Patrick Somerville's strange yet ultimately blissful limited Netflix series, Maniac, continues to find audiences. While it has divided some critics, including our own, the Emma Stone and Jonah Hill starring series is a unique art piece that arguably more resembles a standalone work of cinema than it does a season of television. And as it turns out, it is for that reason—as well as Stone, Hill, and now even future Bond director Fukunaga being very busy—that we will definitely not see a second season of one of the year's most groundbreaking television experiments.
Last week, director Fukunaga revealed that he hoped Somerville could develop a second season, although he would not be coming back, however while speaking to The Hollywood Reporter, Somerville confirmed that not only does he not think there will be a second season of Maniac, but he doesn't want one. For starters, the series was a two-year collaboration between himself and Fukunaga and was always intended to be of a limited scope, but further that preciseness of this vision also gave the creators, and Stone and Hill (who also executive produced the series), the freedom to make a complete narrative arc with a beginning, middle, and end. And that emphasis of an ending—a rarity in television—is also why Somerville says it cannot continue for a season 2.
"This was always planned as a limited series, and I think that's another reason why we had the freedom to have a more hopeful ending," Somerville explains. "A lot of times on TV, you have to throw your characters into distress again near the end to buy the next season, and we don't have to do that. It is a tremendous amount of energy and imagination to just make a new show, and so you do have this feeling of wanting to hold on and keep using it, because there's so much imagination in there, but I think part of why Maniac had that improvisational feeling along the way was knowing that this is it. Let's do it now, because this is what Maniac is." 
It is indeed a very hopeful ending. After the series begins on a glum look at the randomness of existence—especially for those marginalized as "other" by mental illness from their family or society, such as Annie and Owen—the two leads find a touch of grace while driving off in a rickety truck toward Salt Lake City. It is doubtful that the truck will even make it to Salt Lake City, or that Annie and Owen really know each other fully despite living a hundred lifetimes together during an experimental drug test, but the ability to form a real human connection with someone who doesn't treat the other as broken… well, it might just be the most satisfying finale of the year.
It also feeds into our understanding of how Maniac blurs the line between film and television further, because like film, it has a genuine ending that is more about the emotion of its characters than the plot or mythology of its fictional world, and it is more complete as a result. It also is the first season of television, we argue, fully open to auteur theory. It is an immense achievement, so even for the diehard fans of its surrealist canvas should be happy letting the ballad of Annie and Owen—and for that matter Dr. James Mantleray and Azumi—fade into the sunset.
David Crow is the Film Section Editor at Den of Geek. He's also a member of the Online Film Critics Society. Read more of his work here. You can follow him on Twitter @DCrowsNest.