News
Manhunt: Unabomber Trailer Arrives, Showing Paul Bettany in the Iconic Hoodie
The Manhunt: Unabomber trailer has Paul Bettany as the titular terrorist, hunted by an FBI agent played by Sam Worthington.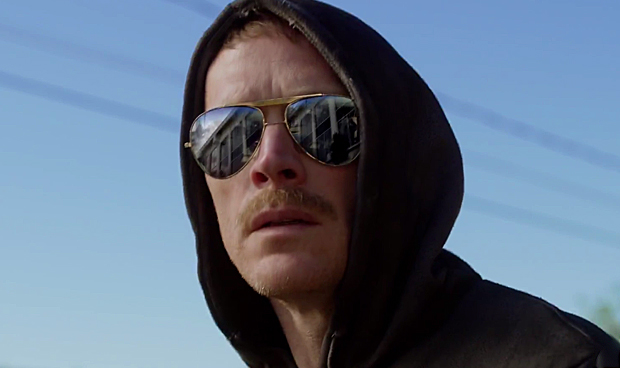 With the true crime genre becoming increasingly popular in the rapidly evolving television medium, the Discovery Channel is preparing a fascinating anthology series that chronicles the exploits of the FBI in some of their best-known cases. The first iteration, titled Manhunt: Unabomber (formerly Manifesto), is an 8-episode event series with ambitious designs, having acquired a high-profile actor in Paul Bettany to play the title role of one of the United States' most notorious domestic terrorists.
Now, the Manhunt: Unabomber trailer has arrived, showcasing Bettany as Ted Kaczynski, the man who made "cabin in the woods" into a colloquialism for the home of nutty terrorist, pit opposite Sam Worthington as the vigilant FBI profiler who ultimately cracks his attack pattern.
Manhunt: Unabomber Trailer
The Manhunt: Unabomber trailer is not only a showcase of Paul Bettany's eerie manifestation of Kaczynski (notably seen with the iconic mustache, hoodie and aviators,) throughout the phases of his decades-spanning clandestine, manifesto-driven endeavor to victimize the innocent with mail bombs, but the cat-and-mouse chase between him and FBI profiler Jim "Fitz" Fitzgerald (Sam Worthington). While the Unabomber's attacks initially came across as random, Fitz, whose more heuristic approach to profiling Kaczynski's radical, anarchic, anti-technology philosophy, ultimately cracked the code leading to his apprehension.
Of course, this is history and hardly a spoiler (the trailer itself ends with his incarceration). Indeed, like other entries in the biographical true crime genre, notably FX's Ryan Murphy-developed American Crime Story, these shows are about the journey more so than the destination. Indeed, as evidenced by this trailer, Manhunt: Unabomber effectively captures the bewilderment that people felt about the elusive and mysterious figure before his April 3, 1996 arrest in a remote cabin near Lincoln, Montana. It's a sense of random terror to which – thanks to the post-9-11 world – we have unfortunately become accustomed.
Manhunt: Unabomber Cast
Paul Bettany plays Ted Kaczynski, a.k.a. The Unabomber. The London-born actor who starred in notable films such as A Beautiful Mind Master and Commander: The Far Side of the World and The Da Vinci Code fields this most intriguing amidst other major projects on his docket like thriller Official Secrets opposite Harrison Ford, Anthony Hopkins and Natalie Dormer, war drama Journey's End and, of course, a reprisal of his Marvel Cinematic Universe role as android hero Vision in the 2018 mega-movie Avengers: Infinity War.
Sam Worthington plays FBI profiler Jim "Fitz" Fitzgerald, the lawman whose unconventional techniques becomes the Unabomber's bane. The Englishman Worthington burst onto the scene starring in the uber-lucrative 2009 film Avatar, 2009's Terminator Salvation, 2010's Clash of the Titans (and its 2012 sequel), filling an enviable run of big-budgeted blockbuster attempts. Manhunt: Unabomber will be his first starring role on the small screen. He can be currently seen in director Mel Gibson's war drama Hacksaw Ridge. Worthington will also reprise his role as Jake Sully in director James Cameron's impending trio of Avatar sequel films.
Keisha Castle-Hughes plays Tabby, a street agent who become Fitz's partner on the Unabomber case, serving as the green, by-the-book psychology-studying partner who will be the constant check against his eccentric methodology; a dynamic akin to The X-Files, making Tabby the Scully to Fitz's Mulder. The Aussie actress, whose acting debut as a child in 2002's Whale Rider earned her an Oscar nod, has made a home on television, also fields a recurring role on Game of Thrones and was a regular on Showtime's cancelled series Roadies.  
Jane Lynch plays Janet Reno, the United States' first female Attorney General. Reno, who, recently passed away on November 7, 2016, served under President Bill Clinton, overseeing escalating instances of domestic-bred terrorism that seemed to slowly parallel the post-9/11 era. Lynch, the veteran comedic actress, also hosts Hollywood Game Night and has been seen (and heard via voice performances,) on myriad movies and shows and was a crucial component for Christopher Guest's pseudo-documentaries Best in Show and A Mighty Wind. Yet, Lynch is probably best known for her small screen role as the uber-intense cheerleader coach Sue Sylvester on Fox's 2009-2015 comedy Glee.
The rest:
Lynn Collins (John Carter, X-Men Origins: Wolverine) plays undergrad linguistics professor Natalie, who Worthington's Fitz seeks out in his unconventional approach to the Kaczynski case.
Jeremy Bobb (The Knick, House of Cards) plays an antagonist of sorts for Fitz named Stan. Bobb's Stan will spend his time breathing down Fitz's neck and exploit any opportunity to blame him for any setback on the case.
Mark Duplass (The Mindy Project, The League) plays David Kaczynski, Ted's brother, who, following some alarming signs, provides key information leading to his apprehension.
Chris Noth (The Good Wife, Sex and the City) plays Don Ackerman, who, as the Bay Area Divisional Head of the FBI, oversees the Unabomber task force.
Manhunt: Unabomber Release Date
Manhunt: Unabomber will premiere on Discovery Channel on August 1 at 9 p.m. ET.