Features
Mad Men: The 10 Best Episodes
We count down our ten favorite episodes of AMC's masterful drama series, Mad Men.
Mad Men may not have been the most exciting show to ever appear on television, but it was one of the best written. Novelistic, character-driven, plot-adverse, with a matchless view of pacing, Mad Men is often brilliant with the tiny details that other shows gloss over. The series is almost meant to be owned on DVD or queued on streaming services, because it's most rewarding on repeat, binge viewings. Almost every episode features a singular theme or story, so that after you've consumed the whole, you can enjoy any piece out of sequence.
With 92 quality episodes, any list that tries to compile the very best is sure to draw some differing opinions. Season four's high watermark "The Suitcase" is a general favorite in "Best Mad Men Episode" conversations, but the internet has written about it ad nauseam.
Our resident Mad Men experts, Nick Harley and John Saavedra, have each chosen 5 of their favorite Mad Men episodes that they return to the most.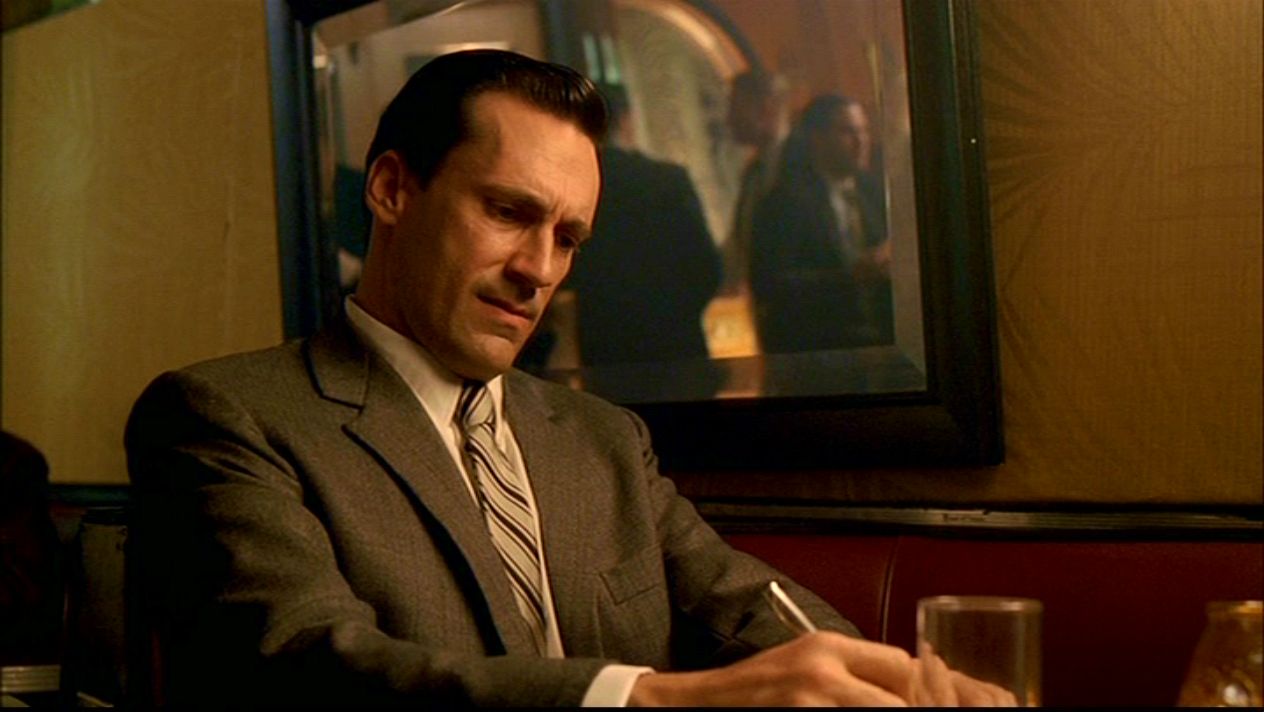 1×01 – Smoke Gets in Your Eyes
I have to take it back all the way to the very beginning, a pilot that seamlessly solidified what Mad Men would be about for the next seven seasons while also giving us a pretty great twist at the very end of the episode. We're introduced to the lavish life of 1960s New York City ad men, and see immediately the follies, the lives not lived, the lies, and the secrets that bind these men and women together under one roof. It isn't work but destiny that brings Don, Peggy, Roger, Pete, and Joan together for their journey to clarity. And it's characters like Betty and Mona who will have to pick up the pieces, who play the bumps in the road that break down the vehicles.
At the same time, we have a mighty helping of fun and scandal in the first episode, including Pete's disgusting attitude towards women, Peggy's acceptance of it, Don's first affair, Sal's pretty obvious sexuality, and a goddamn bachelor party to boot. They even fit in the very first pitch, a last minute homer by Don Draper (who will give us many great pitches down the line), that secures American Tobacco for another couple of seasons.
This episode is perfect and beautifully standalone. You could never watch another Mad Men episode after the pilot and still have a full view of these characters, their ambitions, and the lives they so desperately want. Our first go-around with Don is just perfect. – John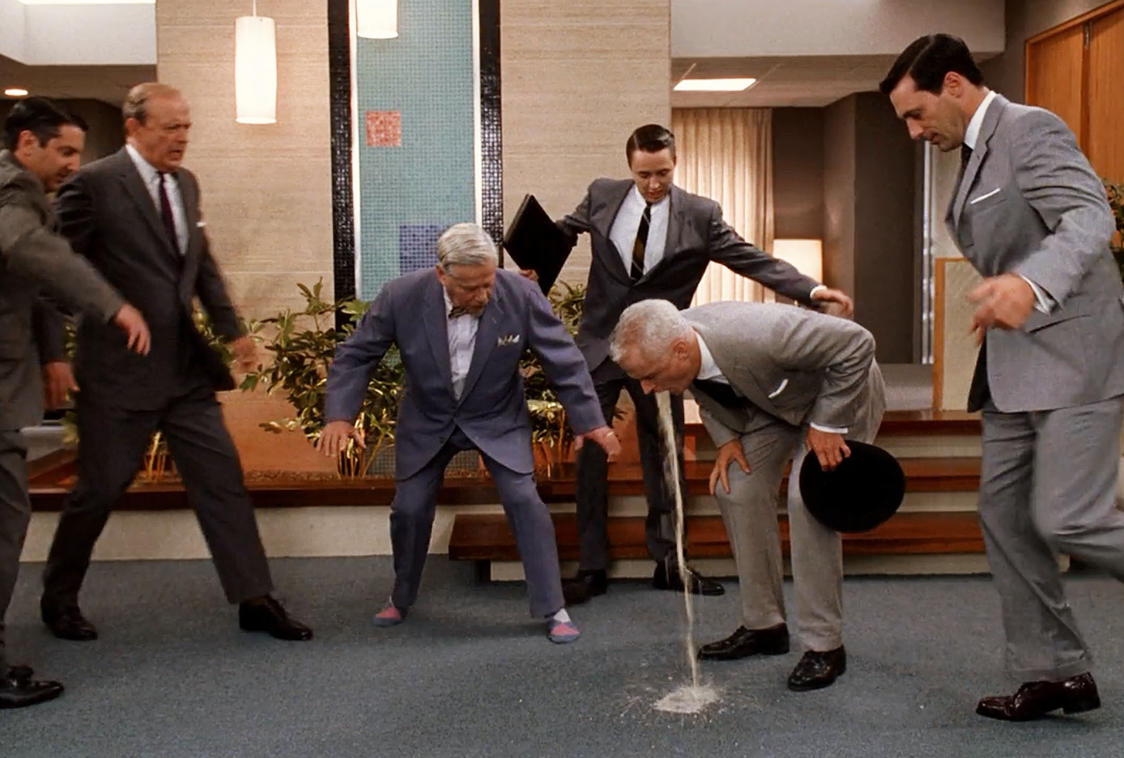 1×07 – Red in the Face
Whenever someone tells me that they're about to start watching Mad Men, I always give them a little bit of a preface. I tell them to make sure that they're ready for a different type of television show, something that isn't as zippy and instantly rewarding. I always tell people that it takes a season to really understand Mad Men's pace and tone, and if they can get through season one, then the show will really start to grip them and not let go. "Red In the Face" was the first episode that really floored me and wrapped me in.
The episode is all about Don asserting some dominance over Roger. The two spend a majority of the episode sharing war stories, literally and figuratively, but Roger crosses the line when he makes a pass at Betty. Don refuses to be one-upped by his boss, so he sets out on a revenge mission that involves making Roger climb 23 flights of stairs, which causes him to puke and embarrass himself in front of the Nixon campaign people. The episode is all about realizing when you're no longer the top dog on the block, and masculinity, which can be seen in the B-plot which involves Pete buying a hunting rifle. It also is the first time where I really noticed the beginning, middle, and end structure that most Mad Men episodes follow, and that I greatly appreciate. This was my first favorite episode of Mad Men. – Nick

3×06 – Guy Walks Into an Advertising Agency
Or, the "one where the guy gets his foot run over with a lawnmower." This episode is all about subverting expectations, expectations like that Mad Men isn't the type of show where someone's foot explodes and splatters blood on unsuspecting party-goers, and a lot more than that. The episode leads you to believe that things are going to change drastically at Sterling Cooper. The British firm, PPL, arrives to tell Sterling Cooper that Lane will be heading to Bombay, Roger will be getting pushed down the river, and that Don and Bert will run the agency with young hotshot Guy Mackendrick. Also, it's Joan's going away party, so her future is completely uncertain as well.
But then the lawnmower incident happens, and young Guy is literally cut down in his prime. All the PPL plans are reversed, and what was going to be a game-changing episode, becomes a bizarre game of "what if?" – Nick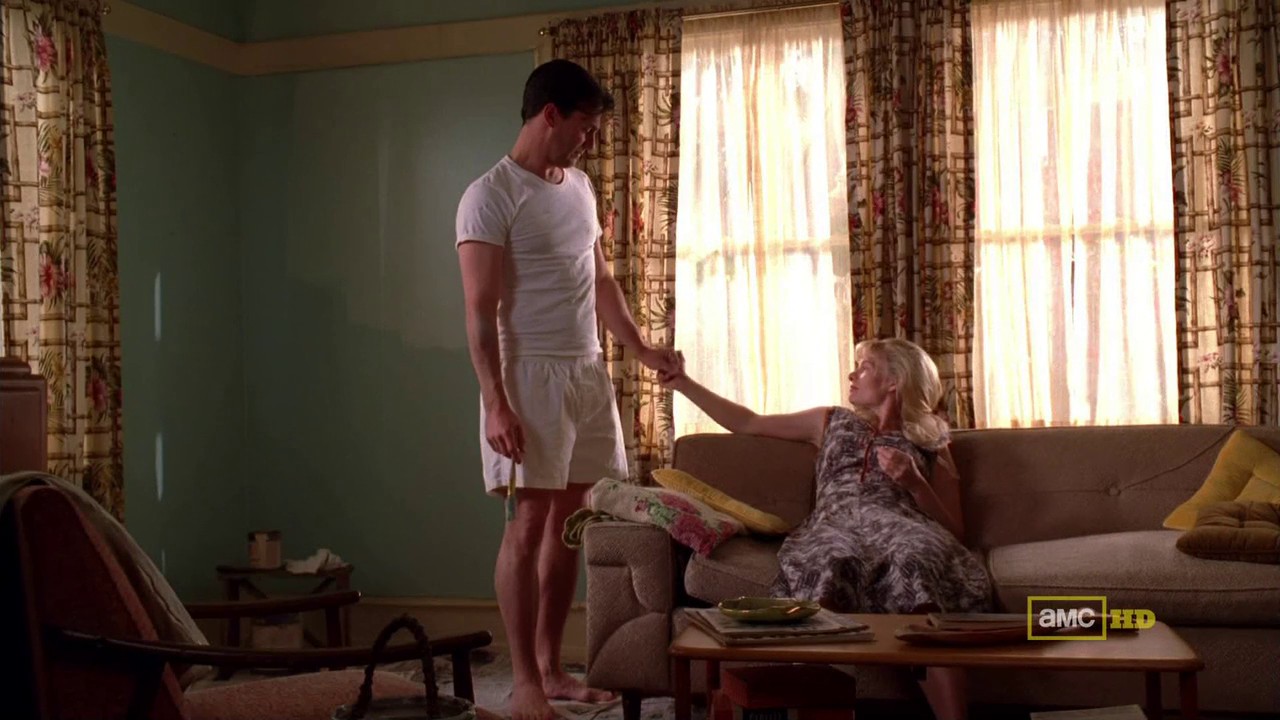 4×03 – The Good News
Don's excursions in California always make for exciting, enlightening episodes, but this season 4 gem is a real heartbreaker. After making a surprise drop-in on the lovely Anna Draper, Don learns from Anna's niece, Stephanie, that Anna is dying of cancer, and that no one has told her. Don then struggles with the decision about whether or not to tell her the news, all while she's dropping touching little sound bites like "I know everything about you, and I still love you." Anna seemed to be the only person that Don could be himself around, and losing her is definitely one of the worst blows he suffers throughout the series.
The second half of the episode is all about Don consoling a lonely Lane on New Year's Eve and the two have an incredibly fun night out on the town, where Lane finally feels accepted in the Sterling Cooper world, but we all know that doesn't last for long. It's a massive episode that shows the kinder, gentler side of Don Draper, the side we're always hoping will emerge. – Nick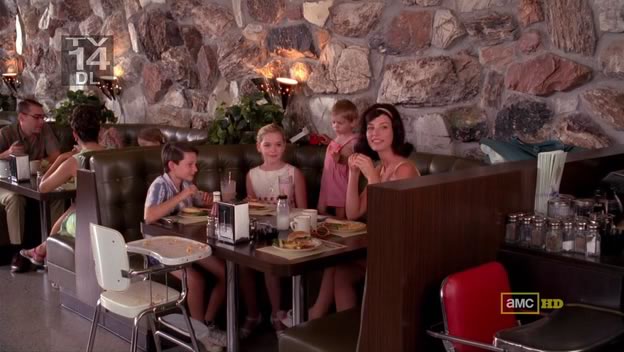 4×13 – Tomorrowland
This is, for me, one of the most painful episodes ever. Why? Because I knew enough about Don by the time the season four finale came around to know that Don would never change. There's no doubt in my mind that Matt Weiner made us go through Roger's second wedding (besides for the laughs) in order to foreshadow what would happen to Don down the line. He would break poor innocent Megan, who was probably the most hopeful and naive character on the show up to this point. This impulsive wedding was destined to fail as much as I wanted it to work out.
That's the thing about Don Draper, even when he's out doing terrible things to other people, finding self-interested ways to go through his made-up life, I always hoped he'd find happiness. That, like the Phantom of the Opera perhaps, he'd find the companionship he'd searched for all his life. Once he was shown the love he didn't receive as a boy, he'd shed his unreasonable methods.
In season 4, we're treated to the most depressive Don we'd seen up to this point. He's been dumped by Betty, forced to move to the saddest apartment in New York City, lost his biggest account, and realized he has a drinking problem. I hoped that the finale would see Don find a way to cope with his ailments and become comfortable in his own skin. But instead he clings to little Megan. – John
5×04 – Signal 30
"Signal 30" is the episode that finally humanized Pete Campbell for me. I always viewed Pete in the same manner as Don seemed to, with general annoyance, a bit of disdain, and begrudging respect. However, in this episode, we finally start to realize Pete's problems. Raised with privilege and entitlement, Pete just wants to be desired, admired, and he wants success, but he doesn't know what it is or how to recognize it. He's also a "grimy little pimp," as Lane calls him before punching him out, one of the series finest moments, and that's what makes him such a realistic character.
He wants to be friends with the people in his office, but instead he's getting knocked out. He wants to be loved and admired by his wife, but she's too busy ogling Don Draper in a t-shirt fixing the sink. He wants to be desired by the young girl in his driver's ed. class, but she prefers the age appropriate hunk. Pete is a victim of the society he was raised in, and he is finally viewed by the audience with some sympathy.
P.S. We also get to hear Lane say, "He was caught with chewing gum on his pubis!" How can you overlook that? – Nick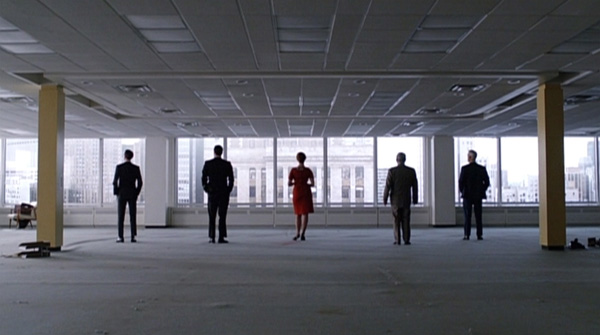 5×13 – The Phantom
Nothing quite hits me like the way a story opens and closes, and that's why so many of my entries are either season premieres or finales. I'm interested in how Nick's are all body episodes well in the middle of the seasons. Oh well.
"The Phantom" is another great season finale, perhaps the last great one. When Mad Men came back for a sixth season, it was obvious the status quo had changed. The show became a bit more airy, the time a little queer, and Don would become the quiet burning man of season six, the miracle man of season seven.
In the season five finale, we really start to say goodbye to Don and Megan's marriage, as she begins her career as an actress, Don walking off the set and to the nearest bar. That final scene is accompanied by Nancy Sinatra's Bond anthem "You Only Live Twice," and it's perfect.
The final line of the episode is delivered by a woman who comes up to Don at the bar. She asks, "Are you alone?" – John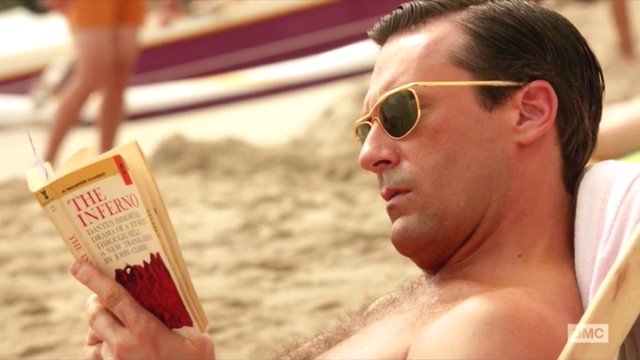 6×01 – The Doorway
This is my favorite episode of Mad Men ever. It probably isn't anybody else's (although I've worked really hard to convince my girlfriend), but that's just the same. "The Doorway" deals with the impending fall of Don Draper, the greatest tragic hero of all primetime television dramas.
The episode begins with the opening lines of Dante's Inferno:
Midway along the journey of our life I woke to find myself in a dark wood, for I had wandered off from the straight path.
Or something like that. Don Draper becomes obsessed with death after taking a business trip to Hawaii. In fact, he doesn't even talk for the first few minutes of the episode besides his Dante voiceover. He just lounges quietly taking it all in. When he returns, he's a different man.
The rest of the season digs into the beginning of his sins (he loses his virginity to a prostitute) in order to present his fall. And it's a mighty one. Don loses his job, his daughter (for the time being), and the love of his wife (as you'll see). But most of all, he loses the mark. Many will argue that it's his awful story about how poor and unloved he was as a boy that scared Sterling Cooper & Partners straight. – John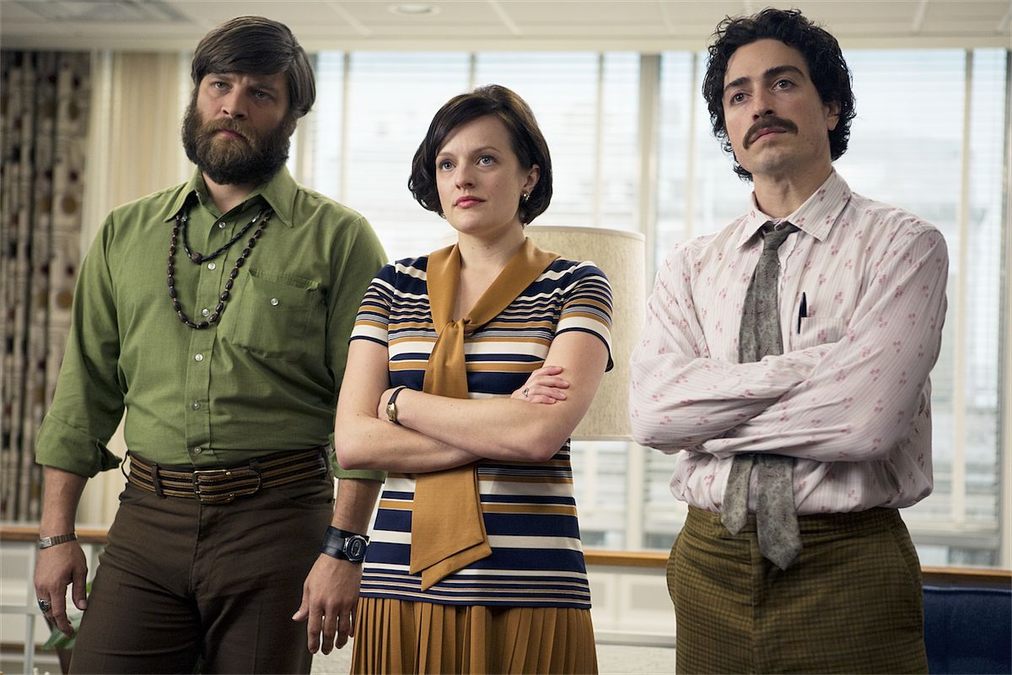 7×04 – The Monolith
Well, if you've ever read anything I've written for Den of Geek, then you know I have to pick this one for the obvious connection to 2001: A Space Odyssey. I love the symbolism of early man discovering the monolith with Don facing his typewriter for the menial task of writing tags for Peggy. He has to start all the way at the beginning to get back on top.
Match that to the arrival of the awful room-sized computer that puts the creatives in a panic because they feel they're being replaced. In 2001, the monoliths represent human evolution. They're the keys that pushes humanity forward every time they're encountered. So here we see SC&P watching and picking at the new computer, which doesn't appear overnight, but is being built by the gods themselves.
On top of that, we have Margaret's apparent dive into insanity as she joins a bunch of hippies at a commune in upstate New York. Roger, the Bowman of the episode, has to travel into a world he thinks he's ready for but in fact can't possibly understand. Evolution has past him, gone beyond him.
It's another one of those airy episodes that were in fact the gold to be mined on this show. – John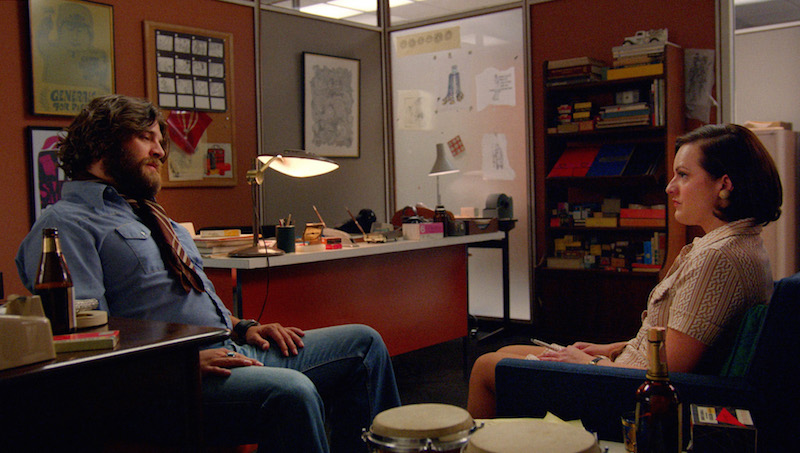 7×11 – Time & Life
"'Stop struggling, you've won,' McCann-Erickson's head, Jim Hobart, tells the Sterling Cooper partners, so why do Don, Roger, Pete, and Joan sit solemnly like they've lost?
'This is the beginning, not the end,' Don tells the SC&P underlings about the absorption and move to McCann, but why can Don barely be heard over the roar of an office that's acting as if it's the end of days? 'You are okay,' Roger Sterling tells Don at the bar with a kiss on the cheek, so why does Don sit dazed like a man with no wife, home, or power?"
That's how the beginning of my review of "Time & Life" began, my favorite episode of the last season of Mad Men, another episode that subverted audience expectations. The whole episode has a getting-the-gang-back-together vibe, where you believe that, once again, Don and Roger will be able to save and reinvent Sterling Cooper, but they don't, and they lose their identity to the big McCann-Erickson machine.
We're also treated to the emotionally devastating scene where Peggy finally talks about giving up her child. Elisabeth Moss has always been incredible throughout the series, but here, she's masterful, conveying grief and teaching Stan a lesson about the rights of women. Forget the series finale, this is the episode of season seven that I'll always remember. – Nick