News
Mad Men Series 4 Episode 3 The Good News review
Mad Men series four continues, and as its characters celebrate the arrival of 1965, Ryan enjoys one of the best episodes yet…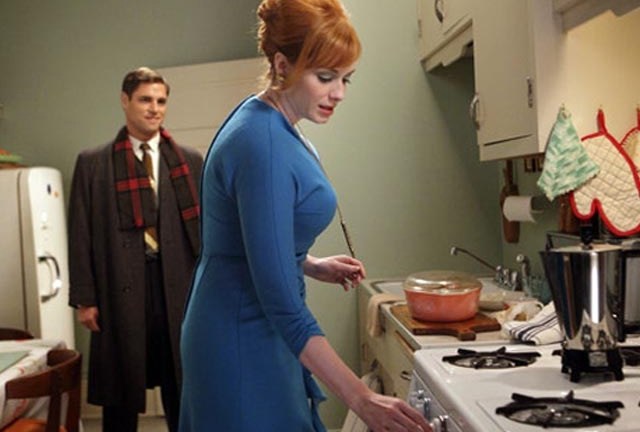 4.3 The Good News
If there's one thing that keeps Mad Men eminently watchable week after week, it's the way creator Matthew Weiner so sublimely combines tragedy with mordent wit. On paper a mere melodrama or period soap opera, the quality of Mad Men's writing places it in its own league, its diverse range of characters believably human in their flaws.
The first two episodes of series four have focused largely on Don Draper's downward spiral following the break-up of his marriage. Episode three, The Good News, is little different, but it nevertheless makes time to give the stoic, reserved Lane Price (brilliantly played by Jared Harris), some much deserved screen time.
As the employees of Sterling Cooper Draper Price prepare to go their separate ways for the New Year, Don sets off to California to visit Anna, a woman with whom he shares one of the most complicated relationships in television drama.
Anna is the widow of the real Don Draper, who was accidentally killed during the Korean war. The Don we know from SCDP (real name Dick Whitman) assumed his identity and forged a new life for himself as a high-powered advertising executive, and Anna is the only woman who knows his secret – as she later puts it, "I know everything about you, and I still love you."
Anna's house in California has often provided Don with a sanctuary from his superficial existence in Manhattan and his crumbling relationship with Betty, and their unusual friendship has often seemed like the only truly authentic one in Don's life.
Over a pitcher of beer, Don describes the facts of his divorce with unusual honesty: "I could tell the minute I told her who I was she'd never want to look at me again," he says. Most significantly, he finally volunteers that it's his fault that their relationship collapsed. "I had it coming," he admits, ruefully.
Later, in a devastating scene made all the more heart wrenching by its stillness, Anna's niece, Stephanie, reveals to Don that Anna has terminal bone cancer. Worse still, Anna doesn't even know – her sister (and Stephanie's mother) Patty, having learned the news from the family doctor, has made the decision not to tell her.
Don, distressed yet unable to tell Anna why, heads back to New York in a state of barely concealed grief. Returning to SCDP's offices, he's surprised to find Lane sitting quietly at his desk.
As we'd already learned in an hilarious earlier scene, a mix-up over a delivery of roses has proved to be the final nail in the coffin of Lane's marriage.
The episode's final third, in which Don and Lane get horribly drunk on an unspecified liquor, sit in a flea-bitten cinema watching a Godzilla movie ("You know what goes on in here? Handjobs" Don drawls), eat over-cooked steaks at a restaurant, get mercilessly ribbed at a stand-up comedy club, before retiring to Don's flat for an evening with two call girls, provides a welcome counterpoint to what has gone before.
The pair's antics score zero points for political correctness, but their drunken conversations are oddly moving, and Lane's quiet, somewhat guilty parting shot of "thank you for the welcome distraction" the next morning suggests that their hedonistic night out may have been a one-off.
Arguably the best episode of the three so far aired, The Good News exemplifies everything that's great about Mad Men as a series. It's a portrait of men and women who are all, in their own individual ways, forced to conform. Their passions and desires often clash with what their status, job title or class requires – as more than one character asks in this episode, "Is that what you want, or is that what people expect of you?"
Anna is perhaps the only character genuinely content with her lot in life, and currently the only person who accepts Don for who he is. Without her, what will Don do next?
The show ends as 1965 begins. And once again, both Don and his advertising agency face an uncertain future.
You can read our review of Mad Men season four episode 2 here.