News
Mad About You Revival Picked Up as Limited Series
Mad About You revival will air on Spectrum Originals. Helen Hunt will direct the premiere episode.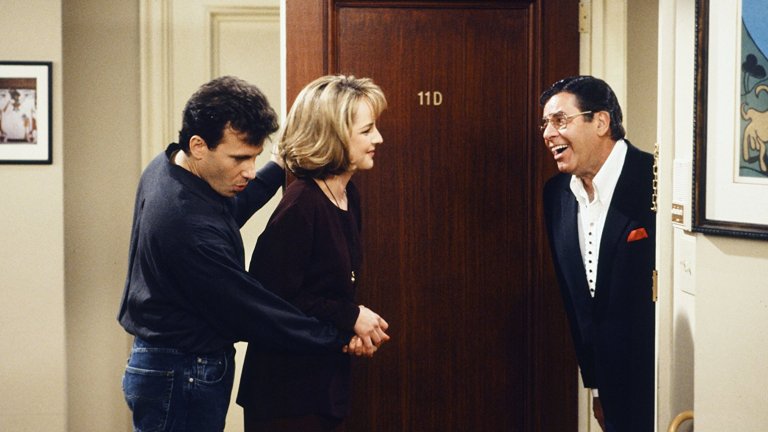 The Mad About You revival will air on Charter Communications' premium content platform, Spectrum Originals, according to Variety. Nineteen years after Paul and Jamie's 23-year-old daughter Mabel made a documentary about the Buchman family history, Paul Reiser and Helen Hunt will reunite to push Mad About You past its final frontier. Hunt will direct the first episode, 
Rescue Me creator Peter Tolan (The Jim Gaffigan Show) will serve as showrunner, writer and executive producer of the show, which is being produced by Sony Pictures Television in association with Comedy Dynamics.
"We are so excited to finally be doing this and thrilled to have Peter Tolan as our fearless captain," Reiser and Hunt said in a joint statement. "We promise you the same funny and heartwarming show – as soon as we can remember what's funny about being older. It's going to be great!"
The Mad About You revival will be a limited-run season, like the revivals of Will & Grace and Roseanne. Danny Jacobson, who co-created the original series with Reiser, will be back as an executive consultant.
NBC, where the series first ran, was the first network approached for the revival, but passed on the new project. Reports on the Mad About You revival first broke in December, 2017. The Mad About You revival has been running around in Reiser's head for a while.
"If we can find the story to tell, and anybody's interested, I'd be open to it,' Reiser told People in October 2017.
Standup comedian Reiser, who got his start on screen by hanging around and improvising on the set of Diner, and went on to play Eddie Murphy's left-behind partner in Beverly Hills Cop, the asshole who betrayed Sigourney Weaver in Alien, being nominated for Emmys and Golden Globes, and making movies like Whiplash, Concussion and Bad Jobs before emerging from the upside down on Netflix's Stranger Things, was resistant to redoing the show for the longest time.
"For years, I would've said, 'Absolutely no. We never would do it,' because I was very proud of how we ended it really well," Reiser told People. "Now, because everybody's talking about it, I started to think, 'Maybe if there's a story we could come up with.'"
Mad About You season 8 will take place seventeen years after the finale, "The Final Frontier," and focus on Paul and Jamie looking forward to empty nest syndrome, as they push their daughter Mabel out of the house and into college.  
"To me, it's interesting when I see my kids are growing and leaving the house," Reiser told People. "It's like, 'Oh.' It's like that moment when you get married. It's like we're in a new world that we don't know the rules of."
In the series closer, Mabel, who was named after her grandmother, played by Carol Burnett, was played by standup comic, actor and Jerry Seinfeld's all-too-perfect other half Janeane Garofalo. Garofalo played herself on an episode of The Sopranos. Steve Buscemi, who played one of the many Tonys on the gangster family series, also acted on Mad About You, reliving his own stand-up hell when he was bumped from a late-night slot at The Improv by Paul Reiser in the seventies and drove Buscemi from stand-up to acting. The episode, entitled "Token Friend," relocated the unintentional parable to a subway station. The series also featured Steven Wright, Mel Brooks, Jerry Lewis and a slew of comic legends.
Of course Paul and Jamie didn't actually get married until after their 8th Anniversary. The guy who officiated at the wedding, Lenny, played by Lyle Lovett, wasn't an ordained minister, but with the power invested in him, his jackhammer and the city of New York, the couple renewed new vows on the streets with only manholes as witnesses.
Mad About You ran on NBC between 1992 and 1999. Reiser co-created the series, based loosely on his book Couplehood, with Danny Jacobson. Mad About You was almost canceled until it was slotted with Seinfeld and Frasier on must-see comedy Thursday nights in 1993. The role of Jamie Buchman was almost played by Teri Hatcher, who went on to play Lois on Lois and Clark. As Good As It Gets actress Hunt won three Golden Globes and four Emmys.
Larry Charles, who ran Seinfeld, took over after a few years.  Mad About You experimented with tone and TV form. They once taped an episode in a long take and ran it without cuts, which meant there was no room for commercials.
Mad About You is set to debut in late 2019.
Culture Editor Tony Sokol cut his teeth on the wire services and also wrote and produced New York City's Vampyr Theatre and the rock opera AssassiNation: We Killed JFK. Read more of his work here or find him on Twitter @tsokol.