News
Worzel Gummidge reboot air date, cast, news and more
Detectorists star Mackenzie Crook is behind the new adaptation of Worzel Gummidge.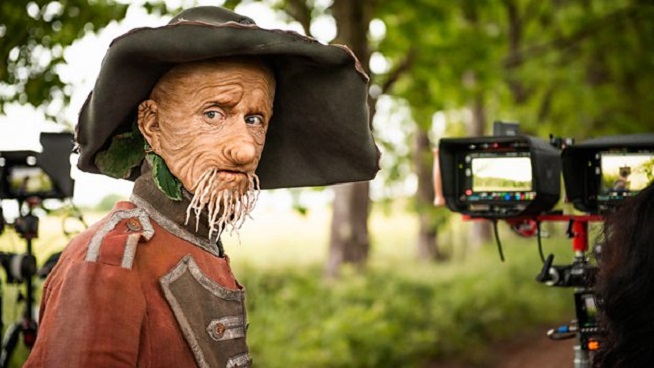 When Detectorists wrapped up its third and final series on the Beeb, we discovered what was to come next for star Mackenzie Crook – that he was set to reboot Worzel Gummidge.
The lovable talking scarecrow from your childhood slash nightmares was originally played by the late Jon Pertwee between 1979 and 1981 on ITV, before experiencing a brief revival on Channel 4 in 1987. Now, Crook is bringing Gummidge to the BBC by writing, directing and taking on the titular role in the new project.
Worzel Gummidge release date
The first instalment, The Scarecrow Of Scatterbook, will air on BBC One on Boxing Day at 6:20pm.
Worzel Gummidge episodes
Per the Beeb, there will be two hour-long Worzel Gummidge episodes. Here are the details:
The Scarecrow Of Scatterbrook
Two young strangers arrive in the village of Scatterbrook. It's not long before Susan and John encounter Worzel Gummidge, the Scarecrow of Ten Acre Field. Their world is sent spinning into confusion when they realise Gummidge comes to life. The only person more shocked is Worzel, when he discovers that the children are not in fact fellow scarecrows but humans.
Their worlds should never commune but fate has conspired to create an extraordinary union. The seasons have stopped and the harvest hasn't arrived. The rhythm of the natural world is out of kilter and this unlikely trio must try to put it right. Magic, mystery and mayhem unfurl.
The Green Man
Another mysterious arrival to Scatterbrook. The Green Man is the creator of scarecrows and keeper of scarecrow lore. He isn't at all happy that Worzel is consorting with humans. Elsewhere, local aristocrat Lady Bloomsbury Barton is holding a fete, with a Scarecrow competition that Worzel is determined to win. What will Worzel's most competitive rival, Soggy Bogart, and The Green Man make of it all?
Worzel Gummidge cast
Mackenzie Crook is your new Worzel!
"I'm thrilled to be back working with the BBC and many members of the Detectorists team to bring Worzel Gummidge to a new generation of viewers and reintroduce him to old friends", said Crook in a statement. "Adapting Barbara Euphan Todd's books into these two films has been a joy and I've completely fallen for her charming, irreverent scarecrow. Fingers crossed for a glorious English summer as we head out to Scatterbrook Farm and Worzel's Ten Acre Field."
Shane Allen, Controller Comedy Commissioning at the BBC added "Mackenzie's widely adored and multi-Bafta award winning Detectorists was a grown up love letter to bucolic England and with Worzel he takes a similar approach to English folklore, rural rites and the magic of childhood. His visionary and fundamental reinterpretation of this classic is that rare and special achievement – a BBC One family friendly comedy."