News
Luke Cage Relaunch at Marvel Comics Will Have Netflix TV Influences
Marvel Comics will relaunch Luke Cage with a new series that reflects the longtime character's recent Netflix television turn.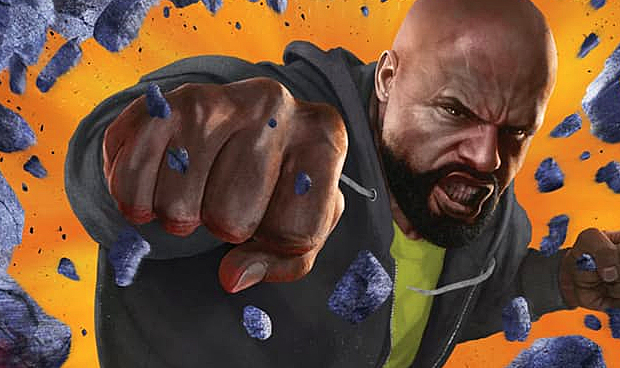 When the Netflix arena of the Marvel Cinematic Universe made Mike Colter's Luke Cage the eponymous centerpiece of a spinoff series this past fall, it was the long-awaited mainstream realization for a crucial African-American character whose 1972 Marvel comic book debut will soon mark its 45th anniversary. Consequently, the latest news that television fame will, indeed, result in a Luke Cage comic book relaunch won't surprise anyone familiar with the relaunch-happy state of the comic book industry.
ComicBookResources reports that Marvel will relaunch Luke Cage in May with a new ongoing comic book series written by David Walker, who worked on the 2015 Power Man & Iron Fist reimagining, featuring the illustrations of Nelson Blake II, whose art was seen on the recent reinvention of Ms. Marvel and The Magdalena. The Luke Cage title from the Walker/Blake team will become a more balanced amalgam of the character's classic comic book tropes with the elements that fans acquainted the Netflix series will recognize. As Walker tells CBR of the duality of being true to both the comics and the television show:
"It's interesting now because you find yourself having to find that balance between the two. You certainly don't want the fans who have just discovered this character to go into a comic book shop, pick up the comic, and go, "This is nothing like the show!" You don't want to be exactly like the show or movie, though, because there's a reason why there's a movie or TV show, and there's a reason why there's a comic. I firmly believe that neither should be exactly the same otherwise it gets really boring."
Luke Cage, also known as the tiara-sporting Power Man, has had quite a comic book career, notably with his "Heroes for Hire" partnership with Iron Fist, marriage and parenthood with Jessica Jones, and memberships in the Fantastic Four, the Avengers and the Defenders. However, the new series will send Luke away from his Harlem home turf over to New Orleans to investigate the death of a man who was like a father to him – a basic premise that might ring familiar to fans of the Netflix series, though likely manifesting through a different character. However, besides avoiding straight fidelity to the show-inspired elements, Walker hints a different approach from Cage's traditional comic book action, stating:
"I'm writing him as a little more mature, and I'm not going to say that the television show was a huge influence on me, but it did show me a lot of ideas and ways Luke could be handled; a lot of them were in conjunction with ideas I had been developing in the first place or had been thinking about. I really want to give the readers the best Luke possible, and I think that's a Luke who does more than just fight all the time. I think the best superheroes are ones who aren't just beating the crap out of something or someone."
Of course, Mike Colter's live-action television version of Luke will, again, exercise his influence soon enough when he joins Charlie Cox's Daredevil, Krysten Ritter's Jessica Jones and Finn Jones's Iron Fist in a street-level Netflix television team-up rendition of The Defenders this summer. Indeed, Luke Cage – like most A-list comic heroes – tends to show up simultaneously in many places in the mythos, with appearances in the accompanying The Defenders comic and Black Panther & the Crew. Thus, Walker must maneuver on an especially perilous continuity tight rope, especially since the Netflix team-up will inevitably inspire more thematic comic changes. However, as Walker explains of his process:
"Half the time I don't ask what's going on in those other books because I'll feel confused. What I do is write my stuff, I turn it in and I wait for editorial to go, 'You can't do this. Yes, you can do this. You might be able to do that.' That's how I begin to piece together what's going on."
Luke Cage won't have to wait for a season-appropriate opportunity to say, "Sweet Christmas," since his upcoming relaunch is headed to comic book stores sometime in May. Check out the cover for Issue #1 below!