News
Lucy Lawless Will Not Be in Xena Reboot
Lucy Lawless doubts there's a role for her in the Xena: Warrior Princess reboot, stating, "It's nothing to do with us, honestly."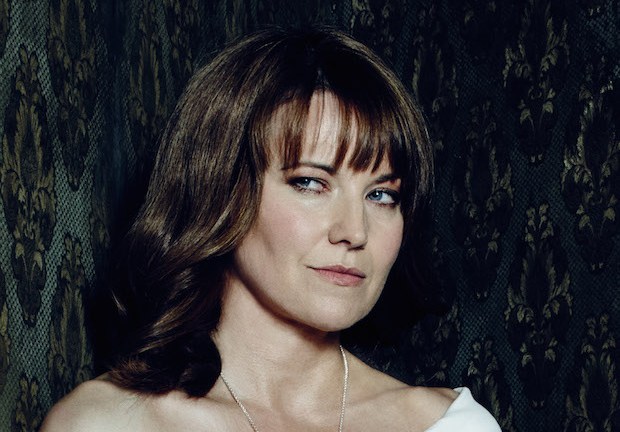 The final episode of Xena: Warrior Princessaired in June of 2001. By July of that year, there were already fan campaigns to get the series back in general, and to get Lucy Lawless as Xena and Renée O'Connor as Gabrielle back, period.
Indeed, when we last spoke with Ms. Lawless during San Diego Comic-Con in July, she seemed very open to the idea of at least a reunion film, stating that even the character's series finale death was a matter of semantics. "No one really dies!" Lawless laughed. "Screw her head back on, it's a bit wonky, and she's got a really bad attitude since she's been in a box for 20 years, so they've got to get Xena's mojo back, and go and save the world somehow."
Unfortunately, despite a Xena reboot having since been confirmed, Lucy Lawless does not expect she'll play a major role in that series.
While chatting with Ms. Lawless during a phone interview for October's hotly anticipated Ash vs. Evil Dead on Starz, a series that has revived another cult icon with Bruce Campbell in the lead role, inevitably the conversation turned to the developing Xena redo and whether she'd play an onscreen part in it.
"I really don't see that," Lawless said with some evident regret. "I'm probably not up for that gig. I can't imagine how you could tell the story with me at 47-years-old and make it work."
Lawless further elaborated, "I've never received a call about [the reboot]; it's nothing to do with us, honestly, [though] I know Rob is meeting with them." However Lawless, hopes the new series will offer fans the same qualities that made the original show so beloved, which for Lawless include friendship, self-empowerment, and honoring the individual.
"It'd be crazy not to make it one way or another. I just hope they can honor the original intent of the show… and I really do want Xena and Gabrielle to live again one way or another. I'd love to be part of that, but even if I'm not, I wish them well."
Last month, NBC Entertainment Chairman Bob Greeblatt revealed to The Hollywood Reporter that a new version of Xena: Warrior Princess was in the works. And with original series executive producers Rob Tapert and Sam Raimi mentioned as being attached to the series, interest about whether Lawless was also set to appear again in the iconic role was a major concern, with Greenblatt stating, "We'd love to have Lucy be a part of it – if we felt that her presence didn't overshadow the direction we take with it."
Lawless insists that if the reboot comes to fruition, Rob Tapert will make sure it stays true to the spirit of the original. "He's got to believe in it," she added.
Still, Lawless did offer fans a glimmer of hope about seeing her particular vision of Xena ride again. She even compared the situation to how Evil Dead was remade several years ago with the Fede Alvarez film and yet now Bruce is chainsawing Deadites once more on Ash vs. Evil Dead.
"You could pass on the series to the new generation [but] like the Evil Dead reboot, it doesn't preclude you from doing a really funny reunion with some of the major players."
Also, in the more direct meantime, Lawless is most concerned with getting fellow Xena alumni Ted Raimi and Renée O'Connor down to New Zealand for season two of Ash vs. Evil Dead.
"All Bruce [Campbell] and I do is figure out how can we get Ted down here. Of course, you'd like to see Renée O'Connor too; she's also family. So, I guess it's just one at a time. Our mission is to get people that we love into our orbit."
For whenever Xena fights again, Lawless will be doing battle with trash talking hordes of the dead very soon since Ash vs. Evil Dead premieres Halloween night on Starz.