News
Lucy Lawless Wants to Play Xena Again
A Xena: Warrior Princess reboot is rumored just as Lucy Lawless tells us about her interest in reprising the character.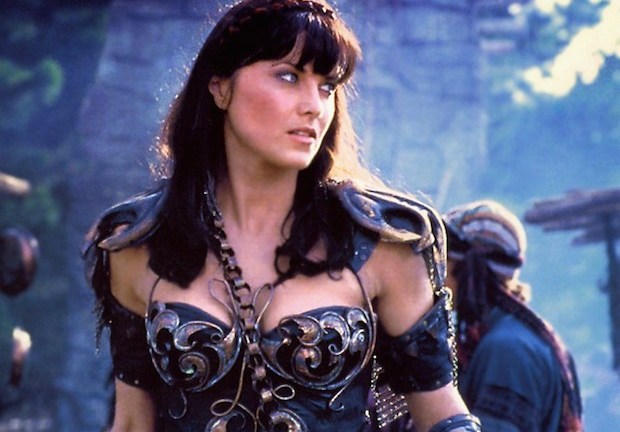 Update: 
Despite the report Monday by THR, which stated that a "modernized" Xena: Warrior Princess revival is well underway at NBC and NBC Universal International with both Sam Raimi and Rob Tapert are on board, possibly as executive producers (like on the original series), Lucy Lawless took to Twitter to deny any knowledge fo the project.
— Lucy Lawless (@RealLucyLawless)
July 20, 2015
She's still interested, though (see our original story down below for more details on that), so there might still be hope. The timing definitely seems right with fantasy never more accepted by TV audiences in the age of Game of Thrones, a superhero series on every other channel, and stars returning to beloved roles. Ms. Lawless is currently set to star next to Bruce Campbell for at least the first season of Starz's Ash vs. Evil Dead, a TV continuation of the Evil Dead trilogy that made Campbell's chin world renowned in cult circles. That series also just so happens to be executive produced by Raimi and Tapert, the latter of whom is married to Lucy Lawless.
So we imagine that in the same vein of resurrecting a cult TV series, keeping the original (and only) Xena around is a must, even if there might be a new generation in addition to Xena and Gabrielle's (Renée O'Connor) journeys.
We'll let you know more as we have it. In the meantime, below is our discussion with Lucy Lawless about reprising the role of Xena from earlier this month at San Diego Comic-Con…
Original article: For almost 25 years, fans have asked Sam Raimi, Bruce Campbell, and anyone who'd listen if there would be another Evil Dead movie about Ash Williams. And for about just as long, this seemed to be a pipedream. Yet, come October, we're getting a whole new Ash vs. Evil Dead television series starring the big chin—not to mention Xena: Warrior Princess herself, Ms. Lucy Lawless. Ergo, when having a lovely conversation with her during a San Diego roundtable interview, one Comic-Con miracle must surely mean another is just around the corner, right?
That was exactly the line of questioning when we asked Lawless if the return of Evil Dead could mean we could see her reprise her role as Xena, if in at least a two-hour television movie.
"I've been pitching that, actually," Lawless said. "The fans really do want that, and I've met some people who've crowdfunded some things, and I'm just like, 'Why don't we just do that?'"
However, before Xena: Warrior Princess fans get their checkbooks ready, it might be best to wait a little longer for the character's return. Indeed, Lawless lamented the red tape challenges that still seem to impede a Xena revival.
"It's still about who owns the rights to Xena. But it would still be cool to do it again with Renée [O'Connor], me, Ted [Raimi], and Bruce. It'd be a fun little gig, but what that is I don't really know."
Of course, there is the other obstacle with Xena being dead at the end of the series, but Lawless has thought about this as well.
"So what? Technicality!" Lawless laughs. "No one really dies! Screw her head back on, it's a bit wonky, and she's got a really bad attitude since she's been in a box for 20 years, so they've got to get Xena's mojo back, and go and save the world somehow."
Of course, hope will always spring eternal for the fandom. But in the much more immediate future, Lawless seems genuinely pleased to be participating in the Evil Dead franchise, which has become a family business since she married one of the original films' creators and producer, Rob Tapert.
"When I was 17, I saw the first Evil Dead with my boyfriend, and I stomped out after five minutes, saying, 'The people who made this are sick, misogynistic assholes and they should be in prison!' And 12 years later, I was married to one of them." Lawless pauses to smile at the obvious irony. "It's the ultimate 'never say never.'" And since meeting Rob Tapert 20 years ago, she remarked about how Evil Dead has ever since been part of her life.
"I've known Bruce as long, and Sam [Raimi], so it's kind of a family business. So, I was delighted that there was a part for me in it."
However, she still has one wish about this series revival too: bring Ted Raimi (who also appeared in Xena with her) back in season two. After all, Ted Raimi had the (mis)fortune of playing latex-buried monsters in both The Evil Dead and Evil Dead II. Thus it's only fitting he continues the tradition.
"More pain, more pain" Lawless insists upon for her co-star. I imagine, we're all onboard for that. Hopefully, Ted is too.