News
Louis CK Future at FX Still Uncertain
FX President has said its "not in (his) control" whether Louis C.K. gets a second chance.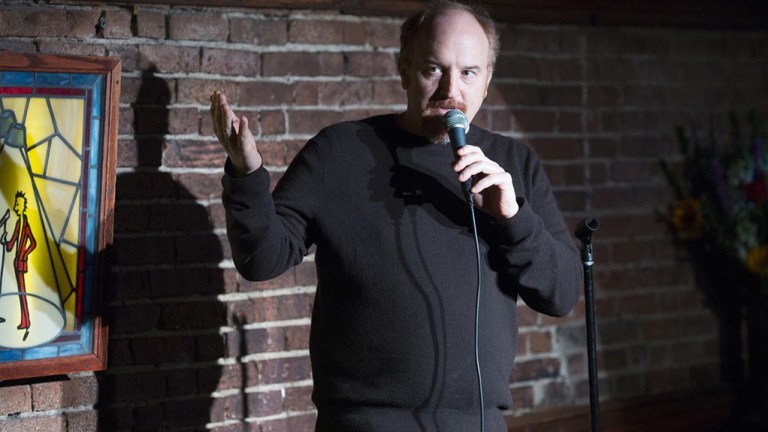 Louis C.K. had a deeply embedded relationship with cable network FX for years. The comedian created (and produced, and starred, and wrote, and directed, and scored, and edited) the subtly groundbreaking Louie and shepherded it for five seasons. 
He also helped bring current FX shows like Pamela Adlon's Better Things and Zach Galifianakis's Baskets to air. Following C.K.'s admission of sexual misconduct, however, FX terminated their relationship with him and his production company, Pig Newton, in late 2017.
Now that the #MeToo movement is over a year old, journalists are starting to follow up on the men implicated in its first wave. Several publications caught up with FX President John Landgraf at the tail end of FX's TCA press tour appearance and naturally the subject of Louis C.K. came up. Here is what he had to say to Variety: 
"With Louie, he said that the reporting in the New York Times was accurate, and he came forth and — some might feel his apology was inadequate, but knowing him, I think he was trying to make a sincere apology. But I think that the people that are on the other side of this movement, that is to say the people that are coming forth and telling their stories, have been suppressed for so long. They have a lot to say about what happens. So it's not really in my control, is what I would say. Some of it is about what Louie decides to do, and some of it is about where we go as a society and when, if ever, we'll be ready to have second chances or forgiveness — and who gets to be forgiven. Not my decision."
That's a diplomatic enough response that appears to boil down to "let's continue to wait and see." 
Louie last aired in 2015 with its fifth season. FX previously had a rather laissez faire agreement with C.K. when it came to producing new seasons. C.K. was permitted to take a two year break between seasons three and four and there were some questions as to whether there would ever be a sixth season anyway. The termination of FX's relationship with Pig Newton seemingly closed the door on that.
Landgraf got a little more specific in an interview with Entertainment Weekly at the same TCA event, saying: 
"I think that would depend on the women who came forward and the question of whether there was a feeling of redress and reconciliation. Everything he (was accused of) was before he worked for us. I had nothing but magnificent experiences with him for 8 years and multiple shows. But I think this a moment of time about women whose stories have been unable to be told being able to come out and speak. I think they have to set the tone right now — 'they' collectively, those women and others who are coming forward."
Landgraf has been the CEO of FX Network since 2005. That longevity has made him a popular figure and interview target among the TV crowd as he always seems to have all the answers and soundbites the Internet Take Machine craves. This time around though, it sounds like he's ready to hear others speak up.
Read the latest Den of Geek Special Edition Magazine Here!