News
Lost MST3K Episodes Released
The long lost very first episodes of MST3K have been found and officially released in surprisingly good quality!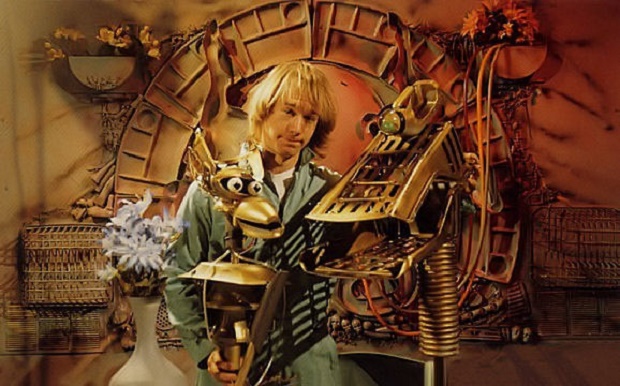 Before MST3K was a Comedy Central (and later Sci-Fi Channel) cult TV sensation, it was a small show on Minneapolis-St Paul area TV station KTMA. 21 episodes of Mystery Science Theater 3000 aired on KTMA from November 1988 to May 1989, although it's not considered the official first season of the show. Instead, the KTMA year is generally referred to as "season zero" by fans, in no small part because while the basics of the MST3K format were in place, it wasn't quite the razor sharp smartass comedy machine it would later become. A handful of the KTMA episodes would be remade during the show's more successful early seasons on Comedy Central.
But MSTies are a devoted fandom, and the majority of MST3K Season 0 has made its way online through the years. All except for the first three episodes, which have long been considered lost to time. Well, we never thought we'd see the day, but it finally happened. The long lost very first two episodes of Mystery Science Theater 3000 have surfaced, and not only have they been officially released, they aren't bootlegs! The episodes were unveiled by MST3K creator Joel Hodgson for fans who backed the Bring Back MST3K Kickstarter project, which was used to fund the upcoming MST3K revival on Netflix. Apparently, the master tapes of the first two episodes were only discovered within the last few months, and digital versions were included as a bonus reward for Kickstarter backers.
The episodes in question are Invaders From The Deep, a Thunderbirds-style marionette animation (ahem…Supermarionation) flick which is every bit as awful as you might expect, and Revenge of the Mysterons From Mars, another Supermarionation movie. The two aired as a double feature on KTMA on November 24th, 1988 and were never seen again. The tapes were presumed lost, which is remarkable considering how much of the rest of the KTMA season survived. A few years ago, the unaired pilot episode (which took on The Green Slime) even made its way out there, so the apparent loss of the first three full episodes was even more of a mystery.
The movies themselves are, of course, lackluster, but then again, so are the MST3K episodes themselves. While most of the recognizable elements are there (including the first version of "Love Theme From Mystery Science Theater 3000"), the pace of the jokes is much more, ummmm…let's just say it's more deliberate. As Hodgson put it in his e-mail to fans, "I hope you can look at them like a 'first draft' of what the show would turn into." 
"I really loved getting a chance to see these early episodes again," Hodgson said in the e-mail to backers announcing the reveal of the lost episodes. "You can see Josh and Trace and me just wading into 'movie riffing' and starting to play with all the elements and dynamics of the show and the set pieces. Obviously, it's pretty slow. We didn't pre-watch any of the films or even attempt to write any jokes; it's just us, starting out, 'blue skying' it. Naturally, if I could have known that, almost 30 years later, there would be a group of about 50,000 folks looking at these as a sort of 'historical document,' I probably would have tried to find ways to put more time into them. But, as they say, it is what it is."
He's absolutely right. Invaders From The Deep and Revenge of The Mysterons From Mars are for MST3K completists only. But for fans who have already watched all 197 episodes of the show (plus the handful of other KTMA episodes that are floating around out there), these are a tremendous find. What's really cool is that the video and audio quality is suprisingly good, especially considering that these have been languishing on VHS in a box somewhere for nearly 30 years.
I would be surprised if these ever received an official physical release of their own. If anything, they're suitable as bonus features on any number of Shout! Factory's MST3K boxed sets. But if you're a Mystery Science Theater 3000 historian (a HSTie?) and you want to check 'em out, the official digital versions are now available for purchase here (Invaders From the Deep) and here (Revenge of The Mysterons From Mars).
There's still no sign of the third episode, Star Force: Fugitive Alien II. However, unlike Invaders From the Deep and Revenge of The Mysterons From Mars, that one was remade during the show's third season (and it's a personal favorite of mine, too). But if these first two were found, anything is possible, and perhaps Joel and friends have more surprises coming for us in the next few months.
Meanwhile, a brand new season of MST3K, the first in 18 years, will arrive on Netflix in the not-too-distant future…ahem…I mean, early 2017.