News
Lore: Trailer And Release Date For Amazon's Horror Anthology
Amazon anthology series Lore gives real-life scary stories the true crime treatment, using a mixed-media approach.
Amazon's television adaptation of Aaron Mahnke's popular podcast Lore is creeping upon audiences with horror-inducing intrigue in time for Halloween. The series, manifesting as a 6-episode horror anthology, will showcase the podcast's accounts of real-life scary stories, urban legends and other assorted folklore, using a mix of animation, live-action and archival footage.
Lore Release Date
Guess when Lore is releasing on Amazon… Friday, October 13th.
Amazon also dropped the official trailer for Lore, giving us slight peak at its tone and mixed-media visuals.
Lore Trailer
Brandishing the chilling tagline, "The scariest stories are true," the Lore teaser trailer touts a twisted animated aesthetic. Podcast creator Aaron Mahnke narrates the brief clip, emphasizing the central point that there is usually a grain of truth within even the most fantastically frightening stories. Like his podcast, expect the evidence he presents to serve as the chilling context.
As the teaser implies, expect to hear and see tales about vampires, werewolves, spirits, changelings and, as notably featured in the promotional material, a creepy doll given to a young boy that purportedly came alive with evil purposes (Child's Play plot similarities notwithstanding).
Names such as Robert Patrick (Terminator 2: Judgment Day), Kristin Bauer van Straten (True Blood), Adam Goldberg (Fargo), Holland Roden (Teen Wolf), Colm Feore (House of Cards) and Campbell Scott (Royal Pains) will provide their voices for the series.
Lore Poster
Much of the creepy imagery from the Lore teaser trailer is on full display in its first promo poster.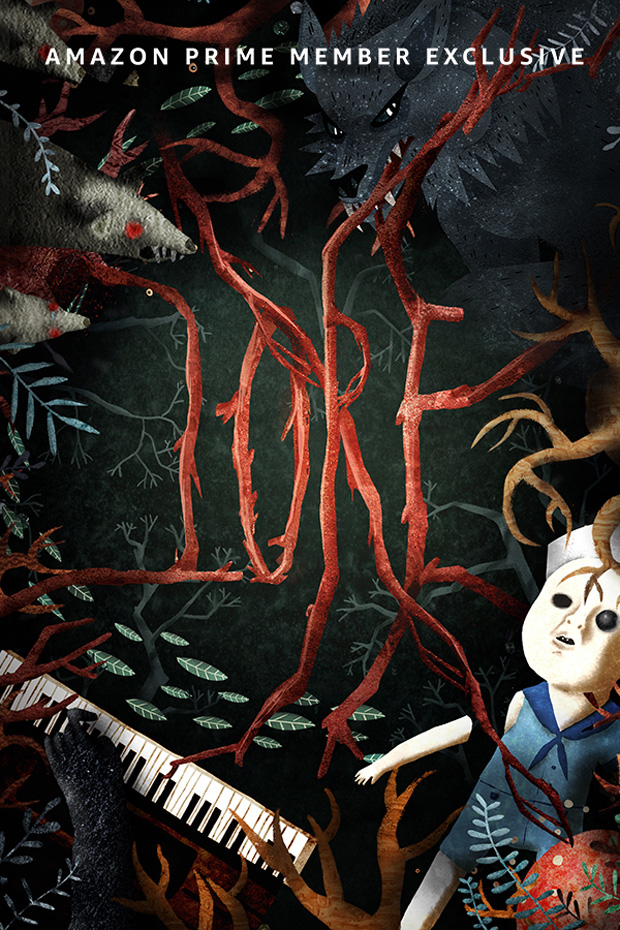 Lore Crew
Aaron Mahnke's Lore podcast – launched in 2015 – has won iTunes' "Best of 2015" and "Best of 2016" awards, as well as Podcast Academy's award for "Best History Podcast of 2016." Those accolades and the fact that it averages 6 million listens per month, has given it serious momentum in this television debut. Consequently, Amazon's Lore comes to the table with some notable names.
Glen Morgan serves as showrunner and executive producer for Lore. He brings experience from his tenure as a longtime executive producer of The X-Files and other TV series such as Intruders, Those Who Kill, The River, Bionic Woman, and Space: Above and Beyond, along with film work with the Final Destination horror franchise.
The series is the product of companies Propagate Content and Valhalla Entertainment, with Aaron Mahnke himself onboard as a co-executive producer. However, he is amongst a slew of executive producers that notably includes The Walking Dead's Gale Anne Hurd, joined by Ben Silverman, Mark Mannucci, Howard T. Owens, Brett-Patrick Jenkins and Jon Halperin.
Lore Release Date
Lore debuts on Amazon Prime on the genre-appropriate date of Friday, October 13.
Read and download the full Den of Geek Special Edition magazine here!