Features
Looking back at The Corner
Tom salutes The Corner, David Simon's precursor to The Wire, and a rich drama series that deserves not to be overlooked...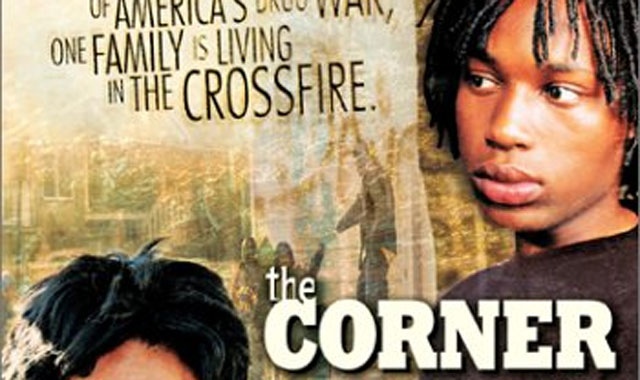 Spoiler warning: this feature discusses plot elements of The Corner.
I wanted to start this article without immediately mentioning The Corner's more famous stablemate, but it has proven impossible. The Wire is widely lauded by critics as one of the great works of television. Looking at how institutional and social dysfunction affects the everyday lives of those living on the crime-ridden streets of Baltimore, the HBO series was gritty, realistic, and gripping viewing, laced with a dark sense of humour. For anyone involved, particularly creator and writer David Simon and his writing partner Ed Burns, it is considered their magnum opus. 
While undoubtedly Simon's most famous work on television, it was not his first. Following a writer's strike in 1987, the Baltimore journalist took a year's sabbatical in 1988 to pen the celebrated Homicide: A Year on the Killing Streets, a darkly profound book closely following the real day-to-day activities of the Baltimore Police Department's homicide unit. A macabre tome full of black humour and insight, it is very much worth a read. It also turned out to be a monumental moment for the history of American television. 
Simon had worked on the Baltimore Sun's city desk for twelve years, but the book turned out to be his springboard into writing for television. It was the inspiration for the NBC television series Homicide: Life on the Street, a fictional depiction of the Baltimore homicide unit that ran for seven seasons totalling 122 episodes.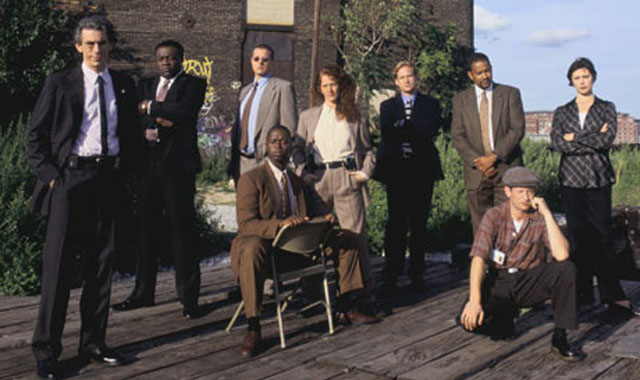 In between his involvement with Homicide and The Wire, Simon published his second book, The Corner: A Year in the Life of an Inner-City Neighbourhood, in 1997. It provides a true account of a West Baltimore community dominated by a heavy drug culture, focusing primarily on a single street corner and the addicts and drug peddlers that live there. Pulling no punches, Simon immersed himself in the world of his subjects to tell their story. 
Like Homicide before it, The Corner was adapted for television, this time into a six part mini-series for HBO. When it was aired in 2000, it was celebrated for its unflinching realism, winning three Emmy Awards, including Outstanding Writing for a Miniseries or a Movie, for Simon and David Mills. In the wake of the success of The Wire, sadly the earlier series has been largely forgotten when reflecting on Simon's success. 
In comparison to its more famous stablemate, The Corner has a narrow, heightened focus on the lives of a handful of addicts and youths living in poverty amid the drug-covered streets of West Baltimore. The show has only six episodes to tell its story as opposed to the sixty episodes across five seasons of The Wire, which readily deals with political corruption, modern day journalism and a failing education system among its themes. While The Corner does touch on social issues like teen pregnancy, the decision to keep the focus narrow befits its six episodes well.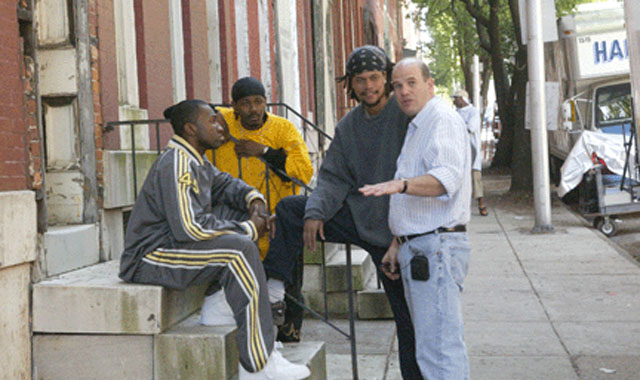 The plot focuses primarily on the McCullough family, made up of heroin addict Gary, his ex-wife and fellow addict Fran and their fifteen-year-old drug dealer son, DeAndre. The series is consumed with showing the effects the city's drug culture is having on a personal level for one unfortunate family. 
Gary's tale is a fall from grace; a formerly successful businessman, it is suggested through flashbacks that Gary was dragged into drug use by Fran. While this use of flashbacks to show Gary's fall may have been trite if used incorrectly, in The Corner they work effectively to make the viewer question 'What if?' and show how a few wrong decisions can ruin your life. 
As with anything associated with Simon, the show is full of brilliant characters. Gary, wonderfully brought to life in a nuanced turn by TK Carter, is an intelligent, downtrodden man whose bad choices have led to his addiction. DeAndre is paying for those decisions, working on the street corners before struggling with drug addiction himself. The story of such a young, tender boy being dragged into a grim life like this is tragic. Sean Nelson, aged nineteen when the show's run on HBO ended, plays his role as DeAndre with great strength and maturity. 
Clarke Peters (The Wire's Lester Freamon) and Glenn Plummer stand out among the cast of addicts as Fat Curt and George 'Blue' Epps. Blue is struggling to stay clean, while Fat Curt is struggling to stay alive as his drug use drags him closer to death. Though arguably the most fascinating character is Fran. A vile, cold woman under the influence of drugs, she eventually plucks up the courage to go to rehab and try to get clean. 
For a period of months, Fran does stay off drugs and the change is remarkable. She changes into a vibrant, confident woman before her own fall from grace. On reflection, Khandi Alexander puts in a layered, powerful performance that steals the show.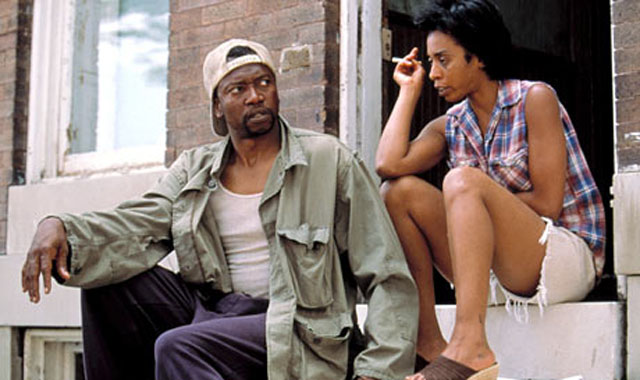 While there are massive similarities with Simon's later work, there are key stylistic differences that mark The Corner out. Each episode is bookended with a documentary style interview, with director Charles S Dutton talking directly to one of the characters in a probing manner. While incongruous to the overall realistic style, these interviews offer a great insight into the mindset of the characters' struggles. 
The most powerful difference though is the show's ending. As in the book, the show's story is based on real people. Gary, Fran and DeAndre McCullough went through these highs and lows for real. In film and television, the words 'based on a true story' often add little gravity to the plight of characters on-screen. 
Not so in The Corner. Like The Wire after it, it offers the viewer an insight into a world they might never experience. The added potency of it being day-to-day life for millions of people only adds to that power. 
The bleak finale is dark enough as Dutton, acting as narrator, reads out the real life fate of each character portrayed on screen. More striking than that, the episode concludes with a real life interview on the streets with Fran Boyd, DeAndre McCullough, DeAndre's former girlfriend and mother of his child Tyreeka Freamon and George 'Blue' Epps.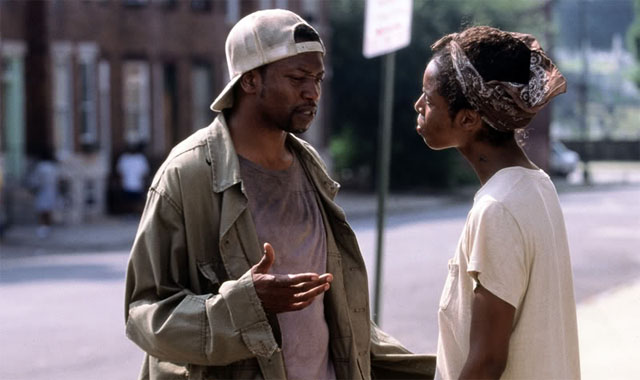 The brave move pays dividends, offering a fascinating insight into the real world of the show's characters. They discuss their own lives in an open and frank way that shows more about their lives than any drama could hope to. The finale is made more poignant by the fact that both Blue and DeAndre have both died since giving that interview. DeAndre never could beat his past depicted on the show, dying on August 1st 2012 following heroin intoxication. Blue died in 2009, having stayed clean up to his death. 
While it may not quite have the magic of Simon's later, more famous work, The Corner is still a fantastic piece of television that does not deserve to be overlooked. Hard hitting, filled with powerful performances, I advise you to watch it. Now, please. 
I feel I should finish with a quote from David Simon, published on his website following the death of DeAndre McCullough. He writes it better than I ever could. 
When you tell yourself you are going to write a story about real people, you say so in the abstract, without any real sense of the beings you haven't yet met, without any measure of the real cost of addressing actual human realities. 
Amid all of the easy labels and stereotypes that will now certainly apply, let me offer only the following:  I once had the privilege to know a boy named DeAndre McCullough, who at the age of fifteen had led a life of considerable deprivation, but who nonetheless was the fine and fascinating measure of a human soul. Everything after, even the very book that we wrote about his world, today seems like useless and unimportant commentary. Be free, Dre.
Follow our Twitter feed for faster news and bad jokes right here. And be our Facebook chum here