News
Looking back at Dramarama: series 3-7
Alex looks back at the later years of ITV children's TV anthology Dramarama, including one or two things it had in common with Doctor Who...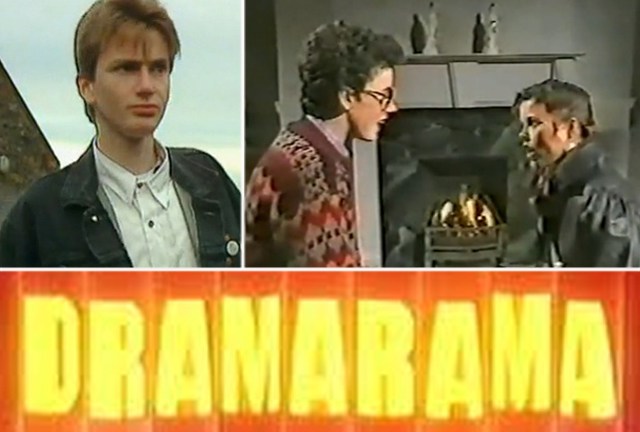 Anthology series Dramarama continued to be a very successful part of Children's ITV throughout  the eighties. After two very successful seasons, the umbrella strand was going from strength to strength, indeed, such was its reputation, it could almost be dubbed "Children's Play for Today".
The third season transmitted in the spring and summer of 1985 saw Dramarama produce, arguably, one of its most challenging plays: Purple Passion Video. Starring erstwhile Bucks Fizz singer Bobby Gee, this complex, multi-layered story, explored the nature of narrative and whether you can truly believe what you see. A seemingly straight-forward story about hero worship of a pop star escalates into something far more sinister. We see a fangirl and her brother break into the house of her pop hero The Kid (Gee), they are being filmed by what seems to be ostensibly a security camera but suddenly they appear to be part of a pop video. The Kid is seen in a controlled environment answering mundane questions from an unseen interviewer, a suggesting he is merely a "puppet" being manipulated by an unseen and clearly powerful force. The whole thing is turned on its head in a startling coda. The opening scenes are revealed to be a false premise as Gee is seen calling the shots on the production from a TV gallery, the fangirl and her brother have been the pop stars all along, Gee simply an actor hired for the video. This play stretched the Dramarama format with a gripping and perplexing story, which in itself served as a clever, if subtle, statement on the trust young people put in pop stars and how the music industry in turn exploits its artists as much as its young fans.
Season three also boasted several fantasy plays. The Universe Downstairs portrayed a black hole in a cellar. Vincent goes to investigate a strange noise and tumbles into a utopian dream world where his rather backward dress-sense is proclaimed trendy. He meets Dollbaby, essentially an extra from a stylised pop video and explores a world where progress through technology only goes so far. Silver features former Blake's 7 star Gareth Thomas as a metaphorical Long John Silver, the hero-figure to a boy on crutches coming to terms with the recent tragic death of his Dad.
Daydreamer episodes were always a common theme in Dramarama. Private Eye is one of the better ones, being an engrossing Marlowesque thriller that leaves the viewer wanting more… The best episode of the third season was Look at Me, a moving-yet-uplifting story about Nick, a deaf boy, desperately trying to save the life of his dog, injured in a road accident. At first, he appears to harass a cyclist, Ben. However, the boy remains calm and is able to gradually understand Nick, who insists he look at him when speaking so he can lip-read. Sadly the dog dies but the two boys become firm friends. In a season of complex science fantasy and multi-layered satire, this decidedly simple tale stands out and (rightly) won a prestigous Prix Jeunesse award for its sensitive handling of its potentially difficult subject matter.
Season four, screened in 1986, opened with The Come-uppance of Captain Katt, a thinly-veiled satire on the behind-the-scenes politics inherent in the production of an aging sci-fi show. Alfred Marks starred as Captain Katt. Written and directed by Peter Grimwade, his source material was the eccentric production demands of John Nathan-Turner, the eighties producer of Doctor Who, which Grimwade experienced first-hand. The second play A Couple of Charlies was a brave take on child abuse. Well-acted and sensitively produced, it remains Dramarama's most controversial output. Whilst it may have outraged their parents the kids simply watched it as just another episode unaware of the attendant criticism. 
A real coup for the series was employing the writing talents of Dennis Spooner. His cult TV credits included: script editing early Doctor Who (including writing half of the longest story The Daleks' Masterplan); writing for Gerry Anderson on Supercar; scripting The Avengers, The Champions, Department S and creating Randall and Hopkirk (Deceased) for ITC and writing for series as diverse as Paul Temple, Doomwatch, The Professionals and Remington Steele(!). Spooner's play Flashback was a wonderfully inventive story about a boy trapped in a piece of film from 1940. Sadly this was Spooner's last professional engagement as he died of a heart attack just over a month after his play was transmitted.
Jessie's Place about an ambitious, upwardly mobile girl who sets up her own café, was one of a couple of plays written by Adele Rose. The other was The Venchie, an acclaimed entry from the first  season – the title being Geordie vernacular for the eponymous adventure playground under threat in the play. Rose went on to create the highly successful Byker Grove for the BBC. Pig Ignorance told the tale of a young offender (Dexter Fletcher) sent to do community service on a farm. The police appear to hound him, waiting for him to make a mistake. The tenacious policeman was played by In Sickness and In Health star Eammon Walker, who later joined The Bill when it became a twice-weekly serial in 1988.
After the fourth season, the creator of Dramarama, Anna Home left TVS and returned to the BBC, replacing Edward Barnes as head of the BBC Children's Department, a role she held until her retirement in 1996. Her replacement was Lorraine Hegessey, who famously appeared on-screen to explain the sudden departure of Richard Bacon from Blue Peter. She later became controller of BBC1 where she was instrumental in Doctor Who's triumphant return after a sixteen year absence.   
Dramarama's fifth season, screened in 1987, was disappointing from the sci-fi/horror/ghost story aspect with only two supernatural entries: The Horrible Story was a rather slight play in which three boys (two brothers and a friend) camp out overnight and tell each other scary stories. The younger brother, often the victim of the other boys derision, gets his own back with the scariest tale of all. Much better was The Halt, a genuinely chilling ghost story with shades of the Dickens classic, The Signalman. 
1988 saw the sixth season of Dramarama. Christopher Biggins played a would-be Devil who delights in the chaos he causes at Alton Towers in The Wrong Button. Perhaps the most significant play of the series was produced by Scottish Television. The Secret of Croftmore starred a young actor who would go on to have a major role in science fiction TV. Future Time Lord, David Tennant made his television acting debut on Dramarama – a full five years before his infamous role as a transsexual barmaid called Davina in Rab C. Nesbitt, which is often erroneously cited as his first major credit. The only spooky entry this season, The Secret of Croftmore sees two city kids from Edinburgh visit their country cousin. Cue culture shock and supernatural goings-on. Tennant hints at his future promise and is, by some margin, the best performer in the play. 
In June 1989 the seventh and final run of Dramarama began. The most chilling episode was Ghost Story about a group of army cadets, lost in fog on a moor. The cadet leader is haunted by the ghost of a young boy, whom he left to die on the moor some years earlier, as the result of an exercise in discipline which went tragically wrong. Anthony Horowitz, later a successful children's author and writer of the mid-nineties time-travel cop hokum Crime Traveller, wrote Back to Front. Notable as surprisingly the only play mounted by Yorkshire Television for the series. A boy ends up trapped behind a mirror after experiencing several moments of strange reversal having purchased an antique looking glass from a particularly odd shopkeeper. Even the endboard for Yorkshire is seen backwards in a neat final twist.
After six years and 90 editions, the last episode of Dramarama – In The Pink – was transmitted on August 21st 1989. As Dramarama ended, two programmes which would carry the mantle of quality ITV children's drama into the nineties began: Press Gang written by a twenty five year-old Glaswegian school teacher and part- time writer called Steven Moffat and Children's Ward, which was a development of the 1988 Dramarama play Blackbird Singing in the Dead of Night. Among its team of writers was one Russell T. Davies. Arguably, both were heavily indebted to the groundwork achieved by Dramarama, which undoubtedly whetted children's appetites for quality drama.
Dramarama delivered just one full series: Dodger, Bonzo and the Rest which ran from 1985 to 1986 ending with a Christmas special. Lee Ross, who played Dodger, later appeared in Press Gang. Over its six-year lifespan Dramarama developed a strong reputation for producing a variety of realistic, thought-provoking dramas and spooky, occasionally multi-layered fantasies. Aside from future Doctor Who star David Tennant, several other now-famous TV actors, writers and directors cut their teeth on the show: Nick Berry, Leslie Grantham and Gary Oldman, Shameless creator Paul Abbot; the maverick film director Michael Winterbottom; Band of Gold's Kay Mellor, Box of Delights director Renny Rye and Byker Grove creator Adele Rose to name but a few. 
Dramarama may have been  a product of its times, yet nearly thirty years later the plays stand up remarkably well. Given the parlous state of children's programming today, especially on ITV1, this period will no doubt be remembered as a "golden age" when the ITV companies cared enough about the next generation to provide them with edgy but above-all entertaining teatime drama.
Read Alex's look-back at series 1 and 2 of Dramarama, here.