News
Elseworlds: First Look at Superman and Lois Lane in DC TV Arrowverse Crossover
Elizabeth Tulloch has been cast as Lois Lane, and here's the first look at her and Superman in the Elseworlds crossover.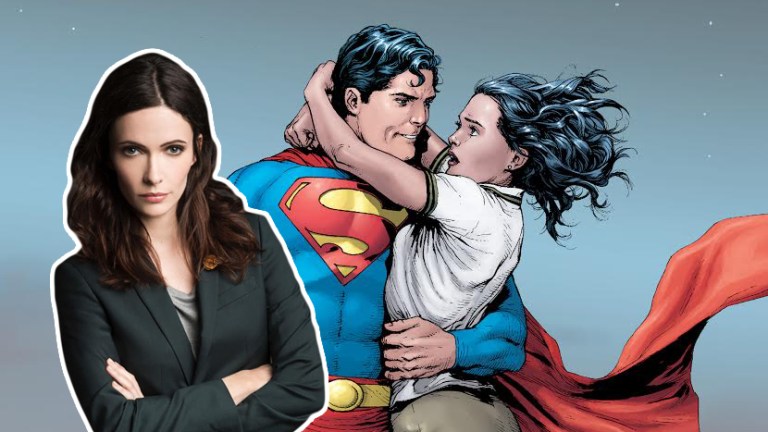 The 2018 Arrowverse crossover is shaping up to be a big one, even though it only encompasses three of the five DC superhero shows airing on the CW. Only Flash, Arrow, and Supergirl are coming to the party this year, but that should be enough, as the focus of this year's superhero TV event is the introduction of Batwoman (Ruby Rose).
Viewers will finally get to visit the Arrowverse version of Gotham City for the first time, but we're also going to have some visitors from Metropolis. Tyler Hoechlin will return as Superman, marking his first appearance in the red and blue tights since late in Supergirl Season 2. This would be big enough news on its own, but Clark isn't coming alone…we'll finally meet this world's version of Lois Lane.
further reading: Every DC Comics Easter Egg in the Elseworlds Arrowverse Crossover
Elizabeth Tulloch, perhaps best known to fans as Juliette Silverton and Eve on Grimm, has been cast as Lois Lane. She joins a tradition of TV Lois Lanes that includes Phyllis Coates, Noel Neill (both from The Adventures of Superman), Teri Hatcher (Lois and Clark: The New Adventures of Superman), and Erica Durance (Smallville). And that's not to short change Dana Delaney's brilliant turn as the voice of Lois on Superman: The Animated Series, or big screen interpretations by the late Margot Kidder or Amy Adams. Lois has been there with Superman since his first appearance in Action Comics #1 in 1938, and I can't wait to see what Ms. Tulloch brings to the role.
Check out this very Richard Donner inspired look at Superman and Lois Lane from the Elseworlds crossover!
Ms. Tulloch posted on Instagram about her love for the character, and in particular Margot Kidder's interpretation…
"We couldn't be more excited to introduce Lois Lane to the Arrowverse," said Supergirl executive producers Jessica Queller and Robert Rovner when it was first revealed Lois was coming to the show in a statement back in August. "This dogged, determined and brave reporter will make for a strong partner to Superman and amazing addition to our universe of DC characters."
further reading: Elseworlds Explains Arrowverse Batman Status
Lois and Superman will appear in all three episodes of the crossover, which means whatever threat is big enough to bring Batwoman out of the shadows (and that requires Supergirl, Flash, and Green Arrow to lend a hand) also needs another Kryptonian for backup. And you don't introduce Lois Lane, the first lady of the DC Universe, unless you plan on giving her plenty to do.
Hoechlin first appeared as Superman in the first two episodes of Supergirl's second season, both of which were loaded with Kryptonian easter eggs. Superman is a natural fit for the Arrowverse, and every time Supergirl has played around with deeper elements of the Man of Steel's mythology, it has worked extraordinarily well.
Supergirl Season 4 has been teasing even more elements and characters from her cousin's world, with Lex Luthor underlings Otis and Mercy making their TV debuts and Lex Luthor himself on the way.