News
Logic Is Missing In WWE's Booking of James Ellsworth
WWE's lovable loser isn't so lovable anymore, and his execution makes very little sense ...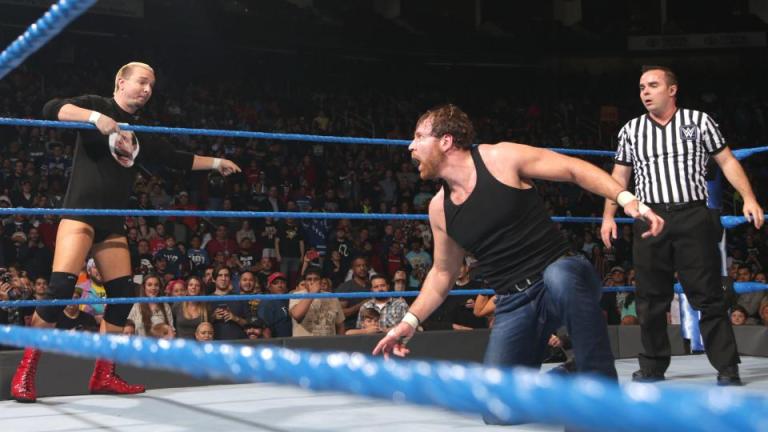 Three days ago at WWE's TLC pay-per-view, James Ellsworth cost Dean Ambrose the WWE World Hvt. Title and, for some reason, aligned himself with AJ Styles after Styles had been trying to essentially kill him for the last several weeks.
Later, it was revealed that Ellsworth wanted his title shot for beating Styles, and that was supposed to come on this Tuesday's SmackDown Live, but the match was on hold after Styles suffered a minor ankle injury.
But let's turn out attention back to Sunday, just for a minute.
The idea of Ellsworth turning on Ambrose and helping Styles isn't something I'm against. In fact, it makes some sense. Ellsworth has wins over Styles and thought he deserved a title shot. Obviously, he doesn't, but a heel would believe that he does.
So Ellsworth's true colors show, and he tries to preserve his own title shot by costing Ambrose a title win.
Boom, you have a heel. The problem is that the heel is James Ellsworth, a hapless looking — and the way he's been book, a hapless executing — idiot.
The execution of the turn is the bigger issue.
Styles was about to win the match on Sunday when Ellsworth came to the ring, distracting Styles and essentially costing him the win at that point. Styles, who we're told is such a great wrestler and so smart, bails on winning the match to attack this pasty-looking jobber.
Really smart!
That allows Ambrose to nearly win the match, but Ellsworth costs him, throwing him off a ladder to the outside.
Think about that for a second. The guy Ellsworth wanted to win the match was about to win the match, and he decided at that point to run down and distract him, only to then cost the guy he didn't want to win the match? It doesn't make any practical sense.
It's pro wrestling, you have to suspend disbelief, but when logistics like this don't add up, it makes it really difficult. It would be like an NFL team throwing a pick on the goal line because they would rather win the game by intercepting the opposing quarterback and running it back for a pick-six.
It doesn't make any logical sense, either.
1. Randy Orton & Bray Wyatt beat Heath Slater & Rhyno to retain the SD Tag Team Titles
They ran an angle on Talking Smack after the show where Rhyno teased a breakup, eluding to "carrying" Slater during the match.
This was a really cool, organic team that grew out of the WWE Draft when Slater was doing some good stuff bouncing back and forth as the undrafted guy. Slater has been an under-utilized talent and could benefit from a solo run now. The depth on SmackDown isn't too deep, and he'll have a natural initial feud with Rhyno before potentially spinning off into some more feuds if he comes out of there with the upper hand, which he should.
2. The Hype Bros. beat The Ascension
Two tag-team matches to begin the night. The problem here is that there hasn't really been anything of note for either of these teams since the tournament. It felt like a low-card match with little consequence. There should be consequence to everything on television. Mauro Ranallo did a nice job here talking about how this could lead to bigger things for the Hype Bros., but it's hard to imagine why a win over such a marginal team like Ascension would be viewed through such a lens.
3. Baron Corbin beat Kalisto
I think they're heading in a direction of treating Corbin in a similar way to how Raw treated Braun Strowman. There isn't really a feud near the top of the card for Corbin, and putting him in something with Styles or Ambrose is going to expose him very quickly.
This match was short and sweet, and leads me to believe that they could do something with Corbin squashing job guys. That gives him something to do, keeps him on television, and doesn't expose him just yet when he's not ready.
4. Chad Gable beat Tyler Breeze
Gable looked terrific in this match. The partners fought on the outside but Gable's offense stood out here. He also seemed to have really good chemistry with Breeze and everything looked really smooth, yet impactful.
5. The Miz beat Dean Ambrose
Very predictable finish with Ellsworth costing Ambrose the match. However, the initial thing here was that Ellsworth was once again trying to help Ambrose, alerting the referee of Maryese's interference.
Ellsworth came across as a big moron here, but that's kind of to be expected. There has to be something more to the Styles-Ellsworth connection that has to play out.