News
Lodge 49 Season 2: Enter the Lodge in Exclusive New Clip
The cast of Lodge 49 walks us through what to expect in season 2 in this exclusive behind the scenes clip.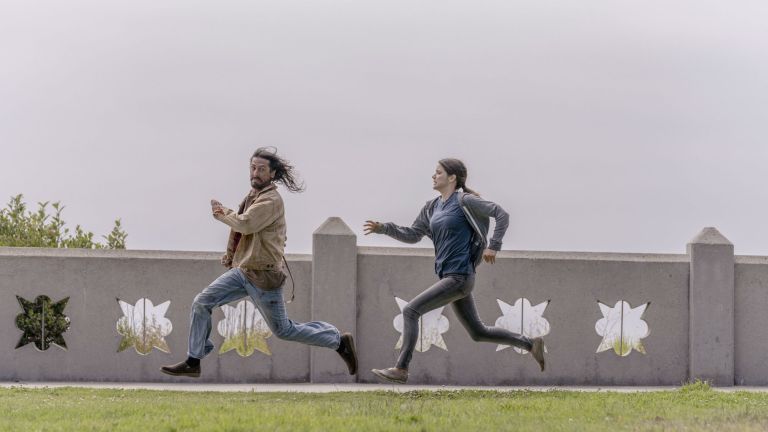 When a show ends as shockingly as Lodge 49 season 1 does, it can only beg the question: what on Earth can be on the docket for Lodge 49 season 2?
Now, thanks to an exclusive sneak peek provided by AMC, we have some answers. What happens after Liz pays off her debts, Ernie falls victim to Captain's land grab scheme, and Dud gets bit by a shark? Let the cast tell you, themselves, in this Lodge 49 season 2 behind the scenes featurette.
Eric Allan Kramer, who plays newly elected Sovereign Protector, Scott Miller offers up a succinct distillation of the coming season.
"Season 2 is all about be very careful what you wish for because you just might get it," Kramer says. And who would need to heed that lesson better than Scott? The man got the job he wanted only to find most of the power stripped from it. Elsewhere in the clip, series stars Wyatt Russell (Dud), Brent Jennings (Ernie Fontaine), and Sonya Cassidy (Liz) break down Lodge 49 season 2 from their characters' perspectives.
"Liz is wrestling with and trying to piece together puzzles from different aspects from her past," Cassidy says.
It sounds like eliminating all of her debt and getting back to the mythical "zero" wasn't the cure-all that Liz thought it would be. Meanwhile, her brother will remain laser focused on the lodge.
"Last year was an element of self discovery for Dud," he says. "Dud is trying to create a home in the Lodge and is trying to make everyone see that the Lodge is the place for everyone to be together."
There's a lot of focus on time in the clip. Liz wants to piece together her past, Ernie is re-examining the mistakes of his and Blaise is just opening any mysterious door he can find. Perhaps, there is an element of metaphorical time travel in Lodge 49 season 2.
further reading – Better Call Saul Season 5: Everything We Know
Or maybe it will be just out and out literal time travel. Lodge 49 likes to brush up against the bonds of magical realism.
Lodge 49 Season 2 premieres at 10 p.m. ET, Monday August 12 on AMC.
Read and download the Den of Geek SDCC 2019 Special Edition Magazine right here!
Alec Bojalad is TV Editor at Den of Geek and TCA member. Read more of his stuff here. Follow him at his creatively-named Twitter handle @alecbojalad