News
Lodge 49 Season 2: Liz Needs a Loan in Exclusive New Clip
Liz seeks help from Burt and comes across Ernie (hey!) in this exclusive new clip from Lodge 49 season 2 episode 7 "Exile."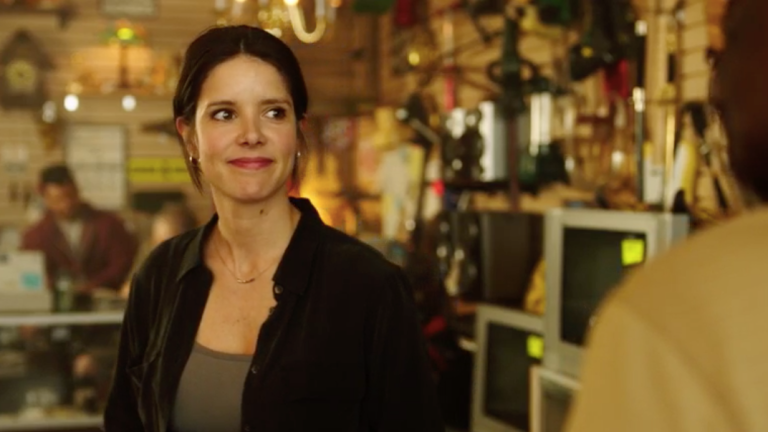 Pawnshop owner Burt (Joe Grifasi) might be the most powerful person in Lodge 49's version of Long Beach, California. When absolutely anyone in the economically-depressed town needs money, they must visit the joyless shopkeep to seek a loan.
That's exactly the position that Liz Dudley finds herself in when she enters Burt's shop in this exclusive new clip from Lodge 49 season 2 episode 7 "Exile." Though something funny happens to Liz as she seeks a loan. She runs into Luminous Knight Ernie Fontaine. What a positively Sesame Street-level twist! Give it a look below.
For two characters who have shared very little screen time, Liz and Ernie do have quite the intersecting history via Dud. The nature of their conversation quickly reveals this.
"Hey Luminous Knight. I can't escape you guys," Liz tells Ernie as she enters the pawnshop to see him walking out.
After Ernie looks a little confused, Liz realizes she must clarify.
"Blaise took a bubble bath in my apartment yesterday," she says.
They then get down to deeper subjects.
"Hi Ernie, I just wanted to say thank you."
"For what?"
"For watching over Dud. If you had seen him last year it was just a rough time."
"For both of you."
"Yeah. I don't really get the lodge, but I'm glad he has somebody. It means a lot to him."
The lodge does mean a lot to him and therefore it means a lot to Liz too then. It's pretty remarkable just how all of Long Beach, California is connected together by Sean "Dud" Dudley. But why exactly does Liz need a loan? And why was Ernie in Burt's shop in the first place? That remains to be seen.
further reading: Lodge 49 Season 2 is the Working Man's Game of Thrones
The synopsis for "Exile" reads: "Dud resumes his apprenticeship with Blaise. Meanwhile Ernie sees someone from his past and hits bottom, while Liz goes to the mat for her employees."
Lodge 49 season 2, episode 7 "Exile" airs on Monday, September 22 at 10 p.m. ET on AMC.
Alec Bojalad is TV Editor at Den of Geek and TCA member. Read more of his stuff here. Follow him at his creatively-named Twitter handle @alecbojalad