News
Lodge 49 Season 2: Liz Dumpster Dives in Exclusive New Clip
Something smells rotten in the Dudley household in this exclusive new clip from Lodge 49 season 2 "Conjunctio."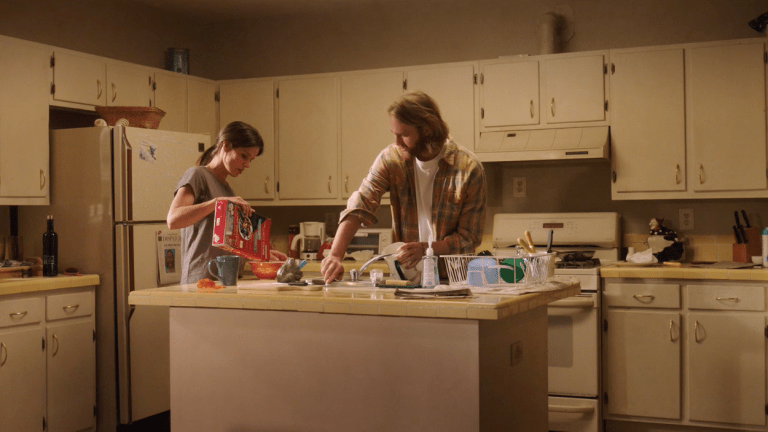 The Dudley dynamic duo of Dud (Wyatt Russell) and Liz (Sonya Cassidy) is inseparable on Lodge 49. Heck, in Lodge 49 season 2 alone, Liz and Dud have survived Dud's shark attack, Liz's ill-fated foray into Temp Joy, and the sudden arrival of Lenore (Bertila Damas), an old lady friend of their fathers.
In this exclusive clip from Lodge 49 season 2 episode 4, "Conjunctio," we can see that the Dudley bond has grown so tight that Dud can ask his sister some uncomfortable questions. Questions like "what smells so bad?"
The synopsis for Lodge 49 season 2 episode 4 reads: "Dud plans a trip to Mexico with El Confidente despite Ernie's attempts to steer him down a new path. Meanwhile, Liz and Lenore's friendship grows and Scott makes big changes at Lodge 49, while Connie learns about the True Lodge."
It would appear that Dud's olfactory observation is the result of Liz and Lenore's friendship growing. Liz and Lenore have spent at least two hours in a dumpster for some reason.
"Does something smell kind of bad in here?" Dud asks.
"That's me. I was hiding in a dumpster for a couple hours," Liz says.
Then Lenore suddenly appears out of nowhere and says "We had no choice. That dumpster saved us. Thanks for letting me freshen up, Liz. Maybe we can do it again sometime."
further reading: Lodge 49 Season 2 is the Working Man's Game of Thrones
Why did Liz and Lenore have no choice but to be in a dumpster for a couple hours? This is Lodge 49 and we don't ask those kind of questions. Though suffice it to say, we're likely to find out when "Conjunctio" airs on Monday, September 2 at 10:01 p.m. ET on AMC.
Read and download the Den of Geek SDCC 2019 Special Edition Magazine right here!
Alec Bojalad is TV Editor at Den of Geek and TCA member. Read more of his stuff here. Follow him at his creatively-named Twitter handle @alecbojalad