News
Lodge 49 Season 2: Dud Gets a Legal Lesson in Exclusive Clip
Dud (Wyatt Russell) meets with his lawyer Daphne (Mary Elizabeth Ellis) in this clip from Lodge 49 season 2 episode 3 "DisOrientation."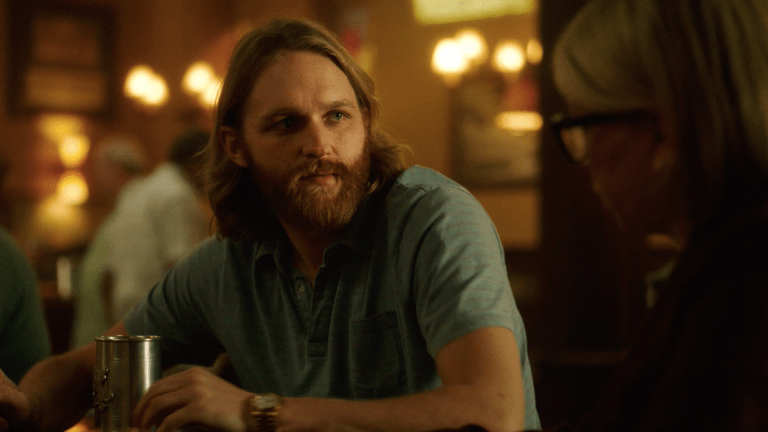 If nothing else, Sean "Dud" Dudley (Wyatt Russell) on Lodge 49 is a curious soul. He's willing to look into all the great mysteries of the world from alchemy to signs from the heavens. In Lodge 49 season 2, however, he's learned perhaps his most crucial lesson yet: healthcare is expensive.
After surviving his sharkbite and a lengthy stay in the hospital, Dud meets a "lawyer" named Daphne (as played Mary Elizabeth Ellis) who assures him that she'll take care of his hospital bills as they pursue litigation against…well, that's never been clear. The beach? In this exclusive new clip from next week's Lodge 49 season 2, episode 3 "DisOrientation," Dud can't help but notice that three episodes is a long time to wait for a check.
"I was just kind of wanting to make sure that everything's on track because I've been getting a lot of calls about my bill," Dud tells Daphne.
"What! No one does that to my client!" Daphne declares, pounding the table. "I will destroy them…if that's what you want."
Dud doesn't want that. He just wants assurances that his bills will be taken care of. And it's assurances that he receives.
further reading: Lodge 49 Season 2 is the Working Man's Game of Thrones
"I've filed a motion with the Superior Court and if they object, I'll subpoena the judge and take it to the grand jury," Daphne says, before taking a phantom phone call. Lodge 49 hasn't quite come out and said that Daphne is a fraud yet but the look on Blaise and company's faces at the end of the bar says it all. The only question remains: if Daphne isn't a lawyer trying to help Dud, who or what exactly is she?
The official synopsis for Lodge 49 season 2 episode 3 "DisOrientation" reads:
Ernie recounts his trip to Mexico and Dud sees a solution to all the Lodge's problems. Liz works at Higher Steaks. Dud and Liz spend time with a woman from their father's past.
Lodge 49 airs on Mondays at 10 p.m. ET on AMC.
Read and download the Den of Geek SDCC 2019 Special Edition Magazine right here!
Alec Bojalad is TV Editor at Den of Geek and TCA member. Read more of his stuff here. Follow him at his creatively-named Twitter handle @alecbojalad