News
Lodge 49 Release Date, Cast, News, and More
AMC has ordered a full series of the Paul Giamatti-produced supernatural surfer drama Lodge 49.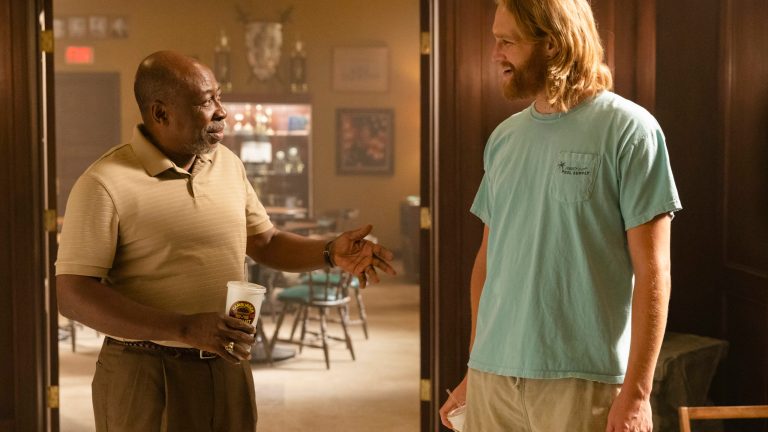 AMC has long struggled to find a show with the right combination of humor, drama, and general weirdness to pair with Better Call Saul on its schedule. With the new "modern fable" Lodge 49, they may have found one with the potential to stick.
Lodge 49 stars Wyatt Russell (of Black Mirror's "Playtest") as Long Beach ex-surfer Sean "Dud" Dudley who is looking for purpose after the death of his father and the collapses of his family business. He finds that sense of purpose at the fraternal lodge 49. There plumbing salesman Ernie (Brent Jennings) teaches Dud the secrets of friendship, and maybe alchemy. 
Lodge 49 was created by Jim Gavin (Middle Men). He will serve as writer and producer alongside showrunner Peter Ocko (Pushing Daisies, The Office). Paul Giamatti (yes, that Paul Giamatti) will executive produce the show.
Lodge 49 Release Date
Lodge 49 debuts Monday, August 6 at 10 p.m. ET. It will have the timeslot after Better Call Saul Season 4 for the entirety of the fall season.
Lodge 49 Cast
AMC has a full list of characters and descriptions. The following makes up the cast of Lodge 49.
Brent Jennings plays Ernie Fontaine, a Navy vet, plumbing supplies salesman, longtime bachelor, working class "Renaissance Man," and longtime member of the Order of the Lynx, Lodge 49. Jennings has most recently appeared on Modern Family, Shameless and Murder in The First. Other projects include the off Broadway play Our Lady of Kibeho and Moneyball, among others.

Sonya Cassidy plays Liz Dudley, Dud's twin sister – smart, fiercely independent, deeply cynical, and searching for a way to escape her life.  Cassidy most recently starred as the lead in the second season of Channel 4 and AMC's BAFTA award-nominated series HUMANS, and will next be seen in BBC One's adaptation of Wilkie Collins' classic gothic novel The Woman In White.

Linda Emond plays Connie Mills, an old-school journalist, a lover of words and smoke-filled taverns. She married her third husband (and Lynx member), Scott Mills, who brought her along to Lodge 49. Emond recently appeared in the film The Big Sick and on television in Georgia O'Keeffe. 

Eric Allan Kramer plays Scott Mills, Long Beach Port Harbor Patrol officer and straight shooter, who enjoys his personal watercraft and playing drums in a surf rock cover band. Kramer had a recurring role on Mike and Molly, was a series regular on Good Luck Charlie and has also recently appeared on The Librarians, Shooter and the film Pitching Tents.

David Pasquesi plays Blaise St. John, the resident philosopher of the Lynx. He tends bar at Lodge 49 and runs his own pot dispensary. Pasquesi is a Second City alumnus who currently recurs on Veep. Pasquesi will next be seen in Deniz Ergüven's indie feature, Kings, which is premiering at the Toronto Film Festival 2017.
Lodge 49 Synopsis
Per AMC: 
Lodge 49 is a modern fable set in Long Beach, California and centered on Dud (Russell), a likable ex-surfer who attempts to maintain his positive outlook on life while still reeling from the death of his father, the collapse of the family business, and any semblance of the idyllic middle-class life he knew. Dud finds himself deposited by fate at the doorstep of Lodge 49, home to the Ancient and Benevolent Order of the Lynx, a dusty dying fraternal order.

There he meets his mentor, Ernie Fontaine (Jennings), a "Luminous Knight" of the Order, who sells plumbing supplies by day. Despite the constant pushback from his more skeptical, pragmatic twin sister, Liz (Cassidy), Dud and Ernie find themselves drawn by the Lodge into some long-buried secrets and modern day conspiracies. Through his newfound connection with the Lodge, its mysteries and its people, Dud comes to find the missing sense of purpose in his life and confront his deepest fears and greatest hopes.