News
Lobo TV Series Might Not be Canceled After All
Krypton spinoff Lobo appeared to be dead in the water, but never count the main man out.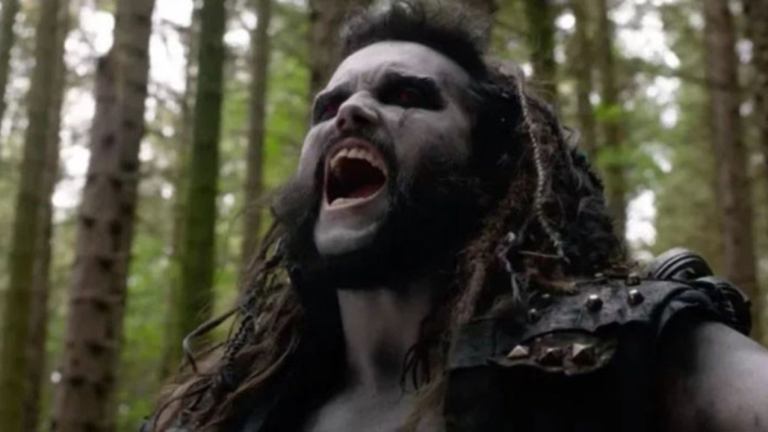 Krypton season 2 finished on some spectacular cliffhangers and then was promptly canceled by Syfy, dashing hopes of a season three. At the time of that announcement it was said Syfy's plans for a Lobo TV series based around the foul-mouthed intergalactic bounty hunter, had also been detonated. The series was to be executive produced by Krypton's Cameron Welsh. However, in a statement thanking fans and offering his thoughts on Krypton's cancellation, he promised that "despite that you've heard, the Lobo spin-off is far from dead. And I'll have more to say about it in a separate post…" 
Lobo made his live action TV debut in the first episode of Krypton season 2, and showed up in several episodes throughout the season. He's portrayed by Emmett J. Scanlan, who embraces the role in all of its extreme, lunatic glory. Fans of the character's ridiculous adventures in the comics were pleased.
"There's no point bringing Lobo in and then making him completely different to what we've seen in the comics," Welsh told us at SDCC 2018 last year. "With that said, the Lobo in comics is such a broad character and we have a very grounded kind of a show, so we don't want it to be too jarring. I mean, he's not meant to fit into the world of Krypton, in a way, so we play a little bit with that."
read more: Every Superman and DC Comics Easter Egg in Krypton Season 2
And while it's true, as the character made offhanded references to his more ridiculous adventures throughout his appearances on Krypton. Perhaps having his own show will let them turn up the crazy even further.
"It's a true honor to be the first to bring him to life," Emmett Scanlan told us last year. "And since no one has come before me, and since I set the bar, I will be the best the world has ever seen… although based on that logic, also the worst."  
At one point Warner Bros. had made some noises about a Lobo movie, perhaps with Michael Bay directing. There hasn't been word on that in quite some time, and the announcement of the TV series would seem to put a bullet in the project…for now.
Lobo likely won't arrive until 2020 or 2021…if at all. We'll update this when more information becomes available.
Mike Cecchini is the Editor in Chief of Den of Geek. You can read more of his work here. Follow him on Twitter @wayoutstuff.
Read and download the Den of Geek SDCC 2019 Special Edition Magazine right here!