News
Live At The Apollo: series 4 episode 2 preview
The new run of Britain's finest — and, er, only - stand-up comedy show continues in style…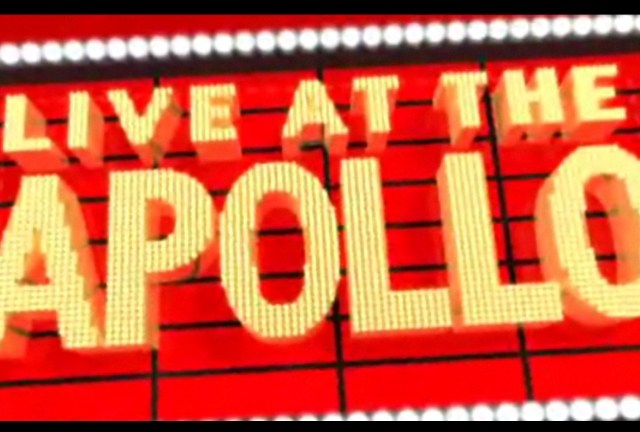 Could it be that the best thing to happen to stand-up comedy in the UK in some time was the Jonathan Ross/Russell Brand furore? For one of the by-products of it was the removing of Ross' Friday night chat show, which gave a natural, higher-profile slot for the terrific Live At The Apollo.
Tonight's episode packs in three comedians into its 44 minute running time, and it gets off to a cracking start with host Al Murray. In his 15 minute set, he sets about fixing broken Britain, and, in the guise of his Pub Landlord persona, sets about poking fun at pretty much the entirety of the front row of the gig. You wonder if the people he uncovers had been planted there beforehand he manages to mine them so well, and as someone who hadn't seen much of Murray before, he's clearly a terrific comedy performer having one heck of a time. If he has a theme as such, it's fixing broken Britain, although inevitably there's only so much that he can squeeze into a 15 minute set. But it kicks the show off really well.
Next up is Shappi Khorsandi. This is one of the real benefits of the show, in that in amongst high profile, established turns, it gives perhaps lesser known stand-ups a chance to get themselves exposed (figuratively speaking) to a larger audience. Khorsandi, again, was clearly enjoying herself here, playing neatly on her gender and background. But just as we were getting into her set, and really quite enjoying it, our preview disc conked out.
Bah.
Despite much attempting to clean it, and trying it in an assortment of players, the bleedin' thing wasn't going to work.
So there's not much we can tell you about the back part of Khorsandi's performance, nor the act that followed her, Russell Kane. But we can say, on the basis of what we saw, that it's a show very worth watching. It broadcasts on BBC One on Friday 5th December 2008, and then is set to live on for the rest of eternity on the Dave channel thereafter.
Next week's show features Jason Manford, introduced by his Eight Out Of Ten Cats opponent Sean Lock. Looking forward to it already…
Live At The Apollo is on BBC One, 5th December, at 10.35pm.