News
Lesnar Back With UFC, WWE Releases Statement
Brock Lesnar will compete at UFC 200 next month, and WWE says he'll be at SummerSlam on Aug. 21 as well ...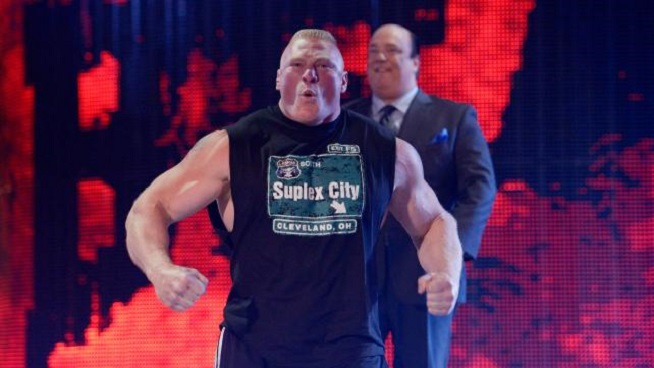 The beast is back …
UFC announced on Saturday night, as part of its UFC 199broadcast on pay-per-view, that the biggest-drawing fighter in its history, Brock Lesnar, will return to the octagon on July 9 as part of the historic UFC 200event at the T-Mobile Arena in Las Vegas.
Lesnar's opponent has yet to be named, but speculation is that it will be announced on Monday.
Lesnar is still under contract to WWE. According to multiple reports, Lesnar's newest three-year deal with WWE, which was signed in the days prior to WrestleMania31 in San Francisco, allowed for him to take one UFC fight if he chose. WWE also hinted at that when it released a statement.
"Brock Lesnar remains under contract to WWE, however, he has been granted a one-off opportunity to compete at UFC 200," WWE said in a statement. "Following this milestone event on July 9, Brock will return to WWE for SummerSlam on Sunday, August 21, live on WWE Network."
WWE could find itself in a lose-lose situation. In fact, WWE's best-case scenario could be that Lesnar loses a close decision in a fight where he still looks respectable againt a top-tier opponent, or at least an opponent with a name. UFC has been promoting Fedor on Fight Pass recently, including mentioning him on the UFC 199broadcast last night. That was considered a dream fight in 2009.
UFC's heavyweight division isn't on fire. If Lesnar wins convincingly, it wouldn't be out of the quesiton that UFC would want him for more fights, perhaps even trying to quickly get back into title contention. Contractually, that could be a problem with his WWE deal signed, but money talks. At the very least, a convincing Lesnar win could cause some headaches for WWE if Lesnar wants out of his deal to head back to the UFC.
Then again, if Lesnar loses badly — say he's knocked out or submitted in the first round — his drawing power in WWE as an unstoppable legit-fighting monster takes a series hit. There's no telling how much crossover they'll be from WWE fans ordering UFC 200, but if WWE promotes the UFC fight on its television — something that has also been speculated as part of this agreement — and Lesnar gets embarassed in the cage, where does WWE go creatively from there?
Granted that wasn't a problem the last time. Lesnar was soundly beaten by Alistair Overeem and basically quit in the middle of the fight. It wasn't Mike Tyson sitting on his stool against Kevin McBride, but it was close. Lesnar stopped fighting and Overeem took a convincing win. Months later, Lesnar walked back into WWE and was treated, and accepted, as a monster.
But the landscape is a bit different now. Lesnar is only going to be a few months removed from his latest WWE stint, not a few years. Lesnar was accepted, in part, as a monster the last time because the WWE audience was so happy to see him back. There will still be some of that, but the shock and surprise of the return isn't there. 
WWE can say this is a "one-off" and that could be the case — especially if Lesnar loses — but there is the potential for this to be the first of many shoes that will drop.