News
Legion Season 3 Episode 7 Trailer, Episode Guide and More
Legion Season 3 is almost over. Check out the trailer for the penultimate episode of Marvel and FX's high-concept mutant origin story.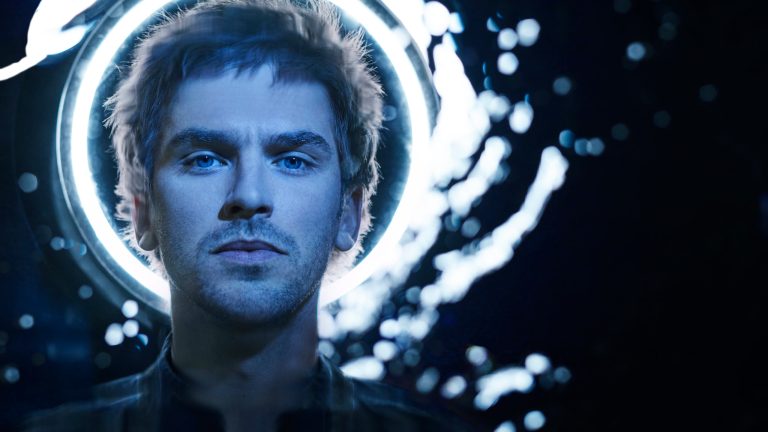 David Haller's struggle against the Shadow King and his own mind isn't over quite yet. FX has released the third season of Legion, giving us more mind-bending, psychedelic superhero whackiness to look forward to. 
The show is a loose collaboration between prestige cable network FX and Marvel. Legion doesn't fit into the Marvel Cinematic Universe, the TV universe, the comic universe, or really any other universe at all. It's entirely its own weird thing as envisioned by Fargo creator Noah Hawley. It just also happens to feature Marvel comics character David Haller known as "Legion" in the X-Men universe, who may be the most powerful mutant in the world, or just insane…or both. 
Unfortunately, but perhaps unsurprisingly, the series will end at the conclusion of Legion Season 3. Follow along as we preview each new episode and collect reviews throughout the third and final season.
Legion Season 3 Episode 7 Trailer
Here's the first glimpse of the end, the trailer Legion Season 3 Episode 7, "Chapter 27" airing August 5 at 10 pm ET on FX.
Legion Season 3 Episodes 
Here's our Legion Season 3 episode guide, where we'll gather all the available info for upcoming episodes as it becomes available to us via FX: 
Legion Season 3 Episode 1: Chapter 20
David gains a following.
Read our review of "Chapter 20"
Legion Season 3 Episode 2: Chapter 21
David prepares for a journey.
Syd grows up in a foreign land.
Read our review of "Chapter 25"
Legion Season 3 Episode 7: Chapter 26
The beginning of the end.
Legion Season 3 Episode 8: Chapter 27
The end of the end.
Legion Season 3 Release Date
Legion Season 3 premieres on Monday, June 24 at 10 p.m. ET. Bring on evil David!
Legion Season 3 Story
Interesting story details about the third (and final) season of Legion have emerged from Noah Hawley in an interview with TV Line.
After David's depraved revenge-fueled turn last year, Season 3 will reportedly commence by showing him in the middle of a kind of Zen sabbatical, serving as a guru of sorts in a spiritual/hippie commune. As Hawley explains:
"He has gone to a place to get what he needs, which is positive affirmation coming at him. But he does it by feeding off the positive energy of his acolytes, and he gets all this positive energy by implanting that positivity in their minds. So, he's in this feedback loop. He's no healthier, actually, psychologically, than he was before. He's just insulated… and that insulation doesn't last for very long."
However, David's prospective redemption arc might just depend on a new character, a mutant named Switch, recently cast with model Lauren Tsai. Indeed, Hawley reveals that Switch's heretofore unrevealed mutant power is the ability to travel in time. Consequently, Hawley elaborates that David, "has a plan that he needs a time traveler for, and that's basically our jumping-off point."
Of course, with the recently announced additions of Harry Lloyd as David's absent father, Professor Charles Xavier, and Stephanie Corneliussen as David's mother, Gabrielle, a new focus on his parentage seems to be a likely factor in his turnaround.
Legion Season 3 Cast
Better news (than the show's imminent end,) came out of the TCA in the form of the casting of David Haller's parents. Stephanie Corneliussen (Mr. Robot) will play Gabrielle, and Harry Lloyd (as in Viserys Targaryen from Game of Thrones) will play Charles Xavier. You know, Professor X.
Lauren Tsai joined the cast of Legion's third season, as reported by Variety. She will play a character named Switch, a mutant whose powers (later revealed to be time travel,) will somehow factor into the plans of the embattled David Haller. Tsai, a model and artist, is just starting to satiate the inevitable acting bug, with her lone credited appearance coming from Netflix reality series Terrace House: Aloha State.
Legion Season 3 Details
At TCAs, upon the reveal that the show is set to wrap up, Legion creator Noah Hawley would clarify the reasoning for the its relatively early ending point.
"I think endings are what gives stories meaning," Hawley said. "I always thought of this as a complete story with a beginning, middle, and end. It felt like it had three acts so this was a natural place to end it."
He would later tell TV Line, "For me, it was always that… I feel like the most powerful version of the story is the most concise version of the story."
Legion Season 2 expanded the world of the show a bit, introducing a semi-corporeal version of Amahl Farouk a.k.a. The Shadow King (Navid Negahban) and a new version of Lenny (Aubrey Plaza). The season ended with David seemingly going full villain, with Syd and the remaining members of Division 3 likley looking to apprehend him, though no official story details have been released. 
read more: Legion Comics Reading Order
There's no telling exactly where Legion Season 3 will go but it's a good bet that there will be dancing. 
"Legion has redefined the superhero drama and exceeded all expectations as the intensity and revelation build through the second season," FX President of Original Programming Eric Schrier said in a statement. "We are incredibly proud of Noah Hawley's achievement and are honored to continue the series as it pushes the boundaries of conventional television storytelling. We are also grateful for the contributions of our executive producers, John Cameron, Lauren Shuler Donner, Simon Kinberg, and Jeph Loeb with Marvel Television, as well as our outstanding cast and crew of this groundbreaking show."
Legion looks and sounds like no other comic book adaptation on television. Hawley took the character of David Haller, created by Marvel Comics' writers Chris Claremont and Bill Sienkiewicz, and placed him in a television origin story filled with striking, at-times difficult to comprehend visuals that match Haller's emotional and mental state.
Haller (Dan Stevens) spent his childhood suffering from schizophrenic-like conditions and moved from psychiatric facility to psychiatric facility until he met his love interest Syd (Rachel Keller) at Clockworks Psychiatric Facility. Syd ushers him into a world of helpful mutants at "Summerland" who reveal to David that he might not be insane after all, but rather an extraordinarily powerful mutant who has an unwelcome guest in his mind.