News
Legion Season 2 Episode 11 Season Finale Trailer, Synopsis, and Episode Guide
FX's Legion Season 2 ends this Tuesday! Check out the promo for the season finale here!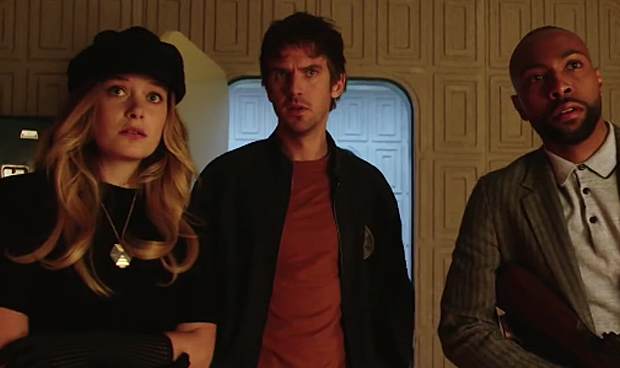 Legion Season 2 is finally here, and we've got everything you need to know about everyone's favorite reality-warping mutant.  We'll keep you updated with a complete Legion episode guide as the season goes on. You can read our review of the most recent episode here!
Here's the synopsis for the season finale, Legion season 2, episode 11, known as "Chapter 19."
In which David fights the future.
It looks like David will be recokoning with his possible future. Here's the trailer:
Legion Season 2 Episodes
Hit the blue titles to go to our full reviews!
air date: 4/3/18
air date: 4/10/18
air date: 4/17/18
air date: 4/24/18
air date: 5/1/18
air date: 5/8/18
air date: 5/15/18
air date: 5/22/18
air date: 5/29/18
air date: 6/5/18
Legion Season 2 Episode 11: Chapter 19
air date: 6/12/18
Legion Season 2 Trailer
Check out all the footage that has been released so far…
Legion Season 2 Villain
When Legion Season 2 arrives, we're finally going to meet the Shadow King in his original form of Amahl Farouk. FX describes Farouk as "a villain with a thousand faces… fear is his weapon of choice in exposing weakness in others."
Saïd Taghmaoui was initially cast in the role, but he has been replaced by Navid Negahban (Homeland) for the role (via TV Line).
Amahl Farouk/Shadow King, introduced in Uncanny X-Men #117, dated January 1979, is an evil mutant telepath that was revealed to be an early, pre-X-Men, nemesis of Professor Xavier's. As his power and malevolence grew, he gained the ability to transcend the limitations of his original corpulent form, crossing the astral plane and existing as a monstrous entity that invades and lives in the minds of unsuspecting victims like a mental parasite. Indeed, Legion Season 1 initiated a slow-burn introduction to the character, seemingly as a manifestation of David Haller's subconscious, until it was revealed to be Farouk.
Legion Season 2 Story
Last year, Eric Schrier and Nick Grad, Presidents of Original Programming, FX Networks and FX Productions, announced that Noah Hawley's critically acclaimed new series will be returning for a second season. In a statement to the press when the show was renewed last year, Schrier said, "The first season of Legion was a stunning achievement. More than a new series, Legion is a wholly original take on the super hero genre. Our thanks to Noah Hawley for taking the creative risks and shattering expectations. It's a privilege to work again with Noah, his producing partners, the outstanding cast and our partners at Marvel Television on another season of Legion."
Don't expect too many comic book connections. "I don't think you'll see the show suddenly look to the comics for storylines," Noah Hawley said (via CBR), "but you may see ideas or characters or images that are familiar to you."
As for the big question about David's biological father, well, "I think that's something we're definitely going to approach," Hawley said. "It's a creative conversation, but it's also a sort of corporate conversation, you know, on some level, in terms of the movie studio and their relationship to the X-Men and the characters they want in the movies and want to protect potentially. And were we to want to have Professor X on the show, or even Patrick Stewart on the show, James McAvoy or one of those actors, is a conversation both with the actor and with the studio. So, I don't know, I haven't really dived into that quandary yet, but certainly I need to start thinking about it."