News
Legends of Tomorrow Season 4 Episode 4: Exclusive First Look at Wet, Hot, American Bummer
Ava gets in on the action with the other Legends of Tomorrow in this exclusive clip from "Wet Hot American Bummer."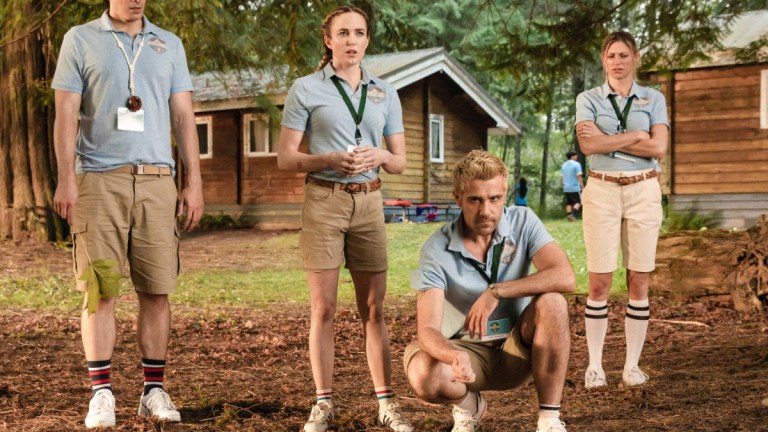 Only Legends of Tomorrow could have an episode named "Wet Hot American Bummer." Bless this show and its utter and complete zaniness. In this upcoming episode Ava joins the Legends on one of their missions to a summer camp! You can see Ava in the middle of an investigation below in this exclusive clip from the upcoming episode. Check it out…
Did Ava just try and Beetlejuice summon that monster? Ah, this continues the delightful '80s references of Legends of Tomorrow. I'm so delighted Ava is going on missions with the team. The way the first few episodes of this season played out I was afraid she'd be stuck at the Time Bureau but nope, she's getting to go on missions with Sara! You know that's going to lead to some delightful and cute scenes. And Ray and Constantine as camp counselors? Oh, that can only go wonderfully wrong. The official description for "Wet Hot American Bummer" can be found below.
When the Legends discover that kids at a summer camp have disappeared, Sara (Caity Lotz), Ava (Jes Macallan), Ray (Brandon Routh) and Constantine (Matt Ryan) find themselves as the new camp counselors. At camp, Ava struggles to get along with the kids, but Constantine whips up a potion that helps Sara and Ava bond with the children. Luckily, the team finds clues to the whereabouts of the missing kids, but the battle to save them leaves one member in bad shape. Meanwhile, Rory (Dominic Purcell) and Zari (Tala Ashe) are tasked with watching the fugitive and Rory finds a kindship with their "prisoner." Maisie Richardson-Sellers also stars. 
The episode will air Monday night, Nov. 12, on the CW. Keep up with all our Legends of Tomorrow news and reviews here! Shamus Kelley is a pop culture/television writer and official Power Rangers expert. Follow him on Twitter! Read more articles by him here!