News
Legends of Tomorrow Season 3 Finale Will Bring Back Constantine and Other Heroes
Matt Ryan will return as John Constantine once again for the Legends of Tomorrow Season 3 finale. And he's not alone.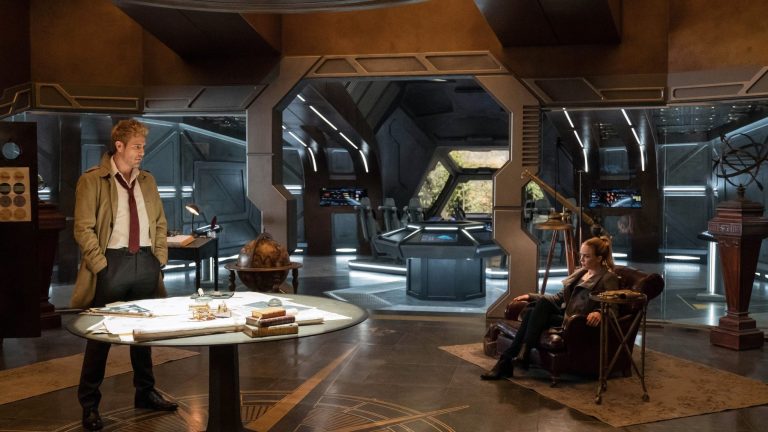 If you aren't all caught up, this article contains Legends of Tomorrow spoilers.
The Legends of Tomorrow season 3 finale has the wonderfully odd title of "The Good, The Bad, and the Cuddly." We're not really sure who is supposed to be who in all that, but we do know that there will be some familiar faces and fan favorites making a return to the Waverider. 
The first (and most important) is Matt Ryan as John Constantine. Constantine recently appeared in two episodes that also happened to be one of the best episodes Legends has ever done. While time travel and superheroics aren't the first things you think of when you hear the name Constantine, Ryan was such an easy, natural fit with the other Legends misfits, and really brought a different vibe to the Waverider. He also had particular chemistry with both Citizen Cold and Sara Lance.
But while Matt Ryan is always a welcome sight as Constantine (and after this season wraps, we'll next see him headlining his very own animated series), his return here might not bode well for Ms. Lance. The great news is that he'll be back full time for Legends of Tomorrow Season 4, as well.
Here's the official synopsis:
The Legends plan to vanquish Mallus by using the totems doesn't go as planned, forcing Rip (guest star Arthur Darvill) to improvise. The team finds itself regrouping in the Wild West where they run into their old pal Jonah Hex (guest star Johnathon Schaech). Sara (Caity Lotz) leaves Ray (Brandon Routh) in charge of watching Damien Darhk (Neal McDonaugh), while she comes up with a new plan. Meanwhile, Amaya (Maisie Richarson-Sellers) is determined to find a way to use the totems to destroy Mallus.
Check out the trailer, which also reveals some other familiar faces…
"The Good, The Bad, and the Cuddly" airs on April 9 at 8 pm.