News
Legend Hunter Series Chases Werewolves, Crown Jewels and Lizzie Borden
Pat Spain puts infamous crimes, mysteries and myths under the microscope in Travel Channel's Legend Hunter.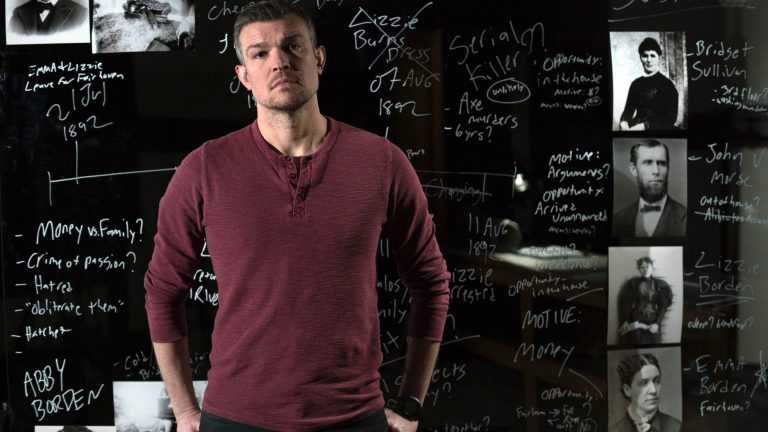 In the upcoming Travel Channel series Legend Hunter, Wildlife biologist and explorer Pat Spain will leave his lab to uncover answers to fascinating unsolved riddles, historic conundrums and mythic events. The series will premiere with a surprising new suspect in the the infamous Lizzie Borden murder case. The seven-episode series showcases Spain as he uses his scientific expertise and state-of-the-art technology to investigate infamous tales of murder, theft and unexplained events. He embarks on a hunt to recover a $20 million stolen Irish fortune, finds new evidence that could reveal the identity of Jack the Ripper and goes on a quest for a werewolf-like creature rumored to haunt the residents of Elkhorn, Wisconsin.
In the Legend Hunger series premiere, Spain looks "to find out who really took an ax to her father and stepmother," according to the press statement. With exclusive access to Lizzie's home, belongings and previously sealed family documents, Spain starts his investigation "from scratch, as though the crime happened yesterday. Then, using psychographic profiling and statistical theory, among other tools, he re-examines the original suspects." The series promises Spain will unearth a suspect "never before connected to the case."
Further reading: The Real Lizzie Borden
Spain is more than the "things that have bitten or stung him." He is the great nephew of Charles Fort, the "Prophet of the Unexplained, who explored anomalous phenomena in the late 1800s through his death in 1932. The influence of Fort's iconoclastic skepticism on early science fiction is immeasureable, inspring the terms Fortean, which is what his followers call themselves. The Fortean Society was formed at New York City's Savoy-Plaza Hotel on January 26, 1931, and included Theodore Dreiser, Ben Hecht, Alexander Woollcott, Tiffany Thayer, and science fiction writers Eric Frank Russell and Damon Knight. The British monthly magazine Fortean Times has been bringing "The World of Strange Phenomena" since 1973. It is now published by the same company which publishes Den of Geek.
Spain carries on the family legacy by questioning mainstream science and investigating things that science often writes off as impossible. Now, with "Legend Hunter," he will consider unusual explanations of bizarre phenomena to crack open some of history's most mind-boggling mysteries and crimes.
 "As a scientist, I've spent my life investigating some of mankind's greatest oddities, bizarre creatures and mythical beasts, tribal rituals and far flung places," said Spain. "Now I get the chance to take on some of the world's iconic mysteries. Who was Jack the Ripper? Who really killed Lizzie Borden's parents? These are questions that have been burning in my mind since I was a child, and I'm going right to the source to try and find answers – with exclusive access to people, archives and crimes scenes. And we have some extraordinary results that I can't wait to share with the world!"
In "Beast of Bray Road," which premieres Tuesday, January 15 at 10 p.m., Pat Spain travels to Wisconsin to uncover the truth about a werewolf-like creature. The creature has been sighted more than 30 times on a rural road near Elkhorn, Wisconsin. He tracks down eyewitnesses and uses new technology to try to capture the animal on film.
Further reading: Inside The Many Murders of Serial Killer Ed Edwards
"Jack the Ripper Revealed" premieres Tuesday, January 22 at 10 p.m. In it, Spain sets out to try to solve one of the greatest murder mysteries of all time – Jack the Ripper. His investigation uncovers evidence that links a new suspect to the murders.
In "Stolen Crown Jewels," which premieres Tuesday, January 29 at 10 p.m., Spain searches for the Irish Crown Jewels stolen from Dublin Castle in 1907. He has "three main suspects, and the investigation leads him to a former antiques shop in England where he believes the jewels may be hidden."
Legend Hunter premieres Tuesday, January 8, 2019, at 10 p.m. on Travel Channel.
Culture Editor Tony Sokol cut his teeth on the wire services and also wrote and produced New York City's Vampyr Theatre and the rock opera AssassiNation: We Killed JFK. Read more of his work here or find him on Twitter @tsokol.