News
Last Week Tonight Season 4: John Oliver Takes On Trump, Reality
Last Week Tonight is back on HBO and Oliver wasted no time in going after President Trump.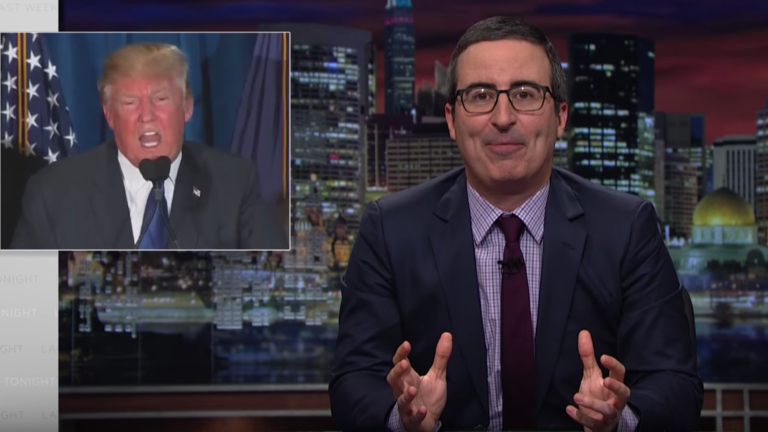 When we last saw John Oliver, he was blowing up 2016 to pieces in the middle of a soccer stadium. A fitting end to a wretched year indeed, but we hope to see the fireworks continue when the talk show host assumes his position behind his HBO desk for the fourth season of Last Week Tonight.
Oliver tried his best to sidestep the plague that was the 2016 election last season, but Trump's America looks all but unavoidable in 2017. That may not bode well for the country or the world at large, but it bodes well for the show and kicks off what HBO hopes will be a pretttttyy pretttttyy big year for the network. 
We'll update this post each week as our central hub for John Oliver's greatest hits of 2017…
John Oliver vs. Reality… And Trump
John Oliver is a viral video machine. And Trump well… he gets ratings! I guess. Naturally, Oliver's first go at the president in 2017 is already setting the internet on fire. Here's the segment from Last Week Tonight Season 4 Episode 1: 
Last Week Tonight Season 4 Release Date And Where To Stream
Last Week Tonight With John Oliver returned to HBO on February 12th. 
Don't have cable? You can get a free month of HBO Now to stream Last Week Tonight. After that, HBO will run you $14.99. HBO is available on Amazon Prime Video at the same price point. Sling, DirecTV Now and Playstation Vue all stream HBO as a premium add-on. You can find out more information on those services here.
Last Week Tonight Season 4 Trailer
We're sure Oliver will maintain the high standards of his brand of probing journaLOLism, but the comedian is kept us on our feet by bringing a surprise guest back to HBO, ribbing the one and only Larry David for the long hiatus of Curb Your Enthusiasm, which will finally return for its ninth season.