News
Lashley Will Challenge for the TNA Title
Lashley's the No. 1 contender, which makes the decision to have him feud with an announcer head-scratching ...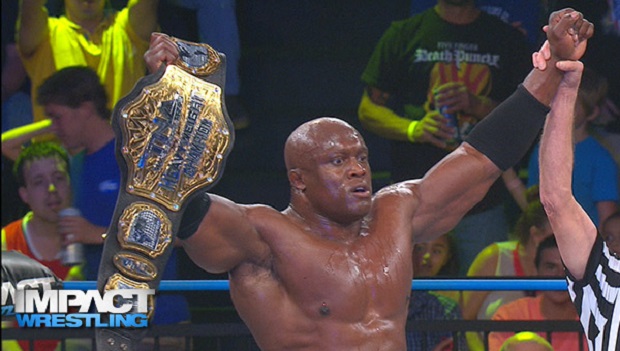 Subscribe to WWE Network & get your First Month Free! Get instant access to Pay-Per-View Events & Exclusive Programming – No Commitment Required!
Bobby Lashley took over Impact Wrestlingon Tuesday night, demolishing Drew Galloway in a pre-taped segment earlier in the day at a local gym, destroying Jeff Hardy with a spear in the opening bout and then sitting in the ring demanding that Dixie Carter give him a title shot and then finally winning that title shot by beating Bennett and Hardy in the main event.
It was an impressive night for Lashley, who looks like a menacing heel with a legitmate MMA background that should have opponents worried. In the gym sgement, Lashley locked Galloway in an MMA cage and applied an armbar submission that looked very impressive.
All the more reason why, a few weeks back, the Lashley-Pope short feud never should have happened.
They're booking Lashley as this unstoppable monster. He's TNA's Brock Lesnar, in a lot of ways. But they booked him in a feud with an announcer, and gave that announcer some decent offense in the matches and brawls. Lashley would have been better served in just a series of squash matches against mid-card talent, getting him over as a badass with some convincing, one-sided wins. Or, if they went with Lashley-Pope, Lashley should have beaten up and hurt Pope. It should have been Kane beating up Jim Ross. That would have potentially given Lashley some real heat.
If they were looking for a reason to get Pope involved in a storyline, fine. But there were other options outside of Lashley. It doesn't seem far enough removed from that to be back to Lashley the monster and now challenging for a title at some point in the near future. The feud made no sense at the time and now with hindsight, it makes even less sense. 
1. Jeff Hardy beat Mike Bennett via DQ
Lashley speared Hardy to result in the DQ. This match should have been a main event, if not for the screwy finish, so right from the start you expected something was coming aside from a clean and decisive finish.
Decay Promo
TNA probably wasn't getting the reaction it wanted from the crowd, with some audible laughs being heard on the broadcast during Abyss's talk, especially. You would think that could have been corrected with post-production. But, you know what? I'd actually applaude TNA for keeping the tape raw and uncut. Smackdownoften sounds awful with the heavy editing on Reigns, for example. If you don't get the ideal reaction, just own it and move forward.
2. Abyss beat James Storm
Interesting match and finish. There is an evolution to this Decay group, which has been intriguing to date, with Rosemary spitting mist at Steve, who can now talk, and Abyss, who has now removed his mask. Aside from the kidnapping Gail Kim angle, they've done a lot of good things as a group and it will be interesting to see where they go from here, as they begin to establish Rosemary as the leader of the group, which is unique on its own as a female lead of a group that only consists of other men.
3. Bram won a King of the Mountain match to retain the KOTM Title
Fairly standard KOTM match, with no real big developments. It's a good title defense for Bram but hopefully they move him into a 1-on-1 feud for that title soon. 
4. Bobby Lashley beat Jeff Hardy & Mike Bennett to become the No. 1 contender for the TNA Title
Given the angle to open the show, this result was expected and it does line up what should be a very good match between Galloway and Lashley. In building this feud before the match though, TNA needs to do some difficult things. They need to make sure they aren't putting too much heat on Galloway, who is still the babyface champion and needs to look strong, while also keeping Lashley as the unstoppable monster. 
About one month ago, TNA left Galloway down and buried as champion far too often. I believe it was three straight segments where he ended it being attacked.
It would actually behoove TNA if they can find a way to have Galloway and Lashley not touch until it's time for the match. That would require a lot of restraint, but having Lashley suddenly avoid Galloway at all costs, while winning other squash matches to keep him hot as a monster, could be a good recipe for heat.
Shop official WWE Network merchandise at WWEShop.com!