News
L.A.'s Finest Season 2 Confirmed by Spectrum
L.A.'s Finest, the female-led TV spinoff of the Bad Boys movies, will get another season on streaming platform Spectrum Originals.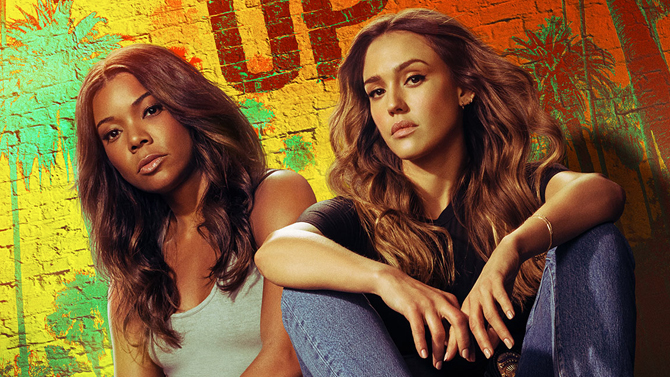 L.A.'s Finest will see stars Gabrielle Union and Jessica Alba continue their City of Angels-set buddy cop comedy for a second season.
Spectrum Originals, the Charter Communications-owned small screen platform on which L.A.'s Finest streams on demand, has officially renewed the series for Season 2. It's a rather quick turnaround for the show – a spinoff of the Bad Boys films of Will Smith and Martin Lawrence – having only debuted on May 13, utilizing a rather unique release strategy of dropping a few episodes a week, rather than conventional strategies of weekly episodes or the Netflix full-season binge-dump. Indeed, the first season of L.A.'s Finest will premiere the last of its 13-episode run on Monday, June 17.
As Katherine Pope, head of Spectrum Originals lauds in a statement on behalf of the company and creative personnel:
"We're thrilled L.A.'s Finest has resonated with our subscribers in such a major way. When I first saw the pilot – a show about two strong women learning to trust and support each other and still getting into plenty of trouble – I knew I'd follow them anywhere. Kudos to Gabrielle and Jessica, as stars and executive producers, along with creators Brandon Sonnier and Brandon Margolis and everyone else involved, for helping us launch our first original series and making the decision to greenlight a second season incredibly easy."
L.A.'s Finest follows the exploits of a character from 2003's Bad Boys II, Syd Burnett (played by a returning Gabrielle Union), who has made a coastal migration from Miami to become an LAPD detective; a job that has her paired with Nancy McKenna (Jessica Alba), a working mom with a complicated backstory who operates on a completely different wavelength than Syd, creating the clashing-but-effective buddy cop dynamic one reasonably expects in their crimefighting exploits.
As SPT President Jeff Frost chimes in on the renewal:
"We are overwhelmed by the audience's response to LA's Finest. Gabrielle and Jessica are brilliant together and our incredible showrunners Brandon Sonnier, Brandon Margolis and Pam Veasey did an amazing job of crafting an action-packed and riveting season one. We can't wait to work again with this amazing team of prolific and talented executive producers and dive into the next chapter for Syd and Nancy."
While reviews for the series have been… let's just say "mixed," the company seems to be citing positive feedback (based on Netflix-esque mystery metrics) to back the renewal. However, the series will have the benefit of brand synergy in the form of a major movie tentpole by the time Season 2 hits. Indeed, the belated sequel, Bad Boys 3, a.k.a. Bad Boys for Life, which reunites stars Will Smith and Martin Lawrence, is scheduled to arrive on January 17, 2020.
L.A.'s Finest, the creation of Brandon Sonnier and Brandon Margolis, is a production of Jerry Bruckheimer Television and 2.0 Entertainment in association with Sony Pictures TV. Stars Union and Alba each hold the title of executive producer, joined in that capacity by Sonnier and Margolis, Jerry Bruckheimer, Anton Cropper (who directed the first six episodes), Jonathan Littman, KristieAnne Reed, Doug Belgrad, Pam Veasey, Jeff Gaspin and Jeff Morrone.
L.A.'s Finest Season 2 Release Date
L.A.'s Finest Season 2 doesn't have a release date set, but a summer 2020 window seems to be a safe assumption.
Joseph Baxter is a contributor for Den of Geek and Syfy Wire. You can find his work here. Follow him on Twitter @josbaxter.