News
Lachlan Watson Compares Sabrina Holiday Episode to Doctor Who Christmas Specials
Since we're not getting a Doctor Who Christmas special this year, it only seems fair that we get a Sabrina holiday episode.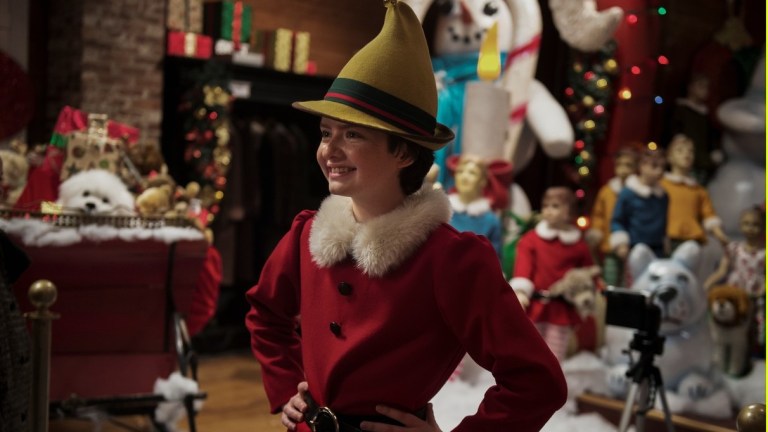 We're not getting a Doctor Who Christmas special this year and the only thing that's soothing that burn (other than, you know, the Doctor Who New Year's Special) is the Chilling Adventures of Sabrina holiday special.
That's right! It is a bright Solstice indeed, fellow mortals. The Sabrina holiday special, titled "A Midwinter's Tale" drops on December 14th, and we got the scoop from Lachlan Watson (Susie) themself about what to expect from the seasonal delight.
"I don't want to give away too much because you've got to watch it to see it," said Watson, "but I definitely get to run around in a little elf costume the whole time which I am very happy about."
Human after our own hearts, Watson compared the Sabrina holiday special to the Doctor Who Christmas special tradition, saying:
In my opinion, it has more of that nostalgic kind of feel to it. I grew up on Doctor Who and they used to do holiday specials every single year and it just made me so happy that it was just sort of this tradition every year. That it lived within the universe and it lived within the plot, but it was this standalone sort of traditional thing and it just brings me back to sitting around the fire and watching the holiday special with my family.
Watson said the Sabrina holiday special also strikes a balance between continuing storyline and standalone seasonal plot.
"It definitely lives within the same world and the same plot, but it just has that fantastic holiday feel to it which I'm so excited for," teased Watson.
The Chilling Adventures of Sabrina has a more tangible connection to the Who-verse in the form of the glorious Michelle Gomez, who plays Sabrina's Miss Wardwell and Doctor Who's Missy. What has it been like for Doctor Who fan Watson to act alongside Gomez?
"Oh my god, she's incredible," said Watson. "She's a positive, massive, just destructive force in the best kind of way. I adore that woman. Everything that comes out of her mouth is pure gold. And it's amazing. I love that woman. So yes, it was incredible."
The Sabrina holiday special drops on December 14th on Netflix. Find out more about Sabrina Part 2 here.
Kayti Burt is a staff editor covering books, TV, movies, and fan culture at Den of Geek. Read more of her work here or follow her on Twitter @kaytiburt.