News
LA to Vegas Trailer: Dylan McDermott Goes Anchorman in Fox Workplace Comedy
Fox comedy LA to Vegas has Dylan McDermott as an egotistical airline pilot regularly running a flight of lost dreams.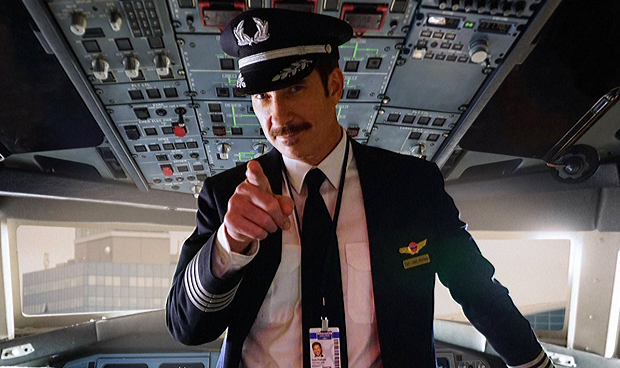 LA to Vegas, an upcoming Fox primetime series, puts a spin on the typical workplace comedy, setting itself around 45,000 feet in the air with its debut trailer. However, if the big deal boastfulness of the figurative and literal captain of the cast in Dylan McDermott resembles a certain movie anchorman, that's because the series comes from the minds behind Anchorman: The Legend of Ron Burgundy (and it lesser-received sequel).
The LA to Vegas trailer turns the series' weekly flights between Los Angeles and Las Vegas for the fictional Jackpot Airlines into a workplace around which the comedy sets itself. The titular flight run, the airline industry equivalent of a subway ride, is rife with eccentric characters who board the plane in L.A. with golden prospects only to make a return trip from "Lost Wages" beaten and dejected. The series styles itself as a single-camera comedy showing the zany side of the inherently dual nature of shining promise and abysmal failure attributed to Las Vegas trips.
Epitomizing that false, rarely realized dream is the plane's narcissistic skipper Captain Dave, played by Dylan McDermott (American Horror Story), who treats the perfunctory trips as a shrine to himself. He is joined by embattled flight attendant Ronnie, played by Kim Matula (UnREAL) and perennially positive flight attendant Bernard, played by Nathan Lee Graham (Zoolander). The cast also consists of regular passengers in a frequent commuter attempting to salvage his marriage in Colin, played by Ed Weeks (The Mindy Project), professional gambler Artem, played by veteran actor Peter Stormare (American Gods) and a sunny-natured stripper hiding her true savviness in Nichole, played by Olivia Macklin (The Young Pope).
LA to Vegas arrives under the direction of Steve Levitan, a TV visionary behind comedies such as Modern Family, Just Shoot Me!, Wings, Frasier and The Larry Sanders Show. However, the Ron Burgundy-like nature of the show's primary character might be a manifestation of the involvement of certain members of its gaggle of executive producers in the Anchorman star himself Will Ferrell and the director of those films in Adam McKay, joined by Chris Henchy and Owen Burke.  
LA to Vegas gets set to touch down at its own proverbial McCarran International Airport when it debuts on the Fox 2017-2018 primetime schedule as a midseason offering.